Welcome! We are so proud of the new brenebrown.com that I want to take a quick minute to show you around.
Everything you came to expect on the former site—books, podcasts, resources, hubs, facilitator info, quote cards—is still here. We've just reorganized it in a way to bring like-spirited content together and to let stories shine.
And you know how I feel about art! There's big, gorgeous photography and illustrations everywhere. Images always make me feel something, and I believe they help us feel connected to each other. There's nothing more powerful than the combination of images and words.
Our mission with this site is a simple one: to serve the work. And to do that, we've taken great care to give you clear, seamless entry points into the teachings of the books, the leadership and change-maker conversations of Dare to Lead and Unlocking Us, and the resources found in our Dare to Lead, Gifts of Imperfection, and Daring Classrooms hubs. We're also giving you quotes and learnings to download.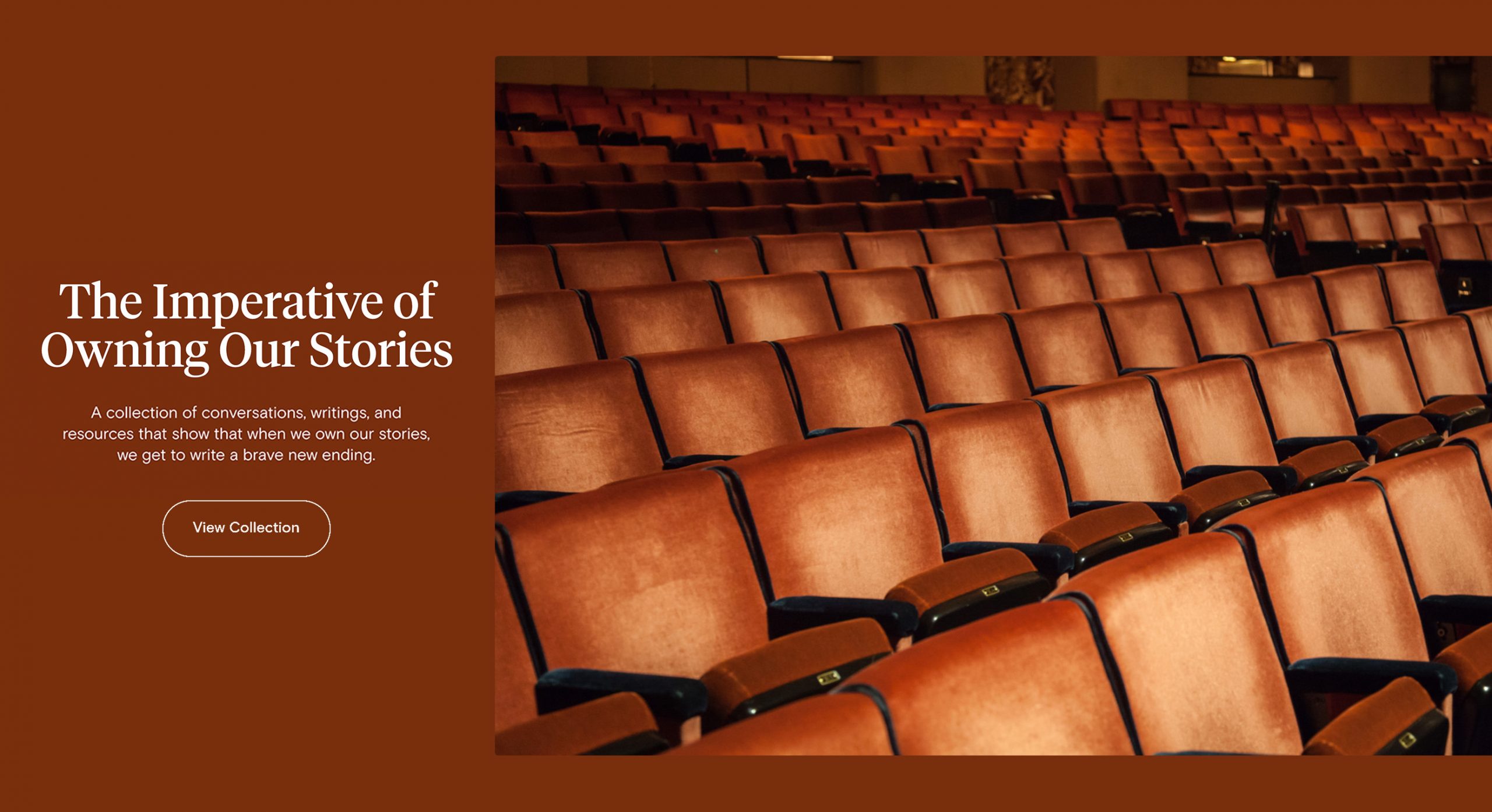 We're experimenting, too, on this new site with bundling content around common, useful themes. In something we're calling "collections," you'll find thematically linked writings, resources, conversations, and words of wisdom all presented together and served up on a single page. We're launching with just a small number of collections out of the gate (one of my favorites is this one, on the imperative of owning our stories), but please check back often, as this is a feature we're very excited to be adding to as times goes on.
And then toward the bottom of every page on the new site, you'll find a scroll of topics. If you click on any of those, you'll also be taken to a single page, one that showcases curated content on the site related to that subject matter.
Perhaps the biggest upgrade of all in this new space is that little magnifying glass icon in the upper-right corner. Search, y'all. Big, robust search functionality. It should put anything you may be looking for at your fingertips in a fraction of a second.
Before I wrap up this mini-tour, I want to point you to two other features that I think you might enjoy: the Library, which highlights not only books that are on my personal nightstand at home but also works by writers, thinkers, researchers, and thought-leaders who have shaped both me and my work; and In the News, which logs any podcasts I participate in or news articles that have been written about me and the work.
A refresh like this is not possible without the diligence of many hands and the dedication of countless hours. So let me extend my sincerest thanks to my in-house team who shepherded this new look into the world; to the brilliant designers and engineers at Upstatement, whose creative vision for this project truly made me feel seen and heard; and to Brandi and her team at Alchemy + Aim for being our wonderful longtime technology partners.
It's a refresh and a reset. But know that awkward, brave, and kind still rules the roost.