My Netflix special, The Call to Courage, is now streaming in 190 countries and 29 languages.
And, when I say WE did it, I mean all of us.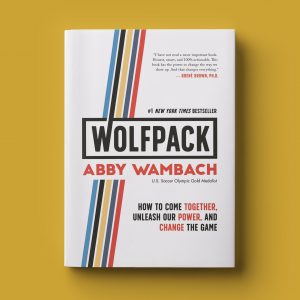 I just finished my second read of Abby Wambach's amazing new book, Wolfpack. One of my favorite lessons is Rush or Point.
When someone else scores a goal, rush toward her in celebration. Right now I'm running toward Beyoncé to say, "You're a miracle and your Netflix documentary, Homecoming, is everything."
When you score the goal, point to the people who made your success possible—the player who passed the ball to you, the defenders who gave you time to set up the shot, or the coach who trained you or developed that play.
Every win is a team win.
Tonight I'm pointing at all of you. And, if I could, I'd be running full speed toward you for the biggest hug/tackle possible.
I'm pointing at the thousands of research participants who had the courage to tell me their stories. The people who have cheered me on, challenged me, read the books, shared the work, asked the hard questions, and helped me build this wholehearted community. That's YOU. I'm pointing at YOU.
I'm also pointing at my family, my friends, my team, and the amazing crew at Netflix who made this possible. Your fingerprints and your hearts are all over this moment.
This special belongs to all of us. I hope it speaks to you. If you love it, share it. And hug/tackle someone to celebrate this amazing moment.