October 13, 2021
Brené, Ashley, and Barrett on Perfectionism, Numbing, Boundaries, Polling, and Authenticity: A Summer Sister Series Follow-Up
In this episode, I am back with my sisters Ashley and Barrett to do a follow-up on the Summer Sister Series on The Gifts of Imperfection. We received a lot of questions in the comments after the six-episode series, so I've pulled my sisters back in to seek some answers. We are also knee-deep in life stuff right now, so we open up about our own struggles with some of the topics in question, including running away, setting and managing boundaries, polling others over listening to ourselves, and living in authenticity. Join us as we seek As to all the Qs from social media.
For the latest from Unlocking Us
Guest Info
Ashley Brown Ruiz
Ashley is a Licensed Clinical Social Worker certified by the State of Texas. She received a Bachelor of Science in Interdisciplinary Studies with a specialization in Early Childhood Education from Texas State University in San Marcos, Texas. Fueling a passion from working over a decade in a Title 1 school in Houston ISD, Ashley pursued a Master of Social Work from the University of Houston's Graduate College of Social Work. As part of her role as Senior Director of The Daring Way, she leads The Daring Way Internship Program with students seeking a master's degree in Social Work. Ashley works with the interns to run therapy groups at different agencies around the Houston area. Her experience comes from working with women in residential recovery, adolescents in recovery, and middle school girls. Ashley's ability to model and teach vulnerability and courage allows her to help clients pull together all the pieces of their lives to help them move toward the life they hope to create. She is a Certified Daring Way™ Facilitator and a member of the National Association of Social Workers.
Barrett Guillen
Barrett Guillen is (OFFICIALLY) Chief of Staff for Brené Brown Education and Research Group and (UNOFFICIALLY) the boss of Brené. With her team, Barrett supports both Brené and the organization by helping to prioritize competing demands, managing relationships, and building connective tissue and strategy across all business initiatives. Barrett holds bachelor's and master's degrees in Kinesiology from the University of Houston. After more than a decade in education in the Texas Panhandle, Barrett and her family made the move back to the Houston area to join the BBEARG team in making the world a braver place.  Having the opportunity to work with her sisters everyday has been one of the great joys of her life. Outside the office, you can find Barrett spending time with her family (immediate and extended), enjoying her daughter's games, eating her husband's famous burgers, floating in the water (any water!), or on the pickle ball court.
Show Notes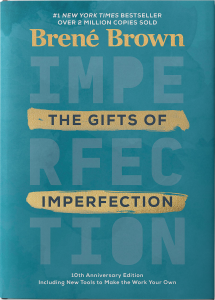 The Gifts of Imperfection by Brené Brown
For over a decade, Brené Brown has found a special place in our hearts as a gifted mapmaker and a fellow traveler. She is both a social scientist and a kitchen-table friend whom you can always count on to tell the truth, make you laugh, and, on occasion, cry with you. And what's now become a movement all started with The Gifts of Imperfection, which has sold more than two million copies in thirty-five different languages across the globe.
What transforms this book from words on a page to effective daily practices are the ten guideposts to wholehearted living. The guideposts not only help us understand the practices that will allow us to change our lives and families, they also walk us through the unattainable and sabotaging expectations that get in the way.
Unlocking Us Summer Sister Series on The Gifts of Imperfection
Rising Strong by Brené Brown
Daring Greatly by Brené Brown
Dare to Lead podcast episode Brené with Jodi-Ann Burey and Ruchika Tulshyan on Imposter Syndrome
X
Podcasts
Brené Brown Education and Research Group, LLC, owns the copyright in and to all content in and transcripts of the Unlocking Us and Dare to Lead podcasts, with all rights reserved, including right of publicity.
WHAT'S OK: You are welcome to share an excerpt from the episode transcript (up to 500 words but not more) in media articles (e.g., The New York Times, LA Times, The Guardian), in a non-commercial article or blog post (e.g., Medium), and/or on a personal social media account for non-commercial purposes, provided that you include proper attribution and link back to the podcast URL. For the sake of clarity, media outlets with advertising models are permitted to use excerpts from the transcript per the above.
WHAT'S NOT OK: No one is authorized to copy any portion of the podcast content or use Brené Brown's name, image or likeness for any commercial purpose or use, including without limitation inclusion in any books, e-books, book summaries or synopses, or on a commercial website or social media site (e.g., Facebook, Twitter, Instagram, etc.) that offers or promotes your or another's products or services. For the sake of clarity, media outlets are permitted to use photos of Brené Brown from her Media Kit page or license photos from Getty Images, etc.
CLICK TO CONTINUE