Last year I recorded an audio program for Sounds True titled Rising Strong as a Spiritual Practice. Spirituality emerged as an important theme in the data I collected for Rising Strong. Several of our community members asked great questions on Facebook, and I thought I'd share one of our conversations here.
If rising strong is a spiritual practice, does that mean atheists can't rise strong or be wholehearted?
If we can, does that mean you watered down the definition of spirituality to the point that it has no meaning?
Here are my answers: The definition of spirituality that emerged from the data (first coded in 2009) is not something I would ever label "watered down," but it is different from how most of us think of spirituality: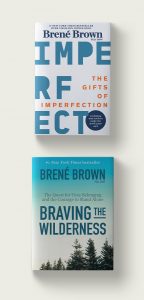 "Spirituality is recognizing and celebrating that we are all inextricably connected to each other by a power greater than all of us, and that our connection to that power and to one another is grounded in love and compassion. Practicing spirituality brings a sense of perspective, meaning, and purpose to our lives."
This definition was first published in The Gifts of Imperfection. For some people, that power greater than us is God; for others, it's fishing. Some are reminded of our inextricable connection by faith, others by expressions of shared humanity. Some find that religion is the best expression of inextricable human connection that is guided by love and compassion, and others believe that no entity has done more to corrode that connection than organized religion.
While diverse in practice, the definition of spirituality and the importance of it to the concepts of wholeheartedness and rising strong has withstood the test of new data. In Grounded Theory, a theory is only as good as its ability to work new data. This one has stood the test of time and emerged again as an important variable in the research on true belonging that I write about in Braving the Wilderness.