On this episode of Unlocking Us
In this first episode of a three-part Sisters Book Club series, Ashley and Barrett turn the tables on Brené and interview her about her new book, Atlas of the Heart: Mapping Meaningful Connection and the Language of Human Experience. They ask all the questions we want to know, and they pull no punches—starting with stories about childhood superpowers, to matters of biology, biography, behavior, and backstory in the context of emotions and the book itself. They also talk about how Atlas is broken up into three sections, how the data was collected and analyzed to present the 87 emotions covered, and how powerful it is to have vocabulary that's as expansive as our experiences.
Listen to the episode
Show notes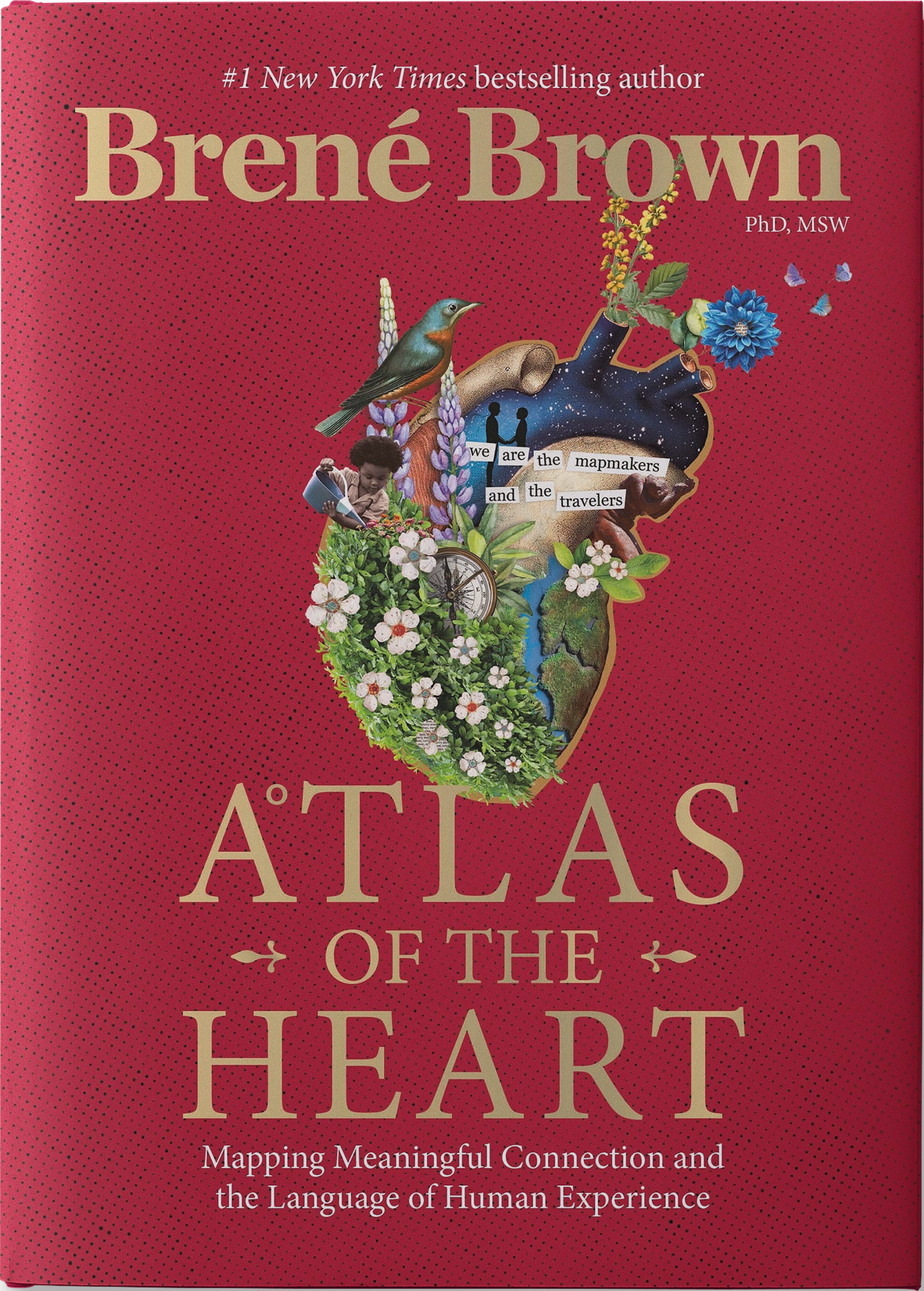 Atlas of the Heart: Mapping Meaningful Connection and the Language of Human Experience by Brené Brown
In Atlas of the Heart, Brown takes us on a journey through eighty-seven of the emotions and experiences that define what it means to be human. As she maps the necessary skills and an actionable framework for meaningful connection, she gives us the language and tools to access a universe of new choices and second chances—a universe where we can share and steward the stories of our bravest and most heartbreaking moments with one another in a way that builds connection.
Over the past two decades, Brown's extensive research into the experiences that make us who we are has shaped the cultural conversation and helped define what it means to be courageous with our lives. Atlas of the Heart draws on this research, as well as on Brown's singular skills as a storyteller, to show us how accurately naming an experience doesn't give the experience more power, it gives us the power of understanding, meaning, and choice.
Transcript
Barrett Guillen: Hi everyone, I'm Barrett Guillen.
Ashley Brown Ruiz: And I'm Ashley Brown Ruiz, and this is Unlocking Us.
BG: We're back.
ABR: We're back.
[music]
BG: Hey guys, this is Barrett. If you remember, I'm Chief of Staff for Brené Brown Education and Research Group.
ABR: And I'm Ashley, a Licensed Clinical Social Worker and a Senior Director for The Daring Way. And we're also Brené's younger twin sisters. And we are here to talk to Brené about her new book, Atlas of The Heart: Mapping Meaningful Connection and the Language of Human Experience, which came out yesterday, November 30th.
BG: Guys, we actually got to turn the table on Brené today, and we asked her the questions. This is a three-part series that we're doing, it's a Sisters Book Club on Atlas. And the first two episodes, Ashley and I interview Brené about her book. And in the last episode, we're going to ask you guys to submit any questions you have after diving into the book. We'll give more details on how to submit your questions, but get the book and start reading so you can hang along with us.
ABR: It's really going to be fun.
[music]
BG: A little bit more about Brené before we get going, just in case we've never actually read her full bio on the Unlocking Us podcast. So here we go, Dr. Brené Brown is a research professor at the University of Houston, where she holds the Huffington Foundation Endowed Chair at the Graduate College of Social Work. Brené's also a visiting professor in Management at the University of Texas at Austin McCombs School of Business. She has spent the past two decades studying courage, vulnerability, shame, and empathy. She is the author of five number one New York Times best sellers and is the host of the weekly Spotify original podcasts Unlocking Us. Whoop whoop, here we are, and Dare to Lead.
BG: Brené's books have been translated into more than 30 languages, and her titles include Dare to Lead, Braving the Wilderness, Rising Strong, Daring Greatly, and The Gifts of Imperfection. Most recently, Brené collaborated with Tarana Burke to co-edit, You Are Your Best Thing: Vulnerability, Shame Resilience, and the Black Experience. Her TED Talk, "The Power of Vulnerability," is one of the top five most viewed TED talks in the world with over 50 million views.
ABR: She's also the first researcher to have a filmed lecture on Netflix. The Call to Courage special debuted on the streaming service in April 2019. Brené lives here in Houston, right by her sisters, and with her husband, Steve. They have two kids, Ellen and Charlie.
BG: Here we go. So Brené Brown, welcome to Unlocking Us.
[laughter]
Brené Brown: It's so great to be here.
ABR: We're so excited to interview you.
BG: Oh my gosh, wait till we get to the rapid-fire, we've added a few questions.
[laughter]
BG: So, I can't wait.
BB: Okay, that's not even funny, that's like a… Ashley just winked at me, seriously.
BG: So it's going to be so much fun.
BB: My kids could listen to this…
ABR:  I know.
BG: Oh yeah, yeah.
ABR: We you got you.
BB: Okay, okay.
BG: Of course, any of our kids could, we're good. But we're excited to be here today to talk about Atlas of the Heart.
ABR: Yes.
BG: The new book.
ABR: Beautiful.
BG: And you so graciously let us interview you, to talk to you about this book. So can we jump in?
BB: Let's do it. I'm scared.
BG: Okay, so you start Unlocking Us with every guest, with one question. Tell us your story. Now we're going to pause a little bit because we know your story and everybody knows your story.
BB: Yeah.
BG: But what we want to ask you is, tell us about little Brené, who already started studying emotions and understanding emotions from a young age, and why you did that?
BB: It's so funny because I'm not nervous because I'm still like… I'm the boss of this podcast.
[laughter]
BG: Well I'm glad you're not.
BB: At first, I was like, "Oh my God, I'm anxious, anxious. What are they going to say?" And then I'm like,  "I'll just be like No, I'm not…we're not doing…" And then… Yeah.
[laughter]
BG: Ain't it awful?
BB: Okay, that's awful that I think like that, but this is I'm  armoring up. Okay, little Brené. I think the first time that I realized that "Wow, I have some kind of really massive talent or super power," I think we still lived in New Orleans. And so maybe, y'all were newborns, I was probably 8. I negotiated with Mom and Dad that y'all were staying after they brought you home.
BG: You're so… Aren't you lucky that we stayed?
BB: I'm actually really, really lucky, but I tell you as an 8 year old I was like "Wow, whatever this thing is, is loud."
ABR: And beautiful.
BB: And beautiful, and there are two of them. And how long are they staying? I think it was just an ability to… Well, I knew it was about patterns because Mom… Do you know Mom used to sew a lot? Did y'all know that?
ABR: Yeah, because I remember the patterns that we would get from the store or whatever…
BB: Oh, shopping for patterns…
ABR: McCall's or something?
BB: Yeah, the pattern store. Yeah, the fabric store. Mom used to make dresses, where my dress matched her dress, matched my doll's dress.
ABR: Awww, I don't think I knew that.
BB: Yeah, and sometimes she… In fact, there's an old picture somewhere of us getting on a train, and she's got on like a yellow plaid shift dress, and I have on the same shift dress and then my doll has on the same shift dress. And sometimes she would take me in to the fabric store, I would be able to pick out the fabric, and she made all the clothes for my dolls. And so, she would often say, "Well, I don't know about this pattern, it's really hard to match on the back." You know how clothes, that have the pattern that matches, around the zipper and stuff. And so I knew what a pattern was, and then we had that gold couch, the infamous gold couch, and I realized, "Man, that's a pattern." And then what I realized very quickly from situations at Holy Name of Jesus, where I went to elementary school. It's a heavy elementary school name.
BG: I was just going to say, I'm so glad we were at Theiss Tigers. [laughter]
ABR: But are you?
BB: Yeah, Holy Name of Jesus. So I would recognize that there. I would recognize at home with Mom and Dad, I would definitely recognize it when Auntarina and Uncle Joe would come, or Me-Ma and Curly would come. I could tell people are starting to act this way, something bad's going to happen in a little bit. Or people are saying this and I think it's meant to be funny, and some people are laughing and some aren't, and it's going to go bad in a little bit. And so I think from very early on, I understood that there was this holy trinity of emotion, thinking, and behavior, that they were inextricably connected, and if you could put two of them together, you could predict the third. So if you could see kind of how people were feeling and behaving, you could predict what they were thinking, if you knew what they were thinking and how they were feeling, you knew how they were going to behave, which was the biggest one for me. And yeah, little Brené was, I mean, really… I tell a couple of stories in the book about that, like Memorial Northwest Marlins, we had a swim coach that was out of control sometimes, and everybody tried to figure out like, "God, When he loses his shit, what's happening?"
BG: Mmmm, yeah.
BB: And it only took me two or three practices before I realized… because at first, you know, when you're not a fast swimmer and you're not the fastest or the best, you think, "Oh God, he's after the kids that are not the great swimmers," but I was like, "God, he's not after those kids," but sometimes he's after the great swimmers and sometimes he's after the shitty swimmers or the swimmers who are trying, we'll rephrase that since I was one of them. But then I realized very quickly, "Oh, he's after the kids that are not obviously demonstrating effort," and he doesn't like it during free swim when you could swim like 100 yards, whatever you want, and we were in a meter pool actually, so 100 meters, whatever you wanted, he really had a preference for the back strokers. So I always got in the lane with the grittiest kids, not the best kids but the grittiest kids, and then I always swam backstroke, never was I in his cross-hairs. Yeah, but I was really good at it, I did it all the time.
BG: Well, how did you navigate that? Being so young, obviously, you probably didn't have the language you have now to understand what the superpower was, but how did you navigate that?
BB: Well, I mean I tell the story in the book. I thought something… Is it fair to say that we had a, kind of, a shame-based family?
ABR: Totally.
BG: Yep.
BB: Yeah. And I think, is it also fair to say that most of the shame came from a complete lack of normalizing?
ABR: Yeah.
BG: Oh yeah.
BB: And that Mom and Dad were in a lot of shame. They were living in this cookie-cutter suburb where the dads were supposed to be like this and the moms were supposed to be like this, and I'm being completely gender binary, because that was also part of the expectation. And they both came from such hard places that I think they had like an always pretending, waiting to get caught feeling. And so they were always, I think, in a lot of shame. And so I think I was a very shame-based kid, so when I knew I could do that, I actually thought something was wrong with me, I thought, "Maybe I'm like a wizard?" And the only reference I had at the time was like, Sybil and Carrie, you know, unwell teenage girls are like witches or crazy or… So could you imagine? "Mom, Dad, I know that I've disappointed you in a number of ways, I'm not on the drill team, I'm not a cheerleader I'm not dating a quarterback or running back or anyone important on the offensive line, and I just really want to be in French Club, and I like to wear a beret, smoke a little pot, and I also have superpowers." [laughter] That would not have gone over well. So I just used them, but I hid them. Yeah.
ABR: How do you think that that skill-set led to where you are right now in your life?
BB: I think it's a mixed bag. I think that there's a couple of things One, my therapist today calls it hypervigilance. That's your people Ashley. [laughter] Your people, "The therapi"
ABR: The therapi [laughter]
BB: The therapi call it hypervigilance and talk about it being exhausting, and talk about it always being on guard. One of the things I talk about, and this is a really hard thing for me is, kind of, and I've talked about this before, like never feeling like I belonged in our family. And I think it was because of that hypervigilance, I never really could participate in the family, because I always had to be watching and I always had to be careful, and so even when things got really fun and everyone was laughing, I was like, either the actual protector because shit was going bad or I was a protector in waiting.
ABR: Yeah. because it was going to blow up eventually.
BB: Because it was going to blow up. And it always did, right?
BG: Yeah.
ABR: Yeah.
BB: Yeah. And so I think on the bad side, it's an exhausting trait, probably related to trauma and growing up in an unpredictable environment.
ABR: Mmm-hmm
BG: Yep
BB: And the thing is that when people… Sometimes I feel shame even talking about how we grew up, because I'm like, "Y'all, it was really fun, and it was really… " Do you ever feel like that?
ABR: Oh yeah, well, we were just driving through the neighborhood the other day with two of my elementary school friends, and when we were talking about all of our friends, and you talk about this too. Back in the day, we had no idea what was going on in their house, but now we know what was going on in their house back then, and the power that we could have had if we would have been talking about it with each other, is crazy.
BB: It's just so crazy because you thought, "I'm the only one laying in bed at night, listening to this screaming come through the walls," but I think the thing about the unpredictability is there was a lot of love in our house, and there was a lot of laughter in our house and a lot of fun. It was just unsafe, not because it was dangerous all the time, but because it was unpredictable all the time. Does that ring true for y'all?
BG: Totally fair.
ABR: Yeah.
BB: It's weird if you're listening, because we have to ask each other these questions because we almost come from different families. I mean, we don't, we have the same parents and we grew up all together, but I'm eight years older, and so in one way, the hypervigilance, it's hard to carry, I still can feel like that, I can still feel like, "Where is everybody? Who's safe?" Those kind of things. And so I think that was hard, and then I think the superpower was understanding that,  all the connections between thinking, cognition, feeling, and behavior.
BB: The other thing that I think was important is that when I started numbing with alcohol and probably smoking too much pot. I don't know how much is too much, but yeah, both. What I realize is I lost those superpowers, that those superpowers were completely connected to not numbing.
BG: Damn.
BB: And so I hate that the hypervigilance… I hate that part, and I think I have to work all the time to overcome that, but I'm grateful that I learned that in the AA Big Book, they say, "The promise of neutrality where you're not running towards something or away from something is only granted that promise if you're in fit spiritual condition." And so I think leading me to recovery was a gift of that. Leading me to this career was a gift, I think, but there was also hard parts.
ABR: Yeah.
BG: Do you think part of the upside or positive side to that was this beautiful gift that you have to normalize crazy shit for people, for all of us? You definitely… Even in Atlas, you share a lot of stories where we're like, "Oh my God, me too. Thank God other people are like this too." Do you think that came from that young, hypervigilance?
BB: Yeah, and it came from like, my kids are never going to think I'm the only one that feels this way, acts this way, smells this way, my body does this. No, we're talking about everything. We're naming everything. We're normalizing everything. And I think y'all normalize with your kids too, like crazy.
ABR: Yeah, I think so too.
BG: I feel that so much of this beautiful community that you've built, that we've all built in this work, part of such the gift that you've given people is that normalizing and is that me too. You're just not afraid to use yourself, to let people know, "Yeah, shit happens to me too. It happens to every one of us." And so I just think it's a gift and it feels like it may have been born from this.
BB: I think it was born from that, and I think, Ashley, what you said, I could just cry when I think about it. You drive through… Look, we just come from a subdivision, probably middle to maybe upper middle class subdivision, college-educated, probably one parent was college-educated, usually the father where we grew up, they commuted into town, a lot of stay-at-home moms back then, and I'm telling you, there's a story in every one of those houses in that neighborhood that will bring you to your knees. Death, suicide, addiction, mental health, violence.
ABR: And even when that stuff did leak, our parents would be like, "Shh. No, we don't talk about that." Or we make up lies about it, or we tell stories… It was never honest, open conversations. I remember having a list of things to ask you when you would come home from college, because we never had those conversations with Mom about our bodies or what that meant and stuff like that. And I'd be like, "Oh God, Brené is coming home. I'm going to ask her all these questions." Because you would tell us.
BB: Yeah, I just couldn't… You know why? Because I met friends for the first time, when I left, because I was like, "I got to get the fuck out of here as fast as possible."
[chuckle]
BB: When I left, people would be like, "Yeah, oh my God, look at this." And they'd pull up their skirt and they'd be like, "Who needs a bikini wax?" I was like, "What is happening?"
[chuckle]
BB: I was like, "What is happening?"
[chuckle]
BB: And I would look, I would literally be like, "That's normal?" Because all I have is Seventeen magazine, Young Miss, and no one's talking about it. And so I was pretty sure I had a genetic disorder or something. I literally would look up so many things in the library like what's happening? And I would be like, "Oh my God, you need to put your skirt down." She's like, "No, listen, I could just braid this shit right here." And really, I just like, "Oh." And you just throw yourself in this room with a bunch of 18-year-old women who are talking about everything. It was incredible.
BG: I love that.
ABR: I love that too. I would say… Well, I'm going to ask you a question and then after you're done answering it, I want to give my point of view from it.
BB: Okay. We'll see. [laughter]
BG: This is how we interview. We're going to ask the question and then we're going to frame the answer. [chuckle]
BB: Like I said, we'll see.
ABR: Yeah, okay, so I've heard you say that this book kicked your ass, will you say a little bit about what… I think you started already just by… But what, what was hard about it?
BB: I think environmentally what was going on in the world was hard. So we're in the middle of COVID, hardest season in my marriage, my kids are really struggling. I went into it kind of like, "Oh my God, am I going to be able to do this? I don't know if I'm in the right place." And then also just… No, we can't talk about that? Just hard things with our parents?
ABR: Oh yeah. We could talk about it here or just surprise people when they get the book. [laughter]
BB: Oh shit. I forgot. It's in print. [laughter] I blocked it.
ABR: Yeah, I would just say there is a lot of grief in this book for me. Starting from the first chapter, but even reading throughout the chapters, this idea of being able to talk about these feelings and knowing these feelings and sharing these feelings, and I felt like so much of that was taken away from me as a kid because of how I was a kid.
BB: Mmm, say more.
ABR: Well, I had so much grief around the part about being curious, and I can just tell you five stories about a time I was curious, and everybody would be like, "Stop talking. God, you're asking too many questions." And it almost took away my curiosity, where I stopped asking so many questions and just try to figure it out shit by myself. And when I was reading this book and really thinking about the part around curiosity, I was so sad. I was angry and sad. So I was just wondering, when you say it kicked your ass, did you go through any of those emotions when you were writing it?
BB: Yeah, I'm just… I have to say I'm having a very emotional reaction right now, just because I feel very protective of you.
ABR: And potentially there could have been learning moments in my curiosity. For example, maybe the Disney World bus driver wasn't the best person to ask a lot of questions about the difference between alligators and crocodiles.
[laughter]
ABR: But I was so curious.
BB: I don't know about you, but I love that part of you.
BG: Me too.
BB: I love that part of you. You are a….insatiably curious… "Excuse me, sir, as we're crossing the swampland that's close to the resort, I'm curious about alligators or crocodiles?" and he'd be like, "I'm pretty sure it's alligators," and "What would be the difference, do you think, and what's the survivability of this and this?"
ABR: So part curiosity. Part survival.
[laughter]
ABR: Where is the exit?
BB: Yeah, no, I don't know, I think you were and still are joyfully curious.  Yeah, and I do think that was shut down, because I don't think you just asked about alligators and crocodiles, I think you asked… I mean do you remember?
ABR: Yeah.
BB: I mean you would say, "So why are you acting like this? Or that seemed hurtful. Why did you say that?" And I was like.   [vocalization of siren sound]
BG: Go to my room, go to my room.
BB: I was like, "Go to take the girls upstairs.  Go!"  Yeah, so I do think that just like I was a very 10-year-old emotions researcher, you were a 10-year-old therapist.
[laughter]
ABR: What was Barrett?
BB: With a parasol. [laughter] That's always my favorite story of y'all, like the first day of kindergarten, Ashley and Barrett come hauling ass down the stairs and Barrett's got on a flannel shirt, like a logger… Like a flannel shirt, blue jean cut offs, tube socks up to her knees like the kind that the circles around the top, tennis shoes, and two long braids like… I don't know, she's looking to go logging or going to Oregon to do some work, I don't know what it was. And Ashley's right next to her, and she has on a dress that literally had a frilly petticoat, she has a purse in one hand and a parasol that matches her dress. And these are the identical twins.
ABR: Pretty sure I had an umbrella too that matched everything.
BB: Yeah, that's the parasol.
BG: I was logging by the way…
ABR: Oh, I thought it was a purse. Now, what's the difference between a parasol… [laughter]
BB: I do believe a parasol is from like Gigi.
ABR: Gigi Okay I can go there.
BG: Y'all are so funny.
BG: So tell us about the book kicking your ass, the time, everything that we were dealing with the pandemic, our parents.
BB: Yeah. Does there need to be more to have my ass kicked? Was there more that I haven't mentioned? Oh, this is it, they have an answer in their head, so they need to go now.
ABR: I don't…
BG: I don't either.
BB: No, it was just hard. It was like… I remember one day in a really bad argument with Steve and I was like, "You know what, if I just had to write this book, that would be hard enough," but I had to write the book and I'm hurt because I got hurt playing pickleball. And I was really hurt, I couldn't really sit down well I pulled my piriformis muscle or something, like right up in your hip, butt area. If I was just hurt and having to write a book it'd be okay, but hurt, writing the book and COVID and hurt, write this book and Mom and then blah, blah, blah,  Mom and Dad blah, blah, blah Mom and Dad and this, you know, it was just… Yeah, it was hard.
BG: And for sure, part of your writing process is like a two-mile walk every morning to frame your thoughts for writing for the day, and then… You couldn't do that either.
BB: No, I couldn't. It was really hard.
BG: Yeah.
ABR: Yeah.
BB: And I did something really hard this time that I haven't talked about yet.
BG: Do tell.
BB: This time, this is the first time I've done this writing a book, I said, "I will not miss one water polo game."
ABR: Good.
BB: I will not miss one big thing for Ellen, I will not miss anything. And that was hard, and I'm sure it's why I was late turning it in, which started a domino of hardness for all of us.  But this time I thought I can't go into the vortex and come out having missed the things in my life that are so important to me.  So I remember like Chaz, who is our CFO and also my friend for decades, always comes and kind of stays with our family and midwifes the books, and we play ping pong, we talk out concepts, and Steve and Charlie left for Dallas for a water polo tournament, and then it was right after I got hurt, so I had to go into a separate car with Chaz, because we had to pull over every 30 minutes for me to get out and walk and… And then I'm trying to do that, and then we're staying in an Airbnb and I can't sleep because I'm hurting, and then I had a chapter due in 24 hours and then the water polo games were like four at a time, but I was like, I'm not doing it.  And I didn't miss anything, but the stacking of stuff was hard.  And parents and struggle is maybe one of the hardest things I've ever had to do.
ABR: Oh yeah, because I mean Mom was in struggle, but there was also a shit ton going on with Dad all through your book.
BB: Yeah, really hard.
ABR: And while physically, we were not all in St. Antonio at the same time, we were all in it together on the phone with each other, talking through all of it.
BB: Yeah, hard, tons of grief.
ABR: Tons of grief.
BB: And rage.
BG: 100%.
ABR: And normalizing.
BG: For each other.  Yeah. Thank God.
BG: What surprised you about this book?
BB: I don't know, I think of the book divided into three sections, so the first is kind of my story, how I came to do this work, and then also in the first section is the power of language and the Ludwig Wittgenstein quote, "The limit of my language is the limit of my world." And I thought when we first started running the curriculum and we asked all the people, I think it's right at 7,000, right over 7,000 people. Make a list, write down for us all the emotions that you can identify within yourself while you're experiencing them, and the average number was three, I was so shocked. And I started thinking about that combined with that quote that really stuck with me all the way from college, from Wittgenstein. I don't know if its Wittgenstein or Wittgenstine but, I don't even know it's Ludwig Ven, hard name.
BB: But God, what happens when the limits of our vocabulary are the limits of our lives, and I'm not like right now, with everything going on, I'm not happy, or sad or mad. I'm feeling grief, I'm feeling some despair. I'm feeling resentment, I'm feeling all these words and what if I couldn't pick up the phone and call y'all or tell Steve what it was that I was feeling. And so I think the two things, how dangerous it is really, that we do not have vocabulary that's as expansive as our experiences, and that we have to shove, like shoehorn our experiences into the language we have. If I just said, it's very different. If I called the phone, I'm on the way back from San Antonio, and I was just like, "God, I'm so mad, and I'm just sad and I'm mad." But to say like, "Oh my God, I am so overwhelmed with grief about what's happening right now," that's a completely different conversation.
BB: And I am envious of my friends who are not having to do this right now, they can focus just on their kids. So I think the power of language, the power of creating an expansive vocabulary.  But I think one of the biggest shockers other than in the first section of the book, the middle section, is how we go through all the 87 different emotions and experiences. But the fact that language does not just communicate what we're feeling, but shapes it, and the only thing that I have come up with, as people I've been interviewing about the book is that if I say, let's make chocolate chip cookies. And I pull the bowl down and I add the flour and the milk and the brown sugar and the chocolate chips and everything, what we don't understand is what if I told you that you have four different bowls at home, and depending on the bowl that you use, every bowl will produce a dramatically different flavored cookie. Language is the bowl, it doesn't just hold, it shapes and flavors what we feel. So if I say "I'm so pissed off," but what I really am is disappointed, I can't reconcile, regulate and move through that emotion and heal it as powerfully as I could if I had named it accurately.
BB: Like, God the language thing is like no joke.   And it's no joke in personal relationships, but it's also no joke collectively.   Everyone is so full of fear, and they're calling it rage or anger, but it's fear. And I was watching this Trump rally on television, and I kept saying, this is like awesome. They have the best swag, they've got overalls and t-shirts, and flags and banners and decals, and all of the artifacts they have are brimming, just like seething with emotion. I was like wow, these people are getting to experience such intense counterfeit belonging. Do you know what I mean… Isn't it fun when you go to a football game and you've got… We're like this for sure in our family. Do we ever go to a football game without the swag?
BG: No.
ABR: Nope.
BB: No, it doesn't matter, you were like, I don't know, I got tickets to the Green Bay Packers.  I'm wearing a cheesehead.
ABR: I know, I just bought a Chiefs hat, I'm not even a Chiefs fan.
BB: Because you're going to a Chiefs game, right?
ABR: Yeah, with Cheryl.
BB: But that sense of how we want to believe that we are cognitive thinking beings, and that our first order of processing, is rational thought or cognition. When in fact we are not built that way, we are emotional beings, and when emotion is driving, cognition is not riding shotgun, cognition is hog tied in the trunk. It's in the bed of the truck. You know what I mean? It's, Oh my God, am I like a Texan or what? [laughter]
BB:  [in Texan accent] I'll tell you all what, when emotion is driving [laughter] cognition without thinking, bullshit that's not even riding shotgun, that's hog tied in the bed of the truck.
[laughter]
BG: But guys, I do have a question.
BB: Okay.
BG: So what happens let's just say you call on your drive back from San Antonio and you're so pissed off, but it's actually not what you're really feeling, and then I respond to you from a position of your pissed off.   I'm not even responding to the correct emotion. Do you just fall in a cycle of we're not being helpful?  I'm not being helpful, and how I'm responding, because I don't know how you're really feeling.
BB: Yeah, I mean it's really… I think we can still connect, I don't think we can move through it. And heal and process productively. So growing up in our house because emotions were off limits and emotions and vulnerability were seen just as weakness, right?
BG: Mmm-hmm.
BB: The only… And this has been real…profound growing for me, understanding this.  The only emotion that was actually allowed was anger, because anger is not a weak emotion.   It's an emotion of dominance a lot of times, so dominance was okay. So you could be pissed growing up, but could you imagine saying like, if one of us said, if you were like doing something and I said, "Barrett, you're pissing me off," like our parents would not blink.
BG:Yeah,
BB: But if I said something like, "Barrett that feels like you're hitting a real tender place and it hurts my feelings…"
[laughter]
BB: Okay, why are y'all laughing?
BG: Because you said pretend like when we were little, I said that.  I would not have been able to even articulate that. I bet…
BB: Yeah. And we would have probably gotten in trouble.
ABR: I was laughing because I was like, I would have been… It would have been scary to say something like that…
BB: It would have been scary to say something like that, because I think what we would have heard back is…
BG: Oh, you want to see tender?
BB: Oh my God, yeah. I think because we were raised with that… I think… My go-to emotion is anger. I get mad. And so if I call you on the way home and I'm like, "God, I am so pissed off about something," usually what will happen now is you'll say, "What are you pissed off about?" And I'll say, "No I'm just pissed." Then we'll start talking about it, and because I feel safe with you, I'll probably end up getting chatter… I don't even know if I think I'm like, I'm in a shame storm, so I think because we can hold space for each other, we can hold that container and we feel safe to… But I think we're all pretty good at when we say "God, I'm so pissed off," we just stop, and we just open our arms really wide and prepared to catch what's behind that, too.
BG: Yeah, that's true.
ABR: When we think about all these emotions and new language and all of it… Who do you think the target audience is for Atlas of the Heart?
BB: You know, my dream scenario would be that families go through it together, that couples go through it together, that people read it in college classes, even if they're like, I only agree with 50% of these definitions of emotions and they're not my definition, so we really defer to the scholars and the researchers, the academics who study these things, but even if you don't agree with it, if it just gets you talking and thinking and even… We go through 87 even if you got, if you were able to read this and it added 10%, eight of those, and the mean number that we can experience is three, then you're up to like, let's say three of them, You're still up to eight, which is more than a 100% of what you knew going in, maybe…
BG: Yeah, that's true…
BB: And so I just hope it's a big conversation that people have about how to build the vocabulary, and it's not just me doing the work, there's so many great social-emotional learning folks doing the work.
ABR: And so I took this on a flight with me recently, I took the cover off, because I didn't want anyone ask me how I got it already, but it was cool because I thought I was going to read something and every once in a while I would lean over and be like, "Amaya, read this?" But it was like every page and her perspective on it was so cool, so I was thinking about how cool would be for high schoolers, to be able to just talk about this with our kids and with everyone.
BB: What does she think?  Amaya is my niece, who's 18
ABR: First of all, she just always loves any story that you tell.  She really loves the story about Lucy and how you never thought you'd have an Ewok. But it just melted our hearts, and you were talking about, I think awe in that part, but she was just like… "Oh my God, that's so true." And then she would want to tell me a story about a time that she felt that or saw that or someone shared that with her.
BB: Oh my God, I love that.
ABR: Yeah.
BB: I love that.
BG: It is such a beautiful gift that we can teach our kids. How to tell us how they're really feeling, so we can really show up in a way that's meaningful.
ABR: And one of the really cool things that's different about this book is all of the pictures and images and its color, and I was like, quote pages, and there's little cartoons, and so sometimes we were just flipping around, so it makes it… Well, I love stuff like that, but it also makes it friendly for all ages to be able to just look at one page, like the belonging page of just the signs that they're holding up, how cool would it be to have a conversation around the dinner table with your family about that page.
BB: Right
ABR: Yeah.
BB: Yeah, I hope people talk about it, because I think it's something… I mean, the whole book, the whole purpose of the book is how do we find our way back to ourselves first, and then to each other, and I think we're not just disconnected from each other, I think we're disconnected from ourselves as well.
BG: It's almost like so beautiful… It's a coffee table book. I mean, how do you think the images and all… There's big, beautiful cool pages and it's so beautiful, how do the images and graphics in this book support the content?
BB: You know, it's so funny because I've never done a four-color book before, and that was a whole dangerous thing, because Ben, my editor would be, you know, because Barrett works with me side by side kind of every day while Ashley, the "therapi" is healing the world. But Ben would be like, "Hey, we really need to get back on this chapter," and I'd say, "I'm sorry, I'm picking photos right now," and I can get really lost in an ecstatic force of the book. I mean I have it on my coffee table because it is a beautiful book. And the folks at Global Prairie led by Mike Hauser, who designed the front.
BB: The images, just the photography inside the quote cards, and then trying to figure out a way to express hard concepts. I'm a big fan of Gavin's, the graphic, he did all the comic art, I just wanted it to be a little bit like a combination of reference book and story.
BG: Well, you nailed it.
ABR: Yeah. You nailed it.
BB: Thanks, guys.
ABR: And just like knowing you the way that we do.
BB: Yes?
ABR: Where did your joy meter fall, being able to bring in such beauty [chuckle] into really great content.
BB: It's probably really high now.
[laughter]
BG: Yeah.
BB: It was not high then, just to be honest with you.
[laughter]
BB:  I'm joyful when I see it now, then I was like "fuck, [chuckle] it's hard"… Yeah.
BG: It's so good.
BB: It's beautiful.
ABR: So you landed on 87 emotions.
BB: Yeah.
BG: Emotions and experiences.
ABR: And experiences. We just talk a little bit about… In the book, you talk about… First we had the alphabetically and then we grouped them…
BB: Yeah.
ABR: So we just talked a little bit about how…
BG: Oh my God, and how you named the chapters, I think it'd be really neat to just go through the table of contents and tell everybody what the chapter names are and what emotions fall in each, but tell us how you grouped them.
BB: Well, first of all, it was really interesting, because Ashley, you and your people had a very big part in…
ABR: Oh yeah.
BB: Yeah, in kind of how we ended up here. So where we started is in partnership with OWN, the Oprah Winfrey Network, several years ago, I taught an online course that had a big component on kind of emotional liturgy… Liturgy, kind of.
BB: Peace be with y'all.
ABR: Yeah and also with you.
BB: Okay. [chuckle]
ABR: Where's my wafer.
[laughter]
BB: Remember when, was it Charlie that said, "Hey, when's the time to get the Jesus cookie?"
[laughter]
ABR: The Jesus cookie indeed.
BB: Yeah. Okay focus, sisters. So, I taught this course with OWN and it was from 2013 to 2014. We had close to 70,000 participants that were enrolled in the course, and we had over 500,000 comments and questions. So we took all the comments and questions, de-identified them and then submitted for permission from human subjects so that we could use it as secondary data. So then we went into the data asking what are the emotions and experiences that emerged most often and which ones do people really struggle to label and name?
BB: And I will just tell you right now, we say emotions and experiences, because there's a lot of debate within the academic community about what is an emotion, how many are there, and there's this great quote from an emotions researcher that says "There are as many theories on emotions as there are emotion researchers." So I wanted to skip that pissing match and just say, "Look, I'm going to call it emotions and experiences, I don't know that they're all emotions, but they are the emotions and experiences that define what it means to be human." So from that, it yielded about 150 emotions and then you'll see your picture, Ashley, [chuckle] Roman numeral, page XXVI so 26. So then I brought together this incredible group of clinicians, so therapists, counselors who work in very diverse areas. If you're looking at this picture, it's like everyone from psychoanalytic Jungian counseling to Black Lives Matter, community organizing work, addiction work, school, counselling.
ABR: Hospital.
BB: Hospital. And we put all of the emotions on the wall, and then this is a very high tech [chuckle] focus group. Yeah.
ABR: It was pretty.
BB: Yeah, it was pretty. Put all the emotions on the walls and then gave everyone garage sale stickers, green, red, and yellow, and asked this group of clinicians. There were one, two, three, four, five, six, seven, eight, nine. To kind of rank them in terms of what do we need to name to move through it, heal, replicate it if it's a positive affect or an emotion. And that's how we ended up with the final list. I added some to the final list because… And this is interesting, so once we had that final list, I was going put them in alpha order in the book, and then we had Prerna and Ellen interning with us on this project, and they were like, That's a terrible idea. [chuckle] Which there's nothing better really than a millennial or Gen Z intern.
BG: Yeah. I agree.
BB: Yeah, and we have, I think over 50% of our folks in our team are millennials, I don't give a shit what all the myths say they're just bad ass. Right, yeah. And they're just like, That's a really bad idea. [chuckle] And so I was like, "Well, say more." And they said, "We have learned so much by comparative understanding. So it's like when you teach shame, guilt, humiliation, embarrassment, if you put those in alphabetical order and you put it…" I'm going to have to do this on the fly, but you'd have embarrassment and empathy close together, that's not helpful. What's helpful is understanding how the things are the same and how they're different, and if you're talking about a metaphor of a map, which of these emotions live close together, which do you guess are close together, but live continents apart.
BG: Yes.
BB: And so then we ended up saying, "Okay, let's not group them alphabetically, let's group them how we think we can teach them and learn them the best," and so those are the chapters. Should we go through them? It's so fun.
ABR: Yeah.
BG: Yeah, lets go through them.
BB: We'll just go really fast. So Chapter One, the "Places We Go When Things Are Uncertain or Too Much," so that's like stress, overwhelm, anxiety, worry, avoidance, fear, dread. There's "Places We Go When We Compare," "Places We Go When Things Don't Go as Planned," which is disappointment, frustration, regret, discouragement, resignation. "Places We Go When It's Beyond Us." Awe, wonder, confusion, curiosity. And it's so funny to me because you talk about being such an inherently curious person, but you are also an awe and wonder seeker.
BG: Oh yes.
ABR: I am, but I didn't… I wouldn't have even been able to tell you the difference or I would never use those words had I not read this chapter.
BB: On wonder?
ABR: Yes.
BB: Yeah, and they're so important because they're both experiences that we need more of they really, really… Just contribute so much to the human experience, experiences of awe and wonder but they are different experiences. "Places We Go When Things Aren't What They Seem." Bittersweetness, nostalgia, paradox, irony, sarcasm, cognitive dissonance. "Places We Go When We're Hurting." That's a tough chapter.
BG: Yeah.
BB: Anguish, hopelessness, despair, sadness, grief. "Places We Go with Others," compassion, empathy, sympathy, boundaries. "When We Fall Short," shame. The shame, blame chapter. "Places We Go When We Search for Connection," "Where We Go When the Heart Is Open." "When Life Is Good," joy, happiness, calm, contentment, tranquility. "Places We Go When We Feel Wronged," and then "Places We Go to Self-Assess." And so yeah, this made so much more sense. So, points for Ellen and Prerna.
ABR: I've loved reading it this way.
BG: Oh, me, too. I love and it's just so great. I agree with Ellen and Prerna, a way to go.
BB: Yeah.
BG: I'm so glad you spoke up.
ABR: Yes, me too. Alright, so there's one more question we have for you.
BB: Okay.
BG: Book Club. So we can turn our pages to XXX, page 30 in roman numerals.
ABR: You know it'd be really fun, y'all, is if we did a podcast together, where we came up with songs that went with each chapter.
BB: Oh, my God, that would be…
ABR: Maybe we could even sing a little of them.
[laughter] [inaudible comment]
BB: I just want y'all to know, this is take two of this podcast. Because right out the gate, Barrett said one thing, and Ashley already was singing. Okay.
ABR: And then we had to stop because Barrett couldn't get it together. She was laughing too hard.
BB: Yeah. Then Barrett's laughing so hard, she's hysterical. And I'm just thinking, "I don't know how we get copyright clearance from Beyoncé on that."
[laughter]
BB: Yeah.
ABR: Alright. So this… Do want to ask this one B?
BG: Oh, yeah, sure. I just wanted you to take a second because, in our next episode, and we'll talk more about it. But we're actually going to go into the chapters and ask you some questions or rumble on a few things and how we responded to some of the emotional experiences that are in the book. But before we get into that, the last part of this episode, talk to us about the biology, biography, behavior, and backstory.
BB: Oh, yeah. Just… What is an emotion? And I think emotions… This is why the map was such a great… I'm not going to talk about the map metaphor, because how many books have I've been trying to use the map metaphor?
BG: Oh, my gosh,
ABR: Not just books, years…
[chuckle]
BG: I know. There's so many maps everywhere in our office, in her home…
BB: Yeah, I love maps, because, you are here, and how did I get here? And how am I going to get there?
BG: And during the Circe phase, there were a lot more maps.
[chuckle]
BB: Oh, my God, I was… I got really obsessed with ancient Greek maps. And yeah, mythology maps, when I was reading Madeline Miller's Circe. Okay. So it's so interesting, because when you talk to cartographers, what they will tell you is that the story of a map is the layers of the map. And the same is true for an emotion, an emotion is biology. We need to understand how emotions show up in our bodies and why. It's biography. So all the emotions we have… We talked about the biography emotion, I get angry. That's my go-to feeling because that's what we had permission to feel. And was what we saw modeled. I'm not even sure I've ever seen either one of our parents ever say something hurt to their feelings? Have you?
ABR: No.
BG: I don't think so.
BB: I mean, y'all had the same parents 2.0?
BG: Yeah.
ABR: But even we were even such different kids.
BB: Yeah. So what is your biography like? What is your story about these things? It's behavior, how do we show up in emotion? And then it's backstory. And here's a real moment to take a pause. So Ashley you know as a clinician, and Barrett you know this because you go to every training I've ever been to, but I've spent my whole career saying… And it wasn't flippant. It was just… I just spent my whole career like many, many emotion researchers, I've heard say, "We need to learn how to understand emotions, recognize emotions in ourselves and others." And I just don't believe that we can recognize emotion in other people anymore. I don't think that's true. And so, when we were filming the HBO special, I use movie clips to illustrate this.
BB: I showed this great scene from a movie where someone's just losing their shit. And if I had to recognize the emotion in that person, I would say, rage, anger, contempt. But without the backstory, I don't really know. And then once I knew the backstory, I would say, shame, humiliation, grief. That's why I think therapy is so important because it's a place where people are trained to help us open the hood, and look at biology, biography, behaviors, and backstory. Do you know what I mean?
ABR: Totally.
BB: If we can understand this for ourselves. I think it's powerful. And so now what I've learned is we need to recognize emotion in self. We need to build a vocabulary. And we need to build an understanding of what the emotions are. If I say, "God, what am I feeling right now? I'm pissed… I'm so pissed. Wait, I think I'm disappointed. Oh, shit. Disappointment's usually connected with expectations. Did I have an expectation for how this was going to go? Did I set myself up here? Was there a stealth expectation? How was it that I'm…" How many of you has done this thing where you're texting the person you love, your partner, "I can't wait to see you." "Can't wait to see you too." And then you're together actually for five minutes and you're in a fight. Because no one voiced the expectation and so…
BB: I think our job is not to recognize emotions in other people, but to be really curious, another great way you've leveraged your innate curiosity as a therapist, right?
ABR: Yeah.
BB: Get curious about people's stories, and when they tell us their story, we listen and we believe them. That's much better than guessing what people are feeling, is to say, "What's going on?"
BG: I love how you talk about story stewardship in this book, you just mentioned that.
BB: Yeah.
BG: Tell us about that and we'll wrap up the episode after that.
BB: Yeah, no, it's in the… So y'all know I've been working on this model for connection for like 20 something years, ever since my dissertation. It's been so frustrating, every book, I think… "Oh, man, in the final chapter of this book…" and every kind of, when you start writing a book you have to put proposal together. And then once they trust you, you're just like, "Here's my idea for the next book," and they're like, "Okay." And then in my head, every book is going to end with this, a framework, a model for meaningful connection.
BB: Because it could have gone in any book I've written, because connection is the heart of everything I do, everything we do, and so I couldn't get it, I couldn't get it. Finally, in this book, I come across a concept that I had heard many, many years ago, but didn't give much thought to, and it helps me… We'll save it as a cliffhanger, it helps me put together this framework for the first time in a way that's really… That works. I can't wait for other researchers to come behind and start testing it, but one of the things I talk about in this new model is story stewardship, that we need to be amazing stewards of the stories that people tell us. That when you tell me a story, when I say, "How are you?" And you tell me, I don't think empathy is about walking in other people's shoes, I think it's about listening to the stories they tell about their experiences in their shoes and freaking believing them, even though our walk is different. And I think that's where we miss everything around race, around identity, around gender, around poverty and class. We don't believe the stories people tell us about their pain and their experiences, because A, it's too dissimilar from our experience, or B, We don't want to be accountable. So I was very excited.
ABR: Well, when you just took us a second ago on your journey from disappointment to expectation. That's where we plan on going in the next episode, where we…
BB: Oh, great.
ABR: Yeah. We'll pull in some things that shocked us or surprised us or that we want to ask you a little bit more about in each of the… Not all of the different chapters, but most of them.
BG: And guys, we get to finally ask Brené, the rapid fire questions.
BB: What?
BG: We're turning the tables on Brené.
BB: I swear to God, I did not prepare for these.
BG: And we've added some, that she doesn't know. So stay tuned for Episode Two…
BB: Oh, good, thank God. [laughter]
ABR: Hug your paper, take it home with us.
BG: Yeah. She's not going to be able to see it. And we'll see y'all right back here next time.
BB: And I just want to say I'm so grateful to y'all for celebrating for… I just couldn't do the work without y'all. I mean, it's just such a gift to be able to work with y'all all the time. I love y'all so much.
ABR: It's such a gift for me that you've done this work and that I get to go out in the world and implement it. So I just… I'm so grateful too.
BG: Me too, I feel like it's such an honor every day to come to work and put this work out into the world. So thank you too, love y'all too.
ABR: Love y'all.
BG: Bye.
BB: Bye.
ABR: Bye.
BB: Do you want to sing us out?
[Singing and laughing: "American Pie"]
BB: We're going to get cut off with the copyright people, alright we out.
[music]
ABR: Well, that was super fun. It's really different sitting on this side of the table and asking Brené all the questions, but it was really exciting, and this book is amazing.
BG: Yes, she makes it look so easy to interview people, and I was like, " Doo, doo, doo, I don't know what to say." [laughter]
BG: It was really great, and you can find, Atlas of the Heart: Mapping Meaningful Connection and the Language of Human Experience, wherever you like to buy books, and we'll also put a link to purchase the book in our episode page.
ABR: You can find Brené online on Instagram, Twitter, Facebook, and LinkedIn @brenebrown, we'll also put those links on the episode page.
BG: Don't forget that every episode of the Unlocking Us podcast has an episode page on brenebrown.com, where we have resources, downloads and transcripts, you can also sign up for our newsletter there too.
ABR: The Dare to Lead podcast is also available on Spotify every Monday, and it's free to everyone.
BG: Don't forget, tomorrow this podcast is dropping on December 1st and tomorrow, don't forget to join us for the live virtual launch event, Atlas of the Heart, it's Thursday, December 2nd at 8:00 p.m. Eastern. You can find a link on the episode page to register for the event, registration includes access to the event, and a copy of Atlas.
ABR: We're grateful that we get to be here with you to unlock the deeply human part of who we are together, and it's really fun to watch Brené squirm a little bit as she did not know any of our questions today.
BG: And the rapid fire is coming next, guys just wait.
ABR: Stay tuned.
BG: Ashley, how about if we do it together?
BG & ABR: Stay awkward, brave, and kind.
BG: See you next week right here, only on Spotify.
[music]
BB: Unlocking Us, is a Spotify original from Parcast. It's hosted by me, Brené Brown.  It's produced by Max Cutler, Kristen Acevedo, Carleigh Madden, and Tristan McNeil, and by Weird Lucy Productions. Sound design by Tristan McNeil and music is by the amazing Carrie Rodriguez and the amazing Gina Chavez.
© 2021 Brené Brown Education and Research Group, LLC. All rights reserved.
Podcasts
Brené Brown Education and Research Group, LLC, owns the copyright in and to all content in and transcripts of the Unlocking Us and Dare to Lead podcasts, with all rights reserved, including right of publicity.
What's Okay
You are welcome to share an excerpt from the episode transcript (up to 500 words but not more) in media articles (e.g., The New York Times, LA Times, The Guardian), in a non-commercial article or blog post (e.g., Medium), and/or on a personal social media account for non-commercial purposes, provided that you include proper attribution and link back to the podcast URL. For the sake of clarity, media outlets with advertising models are permitted to use excerpts from the transcript per the above.
What's Not Okay
No one is authorized to copy any portion of the podcast content or use Brené Brown's name, image or likeness for any commercial purpose or use, including without limitation inclusion in any books, e-books, book summaries or synopses, or on a commercial website or social media site (e.g., Facebook, Twitter, Instagram, etc.) that offers or promotes your or another's products or services. For the sake of clarity, media outlets are permitted to use photos of Brené Brown from her Media Kit page or license photos from Getty Images, etc.