On this episode of Unlocking Us
This week I'm talking to Brandi Carlile, singer, songwriter, performer, producer, activist, and author of a new memoir, Broken Horses. We talk about everything from the politics of middle school lunch tables, to the pursuit of complicated faith, to the tyranny of fitted sheets. This is a conversation between two people, meeting for the first time, and yet, somehow, it feels like we've been friends forever.
Listen to the episode
Show notes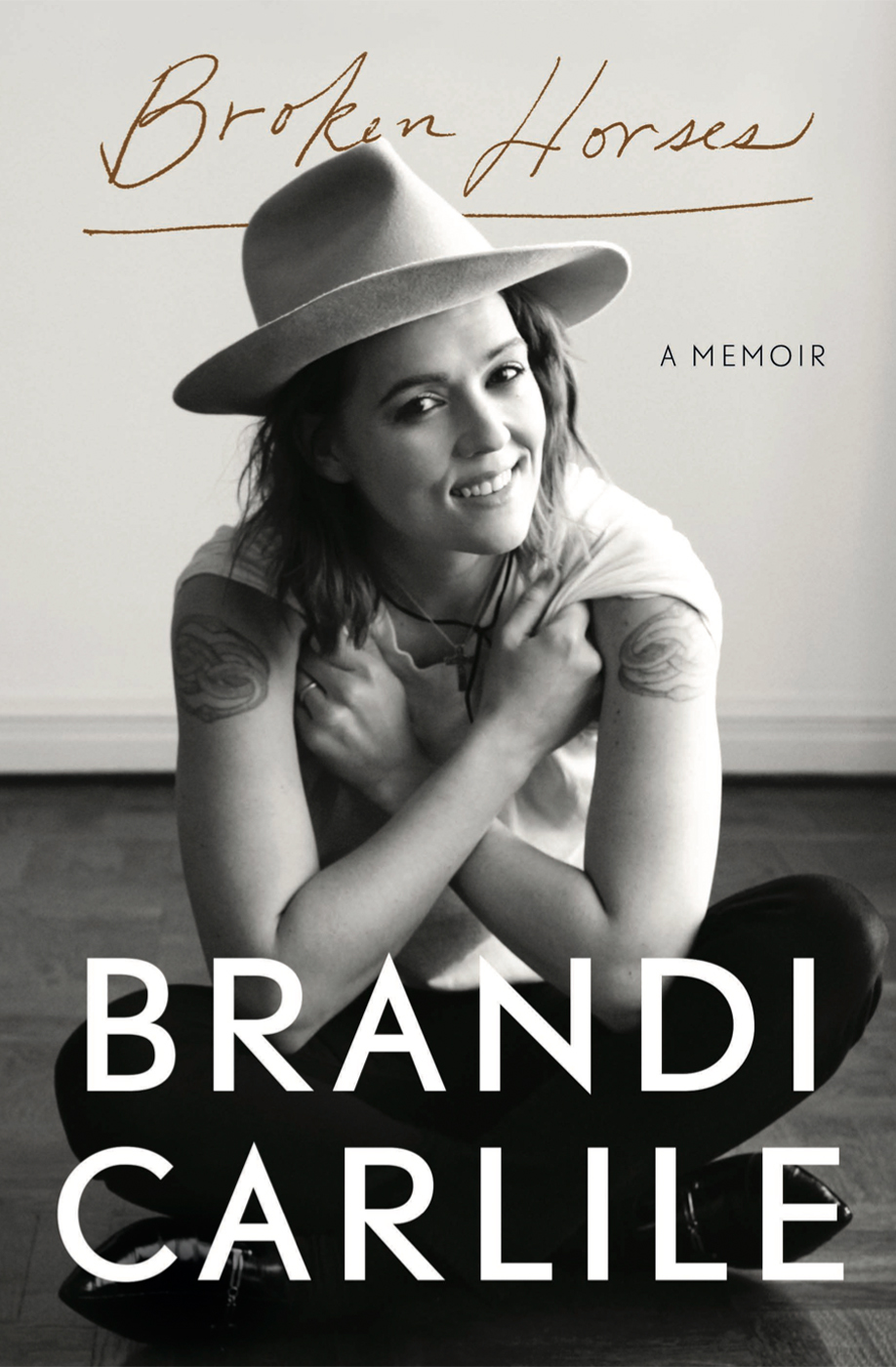 Broken Horses by Brandi Carlile is at once an examination of faith through the eyes of a person rejected by the church's basic tenets and a meditation on the moments and lyrics that have shaped the life of a creative mind, a brilliant artist, and a genuine empath on a mission to give back.
Transcript
Brené Brown: Hi, everyone. I'm Brené Brown, and this is Unlocking Us.
[music]
BB: You can already hear me smiling, because in the episode today, I am talking to one of my favorite people in the world, singer-songwriter, performer, producer, activist, author, Brandi Carlile. She's got a new memoir out called Broken Horses, and we talk about everything, from hard stuff growing up, to the tyranny of fitted sheets. This is a conversation between two people who somehow it feels like we've been friends for decades. I cannot wait for you to hear this episode.
[music]
BB: I probably don't need to tell you a lot about Brandi Carlile, but I'm going to, just because I want to read all these incredible things. She is a six-time Grammy Award-winning singer-songwriter, performer, producer, and activist. She is known as one of music's most respected voices. Brandi was awarded Billboard's Women in Music Trailblazer Award, CMT's Next Woman of Country Impact Award, and she has received multiple recognitions from the American Music Association Honors and Awards. She's also part of the Grammy-winning group The Highwomen. Adding to this incredible career as a musician, she has written a memoir called Broken Horses, where she tells her story, really opens up about the events in her life that have shaped her music and how her music has shaped our lives. And I have to say that I wrote one of the endorsements for the book, because I got to read an early copy, and every now and then storytellers come along who tell stories with such depth and fearlessness that you don't just see them, but you see yourself in those stories, and this is that book.
BB: Brandi is also the founder of the Looking Out Foundation, it was created in 2008 with Tim and Phil Hanseroth, often known as the twins, who have been playing with her from the beginning. Looking Out at amplifies the impact of music by empowering those without a voice with varied initiatives including campaigns focused on children in conflict, War Child, The IF Project, Fund Racial Justice Campaign, Fight The Fear, Looking Out For The Hungry, and more. To date, they have raised over a million dollars benefiting children whose families, communities, and schools had been torn apart by war through their 2017 Cover Stories project. Overall, they've raised $2 million for grassroot causes.
BB: Brandi lives in rural Washington State with her wife Catherine, who if you've ever seen Catherine take over Brandi's Instagram, it is not to be missed. They have two beautiful daughters Evangeline and Elijah. I hope you enjoy listening to this conversation one one millionth of the amount that I enjoyed having the conversation with Brandi, just a special, special time together. So first, let me just say, welcome Brandi Carlile. I love you. We'll just start there. Something subtle.
BB: Oh my God, I love you so much. Thank you.
[chuckle]
Brandi Carlile: I love you more. That's all I'm going to say.
BB: I have so many things I want to ask you and understand, and so many things I want your thoughts on, so I'm just going to start with the big question. Tell me your story. Walk me through your story, baby Brandi, just 10 minutes, 15 minutes of your story, and then we're going to dig in deeper, because we're going to talk about Broken Horses, which is your memoir, your book. But I want to hear from you. Tell me about Brandi, the story.
BC: Well, I was born in Washington State, first in a place called Burien, which is a suburb of Seattle, to parents that grew up there. Really, really young parents who just decided to get married because I was on the way. Very charismatic, exciting, interesting poor people. And I was the first grandchild on both sides of the family, so I had a lot of attention from grandmas and grandpas and stuff, and a lot of attention from my charismatic parents. And I got sick as a young child, I got meningococcal meningitis at the age of four. I turned five in the hospital. I almost died. I was in a coma, and then I flatlined, and when I woke up from the coma, to everyone's amazement I was intact. I had my faculties. And I had some trauma from it that I had to overcome and just heal my brain and stuff, but from that point on, faith, and mystery, and resilience were hot topics in our household, and I almost think that from there my childhood became very glass castle, Captain Fantastic-y, with a lot of principles, and ideals, and wild theories.
BC: And right around that time my mom lost her father really young to ALS, which we called Lou Gehrig's disease. And her father was a country music singer but with his parents and brothers. And it trickled down to my mother after his death and became thematic to our family and to my childhood. And my mom was really nervous about the music thing, she wasn't a natural entertainer, but my brother and I, and I think even my sister to a certain extent were, and she became really excited about what it was doing for us, and almost was vicariously enjoying performing more through her kids than herself. But my father started to develop a significant drinking problem because of the time we were spending at karaoke bars and clubs. And we moved out to rural… I'm talking rural, no stop light Washington State. And developed southern accents, and became country music singing, strange, impoverished, exciting family of five.
BB: How old were you at this point?
BC: I was probably sixth grade, so 11, 12.
BB: Ooh, okay.
BC: I was singing in a place called the Northwest Grand Ole Opry, I was covering Patsy Cline, and Tanya Tucker and singing with my mom. And it was out in that single wide trailer up the hill that I started to realize that I was gay, and then I had a complicated understanding of what my adult faith would look like, and came out of the closet and started being Brandi Carlile. That's the long and the short of it. [chuckle]
BB: I was talking with Laura Mayes, who runs the podcast for us, and we prep and read the books together. And it was hard for us not to cry when we were talking about this book, about your new book, Broken Horses. I'm going to read what I wrote about it. I got an early copy and got to write an endorsement for it, and I think this is true: "A good storyteller tells you about their life. A great storyteller guides you so deep into their heart that you actually end up seeing yourself. You're one of the most gifted and generous storytellers of our time. Broken Horses led me right into your heart and right into my own." That's just true.
BC: Well, that would make sense, you've had a profound influence on me. I feel a kindred spirit with you as a writer and a speaker and a leader as well, and your words have been a significant part of my journey. So it's such an honor to hear that from you, and it's an honor to talk to you.
BB: Well, thank you, and I feel the same way. I just have to say the book, there's something I want to get under in our conversation today that I've never been able to articulate or name about you that is so defining to me when I think about you, when I think about your writing, when I think about your songwriting, when I think about your music. So let me just start asking some questions, and I want to try to get into it a little bit.
BC: Cool man.
BB: Yeah, I think it'll be fun. And I've got a couple beefs with you that we need to talk about too.
BC: Alright. Okay.
BB: So I know, you're not afraid, I know.
BC: I'm into this.
[laughter]
BB: I know. First of all, I love your grandma. And so you're getting better, and she asked you what you want.
BC: Yeah.
BB: And your answer is? What's your answer?
BC: "A full size Rainbow Brite doll and a giant tomato." You got to know what you want, Brené, you got to know. [chuckle]
BB: So you say, "You got to know what you want, and don't hesitate to ask for it or you won't get it. Be ready to seize every opportunity, everyone is a potential resource, especially your grandma."
BC: "Especially your grandma." [chuckle]
BB: This is filed under Poor Kid Survival 101.
[laughter]
BC: And it remains true today.
BB: Are you good at asking for what you need and want?
BC: Yeah. Yes, I am.
BB: God, I love that. Does it come from that place? Is that where it comes from?
BC: Yeah. Yeah. It's really innocent, and I want to get what I need at a belief that what I need may be for the greater good. I'm not always right about that, but I think that it may be for the greater good. So I tend to ask for what I want. I think that there are celebrities polka dotting the United States that see my phone number when I'm calling and say, "Don't answer, it's Brandi Carlile, she's going to ask me for something." [chuckle]
BB: But I revere, I love that because I have found in my work that if we don't ask for what we want or need, it's not that the want or need goes away, it just metastasizes into resentment or grief or hostility. Brandi Carlile is drinking out of a Mason jar, it's like a movie, it's just so good. And I'm drinking a Topo Chico, I wish I had a Topo Chico to give you. It's like I make up that you don't have a lot of use for lugging around resentment, is that true about you?
BC: Yeah, I don't have a lot of use for lugging around resentment. I'm not sure if I really understood that about myself until after I wrote the book, but I can just generally empathize. And I don't want anyone dragging any resentment around about me, and they're certainly justified in doing so in many, many different situations. So one of the coolest things that happened after reading the book was that Elton John read it. When you read the book, you're going to see I'm obsessed with Elton John.
BB: Yes.
BC: If you're listening to this program, and you read this, you're going to see I'm obsessed with Elton John deeply. And he read the book, and he called me, and the first words out of his mouth were, "No one's ever betrayed you." Oh my goodness, "No one's ever betrayed you." And I really thought about it, and I guess I totally agree. I don't think anyone ever has betrayed me, or if they did, I don't look at it that way.
BB: Say more. That's something, what do you attribute that to?
BC: Luck, faith, just an abundance of human kindness. I just feel that my life has been really lived out loud and exposed in ways that I'm able to see both sides of the coin. But also I've just been really lucky, I've just had special people come in to my world.
BB: Let's talk about that for a minute, because I can't decide whether I'm on board with that or not. [chuckle]
BC: Can we acknowledge that we're both ones on the Enneagram like…
BB: Oh yeah, we totally need to acknowledge that.
BC: Can we just acknowledge that?
[laughter]
BC: For anybody that's listening. [chuckle]
BB: Totally. So I'm not sure whether you, just through grace and faith floated into an ecosystem, a constellation, surrounded by good people. You strike me, in everything I've read, including the book, but just watching you, you strike me as someone who builds around you the family you believe you need and deserve.
BC: Yeah, that I need and deserve now. Yeah.
BB: Yes.
BC: I do that.
BB: You do that, don't you?
BC: Yeah, yeah my dad.
BB: With a shit ton of intention, right?
BC: Now, now yeah. But my dad actually pointed this out to me when I told him I was thinking about writing the book, he does not say very much, he is a man of very few words. And he said that around the time when I was a teenager that I tried to be baptized and it didn't work out for me that he noticed that the way that I recovered from that was pulling in people close to me for affection and affirmation and acceptance and trying to create islands of misfits, and that he noticed me doing that right away after that. And that blew my mind that he observed that because then I started thinking about it and realizing that yeah, I do do that, and actually that might be what my career even is… I don't know.
BB: Crowded table?
BC: Yeah, very crowded. [chuckle]
BB: Yeah. That baptism story in the book is heartbreaking and heart affirming all at one time. Can you tell us a little bit about that story?
BC: Yeah, I came out of the closet really young in a small town and in a family that had never met a gay person, including me; I had never met a gay person. At that point, I didn't have a girlfriend. It wasn't like a movie, it didn't happen all at once. It was a complicated tolerance side eye kind of existence. And one of the places that I sought acceptance for some reason was in my Southern Baptist church that my brother and I had started going to independent of our parents. And my dad was… He was alarmed. It bothered him, and he always told me… Which, these are his words, not mine, "Baptists are mean. Baptists are mean." He's like, "They're going to turn you on your head. Baptists are mean." And I didn't feel that way, and I'd gone to church camps, and for anybody that's a Baptist or has been involved in the Baptist version of their faith, you would see that there's a lot of public accountability, a lot of calling you up front and making you renounce and accept things. And that's what a declaration of being ready to be baptized is in your adolescence.
BC: And I did do that. I went to the front of a church and I asked to be baptized. And I was applauded, which I love, and spent a week in baptism training and going to lunch with the pastor. And on the day of my baptism, the small town I lived in, a lot of the people from the town turned out and my folks turned out, my parent's friends and my parents were going to come begrudgingly because of the "Baptists are mean" thing, they didn't want to go. But when I got to the church, the pastor who knew me, he knew everything about me. My hair was about an inch and a half long, and I wasn't eating meat, so it was pretty clear that I was on the lesbian path, I think at that age. [laughter] Asked me if I practiced witchcraft or homosexuality, to which I looked at him blankly and I was like, "You know, I'm gay." And he told me then and there that he couldn't baptize me, even though my family was already seated in the church, and I had to run out of there, and that was like a movie. And run back home and try and collect myself and the pieces of my faith and make it make sense out of that context.
BB: Did that feel like a betrayal?
BC: It's so funny because that's the one thing I think of, but no one other than me saw his little face. No one other than me saw that he was wrestling with his own complicated indoctrination and his own shame and his own fear of telling me that. And there was nothing arrogant or legalistic about it, it was a hard day for both of us. And I don't know who he is now, but I don't think I felt betrayed, I think I just felt rejected.
BB: You write about him in a way, in that story, he's not a villain in that story, the way you write it.
BC: He's not a villain to me, it's a bigger problem than him.
BB: It's a bigger problem than him. And you wrote it that way, you really did not dehumanize him at all in that story, and it was such an opportunity to do that, it's really not who you are, is it?
BC: Not anymore. No.
BB: What do you mean by not anymore?
BC: I think I was probably a little bit of a sociopath in junior high school, like every other awful… [chuckle]
BB: Oh! That's like developmentally appropriate.
BC: Awful little trash kid. I often say that when my kids get to junior high school age, I'm going to go, "Great news! We're going to go backpack around Europe instead of going to junior high school," but I'm going to have to let them walk the gauntlet just like I had to.
BB: Yeah, yeah. I've got a 15-year-old, and a 21-year-old. And for me, the hardest thing about having a kid in middle school is the wounded middle schooler who still lives inside me. Do you know what I mean?
BC: Yeah. That why are we that age perpetually somewhere in there?
BB: Somewhere inside of me is a sweaty palmed Brené, holding on to a cafeteria tray with nowhere to sit.
BC: Same. I want to go back there and just grab your hand and sit next to you.
BB: Yeah, me too. Like Brandi and Brené table.
BC: Yeah. That's what that should have been like.
BB: Yes, and Elton. We'll invite Elton and Glennon and Joni, and… Yeah, the twins…
BC: Because they all have that tray… They all have that thing. That's what brings us here, I think…
BB: Yes. Yeah, I don't trust someone without the tray.
BC: Same.
BB: Do you know what I mean?
BC: Yeah.
BB: You sing to the people with the tray.
BC: Yeah, yes, I do. But it's not out of altruism, it's just, that's what I know how to do. That's where I'm the most comfortable.
BB: I love this quote, by the way, two-thirds of the way into the book, this is what you say, "By now, you're noticing my ability to find and create family anywhere." Tell me about the twins.
BC: The twins?
BB: Mm-hmm.
BC: My brothers, they live here on the compound, we met about 20 years ago, they're twin brothers, the Hanseroths. They're very cute, very talented, very hard-working, painfully positive, over the top positive, overly positive. And we met and started traveling the country together, and they were older than me, super handsome. I was playing in bars and restaurants and busking, and they had a record deal. They were like, if you can imagine the coolest people of the cool people. You don't get the idea that they ever had the tray.
BB: Yeah.
BC: They think they did, they say they did, but I look at them and I just worship them, so I can't really imagine that awkwardness coming from them, but I went all in. I have been collecting crap guitars. I had 14 of them with broken necks and broken head stocks, and I used to tell people I was a luthier, even though I wasn't… I barely knew how to change the strings on a guitar, I was like "I'm going to fix them all" and they're going to be… But they were just art. And when I met the twins and we sang together for the first time, and I heard the complete chord of our three-part harmony, it reminds me of when I first heard Crosby, Stills, and Nash how they talk about the first time they heard their three part harmony form a chord, that they both just saw the future. And I felt that way about them, and I took my 1993 lifted Toyota SR5 pick up home and loaded every single one of those guitars in there, drove to a pawn shop place called the Trading Musician.
BC: In Seattle and I traded all my guitars in for two microphones and an EBow. And I invited the twins over and I said, I didn't tell them I had sold all my guitars because I didn't want them to think I was broke as I was, but I gave them each a really fancy microphone, a Shure Beta S-87 to be exact. And I was like, "Here's your microphones. If you join a band with me, I swear to you, we will make it, you can quit your day job right now, we're going to do this." And they just laughed. And they were like, "Okay, alright, kid. Yeah, let's do this." And that's what happened.
BB: Okay, I want to stop here and I want to try to weave, and I'm only doing this with you, I don't do it very often during the podcast because most people are like, "Oh my gosh, she's lost her freaking mind." But you're a natural born weaver of different things, you take disparate things and weave them into stories. I want to read this quote to you from Paulo Coelho's, The Alchemist. Have you ever read The Alchemist?
BC: No, I have it on my table because it's Tim and Phil's favorite book. That's how witchy you are.
BB: You are shitting me.
BC: No.
BB: Okay, so this is so weird because right before the podcast started, I asked Barrett, who works with me, my sister, to find this quote for me because the twins had a premonition about meeting someone that they would connect with and work with. Am I putting it right?
BC: Meeting someone, completing the triangle, and they didn't know what it meant or why it had been with them for as long as it was, and it was separate.
BB: Okay, and so then you hawk all your guitars you trade them all in for the nice mics, and there was that word that I've been trying to figure out about you. And the only thing I can figure out about you in my head, and this is the researcher part of me that I can't turn off, is this quote from The Alchemist, which is so weirdly the twins' favorite book. "Intuition is really a sudden immersion of the soul into the universal current of life, where the histories of all people are connected and we are able to know everything because it has all been written then."
BC: Wow, it certainly feels that way.
BB: Yes, the word that maybe I'm looking for for you at such a pinnacle level is you are a very intuitive person to me and very integrated. And by integrated it means you have not orphaned the hard stories of your life and just live out of this creepy positivity. You are, yes and; you are heartbreak and joy.
BC: Yes.
BB: You are tragedy and triumph. Grit. Grace.
BC: Wow.
BB: Do you think that's true about you?
BC: I don't know if I could think that was true and have it be true at the same time. So I don't know it's…
BB: Oh my God! That answers it right now! What? What? Okay, are we recording this? Oh My God! What did you just say?
BC: I said I don't know if I could think that it's true and have it be true at the same time.
BB: I can't talk any more.
BC: Why?
BB: Mother of Pearl. Because that is the answer. That's the answer for the question. If the answer is yes. Okay, is this your grandma that says this, "There is nothing more real or more practical in this universe than mysticism. Remember that, and it's usually sitting right smack in the middle of grief." Is that you or your grandma?
BC: Me, but I found that with my grandma, for sure.
BB: You found it with your grandma. So, "There is nothing more real or practical in this universe than mysticism. Remember that it's usually sitting right smack in the middle of grief." Help me understand that.
BC: I think that you do understand that because as you know, Daring Greatly is an important book to me. And when you talk about the disengagement divide, when you talk about compliance versus consequence, when you say that faith minus vulnerability equals politics or worse extremism, faith minus vulnerability is the antithesis of faith to me.
BB: Amen.
BC: And I find that my faith comes from doubt, just like answers come from questions. And healing comes from grief, and it's something you can't know unless you feel it at different times in your life. And I feel like you know what I mean, because you just do.
BB: I have goosebumps from head to toe. I do understand it because I believe in the power of mystery. I do, I believe. I'm a person of deep, deep faith. But I'm not interested in a faith that is not driven by a heartbeat of mystery.
BC: Yeah, and that's hard, one, I think for somebody like you, because you have a penchant for data.
BB: I do.
BC: And I feel people like you and me have to fight for our mystery sometimes, because we want the answer but we know that the faith comes from not having it, and it's really cool. It's a lot of fodder for writing and creativity.
BB: Yes. I think it's hard for me in my own life because I think the person I fight the most is myself.
BC: I can see that.
BB: And the people who, I guess, don't think that being a social scientist and a believer, people who believe those things are mutually exclusive…
BB: Yeah, it's really true. I always say, like, "Well, I know we're not algae."
[laughter]
BB: Okay, that's true. I'm going to use that. Can I use that?
BC: I do know that. Yes, yes, you can use that. [chuckle] Lord knows I've used plenty of yours.
BB: I want to talk about collaboration.
BC: Okay.
BB: You produced Tanya Tucker's 2019 album While I'm Livin', with Shooter Jennings. It won a Grammy for best country album. You've worked with Dolly Parton, Sam Smith, Elton John, Pearl Jam, Soundgarden, Gary Clark Jr., Sheryl Crow, Willie Nelson, John Prine, our beloved, beloved John Prine. Yeah, the Indigo Girls, Dave Matthews… Is there a connection or a thread between what I make up as your love of collaboration, surrounding yourself with the people we need in our lives, and your belief and faith? Is there something threaded through all of that?
BC: Well, I think there's mysticism in the fact that it's happening to me, because that never stops feeling like utterly surreal, that I'm never…
BB: Really?
BC: Oh my God, it's insane. I'm 11 inside of here, just like you are, and then I'm on stage with Elton John and I'm having to reconcile that it's happening. But basically, I'm a perpetual fan. I'm a 'wait by your tour bus and ask for your autograph' fangirl. And so, I would say, probably the most satisfying part of the fact that this has become my life is getting to stand toe-to-toe with these people, sing with them and see them in real life, without their makeup and shit. It's unbelievable to me.
BB: Tell me about some of your moments. Just invite us into some of those moments, for those of us who love you. My therapist gave me my first Brandi Carlile song.
BC: What?
BB: Yeah.
BC: That's a good sign. I think I take that as a… Brené Brown's therapist, so this person is obviously a genius…
BB: She's pretty good.
BC: Gave you a Brandi Carlile song. Whoa. Which one?
BB: Yeah. First one she gave me was "Hallelujah."
BC: Cool. That's a more important one.
BB: It was "Hallelujah" recorded… It seemed like a bootleg, something like "Hallelujah recorded at KLJC something… "
[laughter]
BC: She's a deep-dive fan. She's got the… Nice.
BB: This was a deep-dive fan. This was a really deep-dive fan. She gave me that and she gave me Ani DiFranco's "Amazing Grace."
BC: I love this woman.
BB: Yeah, no, this woman, she's not to be messed with. And I just listened to you and Ani DiFranco over and over and over again for a year. It was the spiritual breakdown before I wrote The Gifts of Imperfection. So, I just want you to walk us into a couple of moments that were… Maybe moments where you had a hard time tamping down the 11-year-old, because you've got to sing, right?
BC: Yeah, okay, I will tell you the hardest moment. I'm just going to go straight to the hardest moment, is that I decided to do something crazy, which is to cover and sing the entire "Blue" album in front of Joni Mitchell.
BB: Oh, God.
BC: And I didn't know that she was going to come. I got asked to sing with Kris Kristofferson at her birthday party, her 75th birthday thing at this theater, and I met her that night. She would never remember me, it was like my face was… You go to my Instagram and you'll see how uncool I played this meeting Joni Mitchell thing.
[chuckle]
BC: But I got to thinking hearing all these people sing Joni's music, it was so beautiful. And I was like, "Man, you know what nobody's going to get to hear again in its entirety live is 'Blue'? I wonder if I could pull it off." And I just jumped. I just booked it, said I was going to do it, started putting together the musicians, started planning this thing. And as soon as I put it up on sale, all these heroes of mine got the tickets, and I was like, "Oh shit, I'm going to do this in front of Bonnie Raitt and I'm going to do this… " And then I hear Joni's coming, and then I was like…
BB: Oh, God.
BC: Cold sweats. And then, probably one of the biggest life-altering things happened. Right after we put this up on sale, I invited Elton John, like I've invited him to every show since I was 21.
[chuckle]
BC: And of course, he had plans and he wasn't coming. And I got this email that I was going to get to ask Elton a couple of questions about his book, Me, which is laugh-out-loud brilliant, you got to read this thing. He's a seven, I think, on the Enneagram, and that's a glimpse into that mind.
BB: I can see that, yeah.
BC: So I had… Of course, I had questions, I didn't need to read the book to ask the questions, but I read it anyway. And so, I got to go and have lunch with him, and ask him a couple of questions. And it was like… This is all mind-blowing. When you read my book, you're going to see I am in love with Elton John, he's my greatest hero. So, I'm sitting next to him at lunch, we're asking these questions and he brings up the Joni thing, and he's just really interested. He's like, "Are you going to have a teleprompter?" And I was like, "Yeah, no teleprompter and all original keys." And he goes, "You crazy bitch."
[laughter]
BC: And so, he gets his iPad out and he starts plunking at his iPad with his huge, fat, freaking fingers. I don't know if you've ever seen Elton John play piano, but it's like that dude brutalizes that thing.
BB: Oh, yeah.
BC: Anyway, he goes, "Fuck it, I'm coming. I can't miss it, I've got to see this." And I always liken people's fascination with coming to that show to the film Faces of Death. It's for the same reason. It's like…
[laughter]
BB: To watch the disaster…
BC: They don't want to look but they can't look away. So he's coming to the show and then I went into a total spiraling mental unraveling, a total breakdown, and I actually got to where it wasn't funny at all. I couldn't pull myself together, I was writing this book when it happened, so I was mining my soul and I was doing this deep dive back into my childhood and my impostor syndrome and feelings of inadequacy, and now I'm going to sing in front of Elton John for the first time in my life, and also Joni Mitchell, and also one of the hardest albums ever to perform of all time. And I lost it, I had to go to a hypnotist.
BB: I get that.
BC: But I'll never, ever forget it. I walked out on stage and I was like, "I am on a lonely road and I am traveling. Traveling, traveling." And I look up in the crowd and I see Elton John and Joni Mitchell holding hands, looking down at me with a huge toothy grin. I can just see their teeth, that was just something I'll never, ever, ever forget. And I was like, "Okay, I'm here, 11-year-old Brandi, sit down, you're just going to have to watch tonight, you don't get to come out and sing." This is me, this is 40-year-old Brandi.
BB: I'm really having a hard time keeping it together right now, just listening to that… What a moment for you.
BC: It really was, it really was probably one of the greatest moments of my whole life. And then the next night, we go over to Joni Mitchell's house for hot dogs and Santa Margherita Pinot Grigio and Elton John shows up with his husband David, and they gave me a diamond ring with a little blue, like a little star on it, and we sat around and we sang. And towards the end of the night, Elton goes over to the piano and he makes this little speech about how much he loves being there and how much he loved this couple of days and how proud he was of Joni with her recovery. And he sits down at the piano and he goes, ding, ding ding, ding ding, ding, ding ding, ding ding, ding, ding ding, and he plays "Your Song" in Joni Mitchell's living room. Well I'm sitting against Joni's knee, she's got her hand on my shoulder, Bonnie Raitt 's sitting across from me sprawled across her guitar, my brothers, the twins, you know… My wife and Elton is just playing "Your Song" and I'm just like, "I am in Joni Mitchell's living room listening to Elton John with my family, with the people I love." And that's the moment, that's the greatest musical moment of my whole existence, I think.
BB: Have you ever heard a story that you love so much… Your first thought isn't even "I wish I could have that moment". But you love the story so much that you're just glad that that person had that moment? That's how I feel.
BC: Really?
BB: Yeah.
BC: Thank you.
BB: Yeah.
BC: Thanks for being happy for me about that.
BB: Wow! That moment brought to you by Brandi Carlyle for all the 11-year-olds with the sweaty palms and the heavy trays.
BC: Put down that tray.
BB: Yeah. Put down that tray. Would you be married had you not fallen in love with Joni Mitchell? I'm curious about that. I for one am not messing with Catherine.
BC: Yeah, you know her, you know her without knowing her. She was so offended by that. Catherine was a crash course in feminism first of all, immediately right off the bat, and I did not like Joni Mitchell's music when the two of us met, which I'm so embarrassed about now.
BB: Did you not like it or had you not really explored it?
BC: I had explored one thing and decided I didn't like it.
BB: Got it.
BC: And it had more to do with… Just like you the way I feel about myself than it did about Joni Mitchell. I was like 22, T Bone Burnett played "All I want," which is the song I was just singing to you, a second ago and there's a line in it that says, "I want to talk to you, I want to shampoo you." And I was so repulsed by that line, I was like, "Turn it off, that is the most submissive heteronormative… " I'm just and she's singing in this high voice about wrecking her stockings in a juke box bar. Like "No, no, I don't like this woman's music because she doesn't sound tough to me." And I'm 22, I'm Joan Jett and Amy Ray and The Butchies and I wanted to hear what I thought was tough women, and I didn't have a 360-degree view of what that meant yet cut to I'm falling really falling in love for the first time and this really powerful woman from England is playing me Blue and I'm laughing because I think it makes me sound cool to not believe that Joni Mitchell's music is tough. And she says, "Do you know what 'Little Green' is about? This is… Do you think this is funny… Do you know what 'Little Green' is about?"
BC: And I was like, "No." And she explained to me, like many of you know that "Little Green" is about Joni Mitchell giving up her daughter for adoption after she'd had her for a year, realizing she couldn't afford to look after her anymore and that the right thing to do, the kind thing to do was to find another place for her to live her life, and then writing this heart-wrenching, but dignified song about it. And it hit me like a ton of bricks, "Little Green" is the toughest song ever written in rock 'n' roll history, and I have no idea what tough means. And it changed the way I saw or understood what femininity even is. And that was the first time Catherine blew me open as a writer and a person, and then I made up for lost time and now I'm freaking obsessed with Joni Mitchell, everything she's ever done, all the way to Shine, every single thing.
BB: I love it when your wife takes over your Instagram, we need to do that more often because it is so…
BC: Oh, because she's evil.
BB: She is so evil and so unapologetic, and so fun, one of my favorite ones… I like it when she films you and then gives us an analytical breakdown of what's happening when she is observing you. So if I were your therapist Brandi, I would start with this question.
BC: You can be if you want…
BB: No, no, because I'm not a therapist, I'm a researcher. So I have a therapist, I could not be a therapist. Data data. Yeah, I would start with this question, I would say, "Brandi, we need to talk about fitted sheets."
BC: Okay, are you in support of me on this? Or are you crazy…
BB: No, I'm not.
BC: Oh for the love of God, Brené.
BB: No, what are you like ex special forces?
BC: Where are your standards?
BB: Look, the fitted sheet has a little pouch in the corner. You take it out of the dryer and you go like this really fast in a circle, and then tuck the whole ball into the corner.
BC: Yeah, no, you don't do that because then you open the cabinet and you feel emotionally unstable. [laughter]
BB: That's why I'd be talking to you about this shit if I was your therapist because Catherine's filming you re-drying sheets that were too wrinkled to go in the cabinet, and this military flag folding of your fitted sheets. Have you always been this way? Is this part of your number one?
BC: It is. It's something I think is so funny. I've got a major problem with sheets and towels, and I'll tell you this, and this is not in the book, but it should be. I have an appreciation for these kinds of things because I didn't have them when I was a kid, and I wanted things to look nice and be clean, and I wanted sheets, and I wanted matching towels, and I wanted things. And my sister and I shared a room out in Ravensdale and I remember doing chores for, that must have been a half a year, so that I could go to Walmart and buy a set of sheets for me and my sister because I had a bunk bed, so it wasn't out of generosity. I didn't want a perfect looking bed if she didn't have a perfect looking bed. So I have a thing with sheets and blankets, and it's not a sad thing. It's like I get to appreciate these things, I think more than people who had matching sheets and pillows and towels growing up because I get them now and I'm going to make damn sure they look perfect. [laughter]
BB: You know what? That I get. That I get and man.
BC: Catherine says everything I do, she's like, "Everything you do is poor kid. Everything you do is poor kid." That's why she films me. She thinks it's hilarious.
BB: I believe that. That's your full-size Rainbow Brite and a very large tomato.
BC: And perfect, unwrinkled sheets.
BB: You know what? I love you. I'll take the whole package. I'll set you free on my fitted sheets. I'm not going to fold them with you because I have a different story that I have to overcome, but I will let you fold my sheets.
BC: Okay. Alright. I'm really interested in that. What do you mean by that?
BB: Well, I think I grew up the opposite way. I think I grew up ironing sheets.
BC: Oh really?
BB: Yeah. So I'm like, "Fuck the sheets."
BC: Me and you, man, we're Yin and Yang about this. This is really good.
BB: It is really good. It's like you, me, and some sheets, we could figure out the world. This is the key to world peace right here.
BC: Somewhere in the middle is where sheets should live, where you're not ironing them, but also I'm not spending 15 minutes folding one. Maybe not wrinkled into a ball, but you know, loosely folded. Can we compromise on that?
BB: So the ball is out?
BC: Yeah the ball's out, but the loosely folding.
BB: I think there would be a struggle in our match. Yeah, because I don't believe fitted sheets are meant to be folded.
BC: Okay, ball up the fitted one, but can we fold the flat one please?
BB: We can fold the flat one neatly.
BC: Okay. Alright… Okay.
BB: Yeah not… If y'all need to go back in her Instagram history and see the sheets. You could bounce a quarter off these suckers.
BC: Oh girl they are perfect. Yeah.
BB: Yeah, they're good. Alright, you ready for. I can just talk to you for like six days and 15 hours.
BC: So could I. This doesn't have to end. This should be a series.
BB: This should be a series. Brandi and Brené and the sheets.
BC: That's a different series altogether, Brené. [laughter]
BB: That's true.
BC: Don't you cut that part out of this. You leave that in here now.
BB: Oh hell no, I will not. Brandi and Brené, and the sheets. I like the sound of it. I'm going to just be totally honest with you.
BC: 10 years ago.
BB: Yeah, 30 for me.
BC: My best friend, Amber Lee, who's in the book, she is the one that brought me your books and brought you into my life, and it's so interesting because I've always felt like I know you from reading your words and I follow you on social media and I find you really fascinating and an inspiring leader and stuff, but now that I'm talking to you and looking at you, you remind me so much of her.
BB: Oh really?
BC: I feel like we're best friends now, yeah.
BB: That's how I feel. I'm going to have some kind of locket made.
BC: Yeah, okay, a locket. Exactly. One half is you, one half is me.
BB: With a little torn sheet inside.
BC: Yeah. Brandi and Brené, and the sheets. [laughter]
BB: I'm going to hear about this forever. I just want to say on the record, I will never forget doing this podcast with you hard stop, but I will also never forget saying, "What does that mean?" and you leaning into the Zoom and saying, "I think you know what that means." I will… It's like "Don't make eye contact!" [laughter] Okay, you ready for the rapid fire?
BC: Yes ma'am.
BB: Fill in the blank for me. Vulnerability is.
BC: Faith.
BB: You're called to be brave, but you're scared. You're really scared and you can feel it in your throat. What's the very first thing you do?
BC: Do it anyway. Write the book.
BB: Do it anyway. Write the book. Amen. What's something that people often get wrong about you?
BC: This needs a little bit more explanation, but people think that I get what I want. I ask for what I want. People think I get what I want, but I think what I get is what I feel is needed.
BB: Wow. There's a difference.
BC: You understand that? You're one.
BB: I do understand that. That's painful sometimes actually. What's the last TV show that you binged and loved?
BC: Better Things. Glennon Doyle hipped me to it. Oh my God, some TV shows, they're really good for your soul; that one really, really was.
BB: Yeah, yeah.
BC: Better Things about raising three daughters, man.
BB: Oh my God, that is just so real and so honest.
BC: Yeah. Another study into the feminine. Really good show.
BB: Yes. Favorite movie or one of your all-time favorite movies.
BC: The NeverEnding Story, which I have the Auryn tattooed on each of my shoulders, big.
BB: You do not.
BC: Yeah, and the twins have it matching… It's about the Nothing, it's about this imposition of complacency unto the imagination of a child, but the Nothing in this metaphor, is a storm that's taking over a place and erasing its identity. And this boy is on a quest to defeat the Nothing and to save Fantasia, which I just see as a metaphor for preserving your inner child, your ability to create and imagine. And the Auryn is this necklace, it's like these infinity of snakes, and it protects the boy on the quest from the Nothing. And so, I've got them tattooed on both of my shoulders, to keep my imagination intact. I love The NeverEnding Story.
BB: I have to watch it again, with this…
BC: Oh, you've got to watch it. It's so good. Watch it with your 15-year-old. Mystical.
BB: Mystical. Yeah, a concert that you'll never forget.
BC: Elton John, Made in England, 1995.
BB: God, I love me some Elton John. I just…
BC: No greater rock star in the history of the world, I think, than Elton John. That's a big thing, but I mean it.
BB: That's a big thing, but I think it's a solid argument. Favorite meal.
BC: It's going to be on the boat, because I have a fishing boat, and it's going to probably be oysters, giant tomato, and my wife's amazing pasta dish that she makes with fennel and saffron and spot prawns, all these things, caught from the boat and eaten on the boat, that's my favorite meal.
BB: That's the one you need to invite me to. I'm down for that one.
BC: Come out on the boat.
BB: I love fishing.
BC: Oh! You do not. Are you serious?
BB: Yes, you don't think I grew up hunting and fishing? Yes, of course.
BC: Okay, we're doing this.
BB: Yes. Hunting, fishing, and listening to Tanya Tucker. Yeah, my nickname from my uncle Wimpy, in San Antonio, was Double T, for Tanya Tucker, because I always had whatever hairstyle she had at the time.
BC: Oh my lord.
BB: Yes. I would bring her picture in, so I could get her wings.
BC: Oh yeah. And her gait, the way she stands, all bow-legged like that.
BB: Oh yeah, like, "Bring it."
BC: Yeah. That woman man spreads. I don't know if you've seen this, but she will sit in a chair and man spread.
BB: Yeah. Not only am I not messing with her, I'm messing with anyone who does mess with her. So yeah, I'm with you. What's on your nightstand?
BC: My nightstand. Currently or usually?
BB: Usually.
BC: Ragamuffin Gospel, a candle, and a restoration hardware lamp, right next to a perfectly fitted sheet.
BB: I knew, I knew, as soon as I said nightstand, we were going to be drifting into the linens. Alright. I can't wait for these three. A snapshot of an ordinary moment in your life, that gives you real joy.
BC: This is an ordinary moment, because it happens every day. I live in a log cabin, and I heat it with a wood stove. So every morning, I get up and I start a fire, to make the house warm for all the girls, and every night, I make a fire, so that when we wake up, it's already warm enough to not be uncomfortable. So my fire making feels symbolic, it's when I consolidate all the love and all the day into warmth for everyone.
BB: God, that's beautiful. What's one thing you're deeply grateful for right now?
BC: I think I'm the most grateful for my wife. I know that sounds cheesy, but she's so important to me, and she's my best friend, she's all the jokes, she's all the fun, she's all the realism, she's all of the putting my feet on the ground, making me go fishing and put my hands in the dirt and reminding me of who I am. She is the thing that makes the two people inside of my Gemini soul, one person.
BB: Wow, that's no small feat.
BC: No, it's a lot of work. She's got her hands full. [chuckle]
BB: Wow. Okay, we asked you, which is so fun to ask, Brandi Carlile, for five songs you can't live without, for your mini mixtape. So we put these up on Spotify, for people to listen to. Here's what you gave us. "Someone Saved My Life Tonight," by Elton, "A Case of You," by Joni Mitchell, "Hallelujah," by Jeff Buckley, "A Coat of Many Colors," by Dolly Parton, and "We Are the Champions," by Queen.
BC: That's right.
BB: In one sentence, what does this mini mixtape say about you, Brandi?
BC: This mini mixtape honors the realness inside of everyone, it honors loss, but also, it honors winning; we are the champions, it honors coming through hard things, to see big, big, beautiful, complicated things happen.
BB: I love it. Alright, the book is Broken Horses. What an honor. Just all of it. To get to talk to you today, to get to ride in my car and listen to your music, to get to read your book. It's a hard world right now, and you bring way more than your share of light into it, and so I'm really deeply grateful for you as a person and as an artist who shares your craft with us. So thank you.
BC: Thank you so much. You are really incredible, and it's important to know that I'm really grateful for you too. And we had never talked, but you've taught me so much, and this has been really special for me. I'll never forget it.
BB: Me neither. Thank you, Brandi.
BC: Until next time.
BB: Until next time. This is Brené Brown, coming to you live. Brené Brown, Brandi Carlile, and the sheets.
[laughter]
BC: I love it so much! I love it so much, you can't make that shit up!
[music]
BB: Oh, isn't she the best? She is the best, she's just incredible, and things got really mystical and crazy in there, with The Alchemist, but none of that surprises me. As Paulo Coelho says, also in The Alchemist, "When you're on the right path, the universe conspires." And so, I just think there's something so honest and joyful and committed, about how Brandi shows up in the world and what she brings to us with her art and craft. It's something to behold. The Broken Horse's virtual book tour events can be found at brokenhorses.veeps V-E-E-P-S.com, Brandi's website's brandicarlile.com, and the Looking Out Foundation is www.lookingoutfoundation.org. You can find all these links on her episode page on brenebrown.com. She's really fun to follow on social, y'all. Her handle's, @brandicarlile, on Instagram, Facebook, and Twitter. Again, don't forget, all of this is on an episode page on brenebrown.com, we do episode pages for all the Unlocking Us and Dare to Lead podcasts, five days after we record them, we also add transcripts for those of you who are looking for those. Everything's on Spotify, including Brandi's mini mixtape. All the guests have mini mixtapes on Spotify. Thank y'all, for being a part of this community. Stay awkward, brave, and kind, and I'll see y'all next week.
BB: Unlocking Us is a Spotify original from Parcast. It's hosted by me, Brené Brown. It's produced by Max Cutler, Kristen Acevedo, Carleigh Madden, and by Weird Lucy Productions. Sound design by Kristen Acevedo and Andy Waits. And music is by the amazing Carrie Rodriquez and the amazing Gina Chavez.
[music]
© 2021 Brené Brown Education and Research Group, LLC. All rights reserved.
Podcasts
Brené Brown Education and Research Group, LLC, owns the copyright in and to all content in and transcripts of the Unlocking Us and Dare to Lead podcasts, with all rights reserved, including right of publicity.
What's Okay
You are welcome to share an excerpt from the episode transcript (up to 500 words but not more) in media articles (e.g., The New York Times, LA Times, The Guardian), in a non-commercial article or blog post (e.g., Medium), and/or on a personal social media account for non-commercial purposes, provided that you include proper attribution and link back to the podcast URL. For the sake of clarity, media outlets with advertising models are permitted to use excerpts from the transcript per the above.
What's Not Okay
No one is authorized to copy any portion of the podcast content or use Brené Brown's name, image or likeness for any commercial purpose or use, including without limitation inclusion in any books, e-books, book summaries or synopses, or on a commercial website or social media site (e.g., Facebook, Twitter, Instagram, etc.) that offers or promotes your or another's products or services. For the sake of clarity, media outlets are permitted to use photos of Brené Brown from her Media Kit page or license photos from Getty Images, etc.