October 21, 2020
Brené with Joe Biden
on Empathy, Unity and Courage
My thoughts on power and leadership, and a conversation on empathy, unity, and courage with Vice President Joe Biden, the 2020 Democratic Presidential Nominee.
For the latest from Unlocking Us
Guest Info
Joe Biden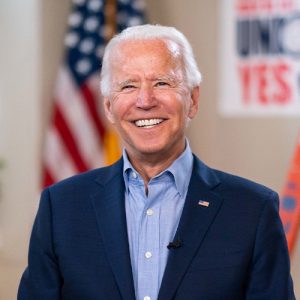 Joe Biden has devoted his life to public service, fighting for working families and a more equitable nation with empathy and deep experience as a U.S. Senator and as Vice President.
Born in Pennsylvania as the first of four siblings, Biden was raised to believe that everyone in America deserves a fair shot. He graduated from the University of Delaware and Syracuse Law School and served on the New Castle County Council, until at age 29, he became one of the youngest people ever elected to the U.S. Senate.
Just weeks after he won, tragedy struck when Biden's wife, Neilia, and their one-year-old daughter, Naomi, were killed and their two young sons were critically injured in a car accident. Biden was sworn into the Senate at his sons' hospital bedside and began commuting from Washington by train every evening to be with them, a practice he maintained throughout his Senate career.
In 1977, Vice President Biden married Jill Jacobs. Jill Biden, who holds a Ph.D. in education, is a life-long educator and community college professor. Together, the Bidens raised three children – Beau, Hunter, and Ashley. Beau, an Army veteran and Delaware Attorney General, passed away from brain cancer in 2015.
Over three decades in the Senate, Biden established himself as a leader tackling some of our nation's toughest challenges – shaping foreign policy; fighting for labor rights and the middle class; and banning assault weapons and writing the landmark Violence Against Women Act to support survivors. He chaired the Foreign Relations and Judiciary Committees and drafted or co-sponsored thousands of pieces of legislation, bringing people together to get big things done.
As Vice President, Biden worked alongside President Obama to lift this country out of the Great Recession, administering the $800 billion Recovery Act, rescuing the auto industry, and sparking 113 straight months of job growth. He played a key role in passing the Affordable Care Act, protecting 100 million Americans with pre-existing conditions; helping to seal the Paris Climate Accord and Iran Nuclear Deal; and launching the Cancer Moonshot, to end cancer as we know it. Citing Biden's candor and character, Obama awarded him the Presidential Medal of Freedom, America's highest civilian honor, calling Biden "the best vice president America has ever had."
X
Podcasts
Brené Brown Education and Research Group, LLC, owns the copyright in and to all content in and transcripts of the Unlocking Us and Dare to Lead podcasts, with all rights reserved, including right of publicity.
WHAT'S OK: You are welcome to share an excerpt from the episode transcript (up to 500 words but not more) in media articles (e.g., The New York Times, LA Times, The Guardian), in a non-commercial article or blog post (e.g., Medium), and/or on a personal social media account for non-commercial purposes, provided that you include proper attribution and link back to the podcast URL. For the sake of clarity, media outlets with advertising models are permitted to use excerpts from the transcript per the above.
WHAT'S NOT OK: No one is authorized to copy any portion of the podcast content or use Brené Brown's name, image or likeness for any commercial purpose or use, including without limitation inclusion in any books, e-books, book summaries or synopses, or on a commercial website or social media site (e.g., Facebook, Twitter, Instagram, etc.) that offers or promotes your or another's products or services. For the sake of clarity, media outlets are permitted to use photos of Brené Brown from her Media Kit page or license photos from Getty Images, etc.
CLICK TO CONTINUE
Production by Cadence 13.