On this episode of Unlocking Us
In this episode, I talk with philanthropist and global advocate for women and girls, Melinda French Gates. We talk about empathy, the power of story, and about her book, The Moment of Lift – a clear and powerful call to action for gender equity.
Listen to the episode
Show notes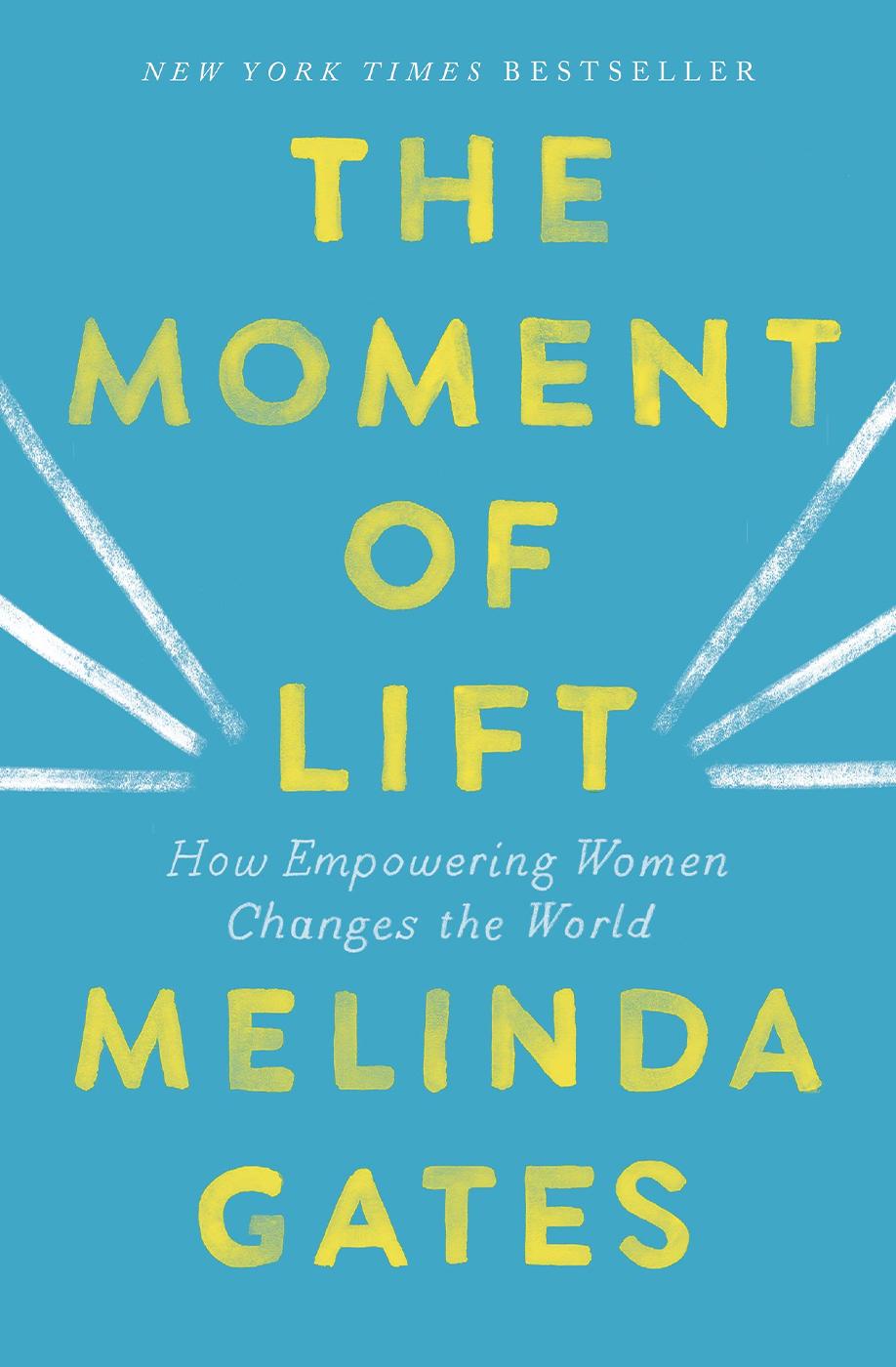 The Moment of Lift: How Empowering Women Changes the World by Melinda Gates is a timely and necessary call to action for women's empowerment. For the last twenty years, Melinda Gates has been on a mission to find solutions for people with the most urgent needs, wherever they live. Throughout this journey, one thing has become increasingly clear to her: If you want to lift a society up, you need to stop keeping women down. In this moving and compelling book, Melinda shares lessons she's learned from the inspiring people she's met during her work and travels around the world. Throughout, she shows how there has never been more opportunity to change the world―and ourselves.
Transcript
Brené Brown: Hi, everyone. I'm Brené Brown, and this is Unlocking Us.
[Music]
BB: In this episode, I talk with philanthropist and friend Melinda Gates about her work as a global advocate for women and girls. We talk about her story, which is so important. I think this is my favorite new question: Just tell me your story. Tell me where you came from. Tell me how you became who you are. And a lot of times we don't get to hear that, and when you hear Melinda's story, it's interesting, because it kind of all adds up. You can see how from early days as an undergraduate—one of the only women studying computer science at Duke—how she ends up where she is today as an advocate for women and girls, and as someone who is never losing sight of the details of how you help, why you help, and what gets in the way of helping. We're going to talk about her book, The Moment of Lift, which comes out in paperback this month. I love what Trevor Noah wrote as one of the endorsements on the book. He wrote, "This book is a beautiful and concise mission statement on what we need to do to move society forward—continue to empower women. At every level and in all places, women are truly the bedrock supporting their communities." And you really see that, not only in this book but in our conversation. It's that incredible rare weave of storytelling, compelling data, and real examples of what success looks like. I'm excited for you to hear this conversation.
BB: One more thing: We've been talking about this for a couple of months now, but I want to remind you that starting next week, Unlocking Us will be exclusively on Spotify, so if you're listening through other platforms right now, just know that it won't be there after this week. You'll need to go to Spotify. You can listen for free. And it's not just going to be my podcasts, Unlocking Us and Dare to Lead, but we're creating a kind of Brené Brown hub on Spotify that will include all of our guest playlists and special playlists that I'm making. So everything in one place. I say this often, but I'm going to say it again because it bears repeating: I know how valuable your time is, I know the demands on our time, and I'm so grateful that you give me this opportunity to have these conversations and to be a part of a community where we're learning and challenging, unlearning, relearning. It's just one of the great joys of my life. So thank you for that.
BB: So let me tell you a little bit about Melinda French Gates. She is the co-chair of the Bill & Melinda Gates Foundation. She sets direction and priorities for the world's largest philanthropy. She's also the founder of Pivotal Ventures, an investment and incubation company working to drive social progress for women and families in the United States, and she is author of the bestselling book The Moment of Lift. Again, that just came out in paperback, and the new paperback also contains an afterward on what we can do to help promote gender equality. I think you're going to find some real learning in this conversation. Every time I talk to Melinda, it's like a Polaroid developing. I get a clearer and clearer picture of what we need to do, where we need to do it, what works, what doesn't work, and why it's so dang important. So welcome to the podcast.
BB: Hello, Melinda. I should say hi, friend, how are you?
Melinda Gates: Oh, I'm well. It's so good to be on with you.
BB: Thank you for doing this. I think the last time we talked—I think we've shared some texts in between these times—the last time we were together and having a real conversation was in New York for the launch of your book, The Moment of Lift.
MG: That's right. That was—can you believe it?—that was spring of 2019. It feels like a lifetime ago.
BB: No, but it was so fun.
MG: Oh, it was really fun.
BB: Wasn't it fun?
MG: Yes. You were so nice to do that too, because I think you were at the end of a book tour and I was just at the beginning, so you were my first interviewer on my entire book tour, which just for me, set the stage 'cause I was so nervous about doing it and you made it so easy for me.
BB: The book is so—I think about it, I have to be honest with you, I think about it all the time. There are just these little pieces in there that stuck to my heart and frame a lot of decisions I make. The Moment of Lift has just come out in paperback.
MG: Right.
BB: Congratulations.
MG: Thank you.
BB: Yeah. So I want to start this in a different way. There's a story in The Moment of Lift where you and Bill are sitting on the ground in a circle with a group of women who I think are sex workers and a group of women who have—are surviving and living through and supporting each other through massive trauma and poverty, and you start with one question, and I think it's a question I've heard you—I've heard you say you use it often, which is, "Tell me your story," and I would love for you just to spend maybe seven,10 minutes—tell us your story.
MG: Oh, my story? OK.
BB: Yeah, I want you to tell us your story.
MG: OK, so little girl who grew up in Dallas, Texas, and raised by two very loving parents, who are still alive today. I'm the second of four children, older sister, and then my mom had trouble with having babies, in fact lost a baby between my next brother and me, and then I have two younger brothers. So we grew up in the Catholic Church. I went to the local parish school, K through 8, and then my parents sent my sister and me to Ursuline, which was an all-girls Catholic high school, and it was really important to them that we live the values of the Catholic Church. And so I learned—luckily, the nuns were actually quite liberal, and I learned to really question my faith, to spend a lot of time in silence. We went on silent retreats, and I learned from them that one person could make a difference in the life of others. And so I volunteered at the Dallas County Courthouse. They sent us out to local hospital, local public school.
MG: From there, because of an amazing computer science teacher I had—math teacher, actually—who helped me know in high school, a female, that I could be good at math. She brought computers into the school. She advocated to the head nun—she'd seen them at a conference—that we get some. And I started programming because of this teacher, Mrs. Bauer, and realized I wanted to go to college and study computer science. And so I chose Duke University. They just had a big grant from IBM: two big computer labs. It was right at the time when you took a typewriter to school, but then it switched and you started—people started typing their papers in the computer lab.
BB: Yeah, I remember.
MG: Which frustrated me because I needed the time on the computer to do something—what I thought was serious, which was to code.
BB: Let's tell people here who are thinking, "But why did you have to go to the lab? Why don't you just use your laptop at home?"
MG: There were no laptops.
BB: Yeah, paint the picture for us.
MG: There were no laptops. You went to a dark room in the bottom—in our case, of the biology building is where they set up a computer lab. Not very good ventilation. People didn't have their own computers. You didn't have one in your room. There were no printers in your own room. There were no computers. You went to a lab, and then when you were ready to print out your program, you had this very slow printer that you got in line for, called a dot matrix printer, while you waited for your code to print out before you turned it in. And we had to use the old floppy disks.
BB: Yeah.
MG: It was crazy, now, when I think back. So yeah, and then Duke had—luckily, I found out they had this program that if you could be finished with your undergraduate in three years, you could apply to business school, and if you got accepted, they would confer your undergraduate and your MBA degrees at the end of five years. And that was really important in my family, because my parents were committed to sending all four of us to college. They wanted us to be college-going, and they said they would take on the debt for college so that we didn't come out with debt, but that wasn't easy for them on my dad's engineering salary. And so this five-year program—I had to convince my parents I wanted to go a fifth year. They readily accepted. And when I finished my MBA program, Microsoft was on campus for the first time ever interviewing at Duke looking for computer science graduates, and they happened to come to the MBA school and I got a call back from Microsoft.
BB: Wow. OK, we've got to stop here. OK, I've some questions leading up to this move. OK, first of all, what crazy, I don't know, serendipity. You can't separate you from Microsoft, really, but it was just—they just decided—this was their first trip to Duke doing recruiting—
MG: Ever.
BB: Ever. OK, let me go back to high school at Ursuline. What were you like?
MG: I was both really fun-loving, but I was also quite serious academically. And the reason I was so serious academically was because I had gone back and looked in the files of the previous graduates from Ursuline. I knew it wasn't the best school in town. And in fact, I had railed against my parents saying, "Why don't you send me to this other private school?" But they said, "No, we care about a Catholic education." So I'd looked in the files and realized that the only students from Ursuline who got in, at the time, to what I thought of as the colleges, the good schools I wanted to go to, had to be valedictorian, and so I was very serious about my academics to try and be the valedictorian, which I ultimately was in the class, so that I could go to the college I wanted to go to.
BB: OK, so when you said that your parents wanted a Catholic education, and then what you started listing as examples were very serious, traditional social justice values of the Catholic Church. Kind of the Catholic Church that I was raised in. The Catholic schools that my kids are part of. So when you say they wanted you raised in a Catholic tradition, you're talking about people for others.
MG: Absolutely.
BB: Is that what—OK.
MG: Values. Knowing that at the center of your life is spirituality, and that's how you make decisions about where you go in your life and what you feel called to do. But it really is about making sure that you make a difference while you're on this earth, that you serve, and yeah, that social justice mission was incredibly important to my parents.
BB: And, true or false, you not only were the valedictorian, were you or were you not, Melinda Gates, the captain of the drill team?
[Laughter]
MG: I have to admit, I was. [Laughter] In fact, I was surprised to read in one of your books that I think you said you tried out for drill team.
BB: Yeah, yeah.
MG: Drill team in our school were not the most popular girls. Those were the cheerleaders.
BB: Oh, got it.
MG: But drill team, yeah, I ended up being the captain of the drill team, and oh my gosh, you want to talk about learning to manage—if you can manage 150 girls with their hormones and their boyfriends and make sure they all still get on the bus on a Friday night with their gloves and their hats, you can do almost anything I've decided.
BB: Yeah, 'cause we're going to circle back to that, because that was—we're laughing about it, but that was a real leadership experience for you.
MG: It was. And we were on a budget, on a very tight budget, so I literally would go to the fabric store and buy fabric, and my sister and I would get the patterns and cut out the uniforms, our practice uniforms, and then hand them out to the girls, and they would have them sewn at home. But we were on a huge budget, and the woman at the school, the staff person who was also a teacher, had very little time to manage this, and so I had to learn to manage up, and I also then had to learn to manage down, which was the girls. And I had to open a bank account. We didn't even have a bank account for taking in the girls' money to then be able to buy practice uniforms or hats. So I literally—my mom took me to the bank, and I had a whole bag of coins that had to go in that coin machine, and we opened a bank account for the organization.
BB: Yeah, I think it's an important moment because I talk to young women all the time, my daughter included, who end up in real leadership programs, end up as leaders of programs in high school or college. My daughter was the head of student council, and I remember what we talked about a lot was, "How do I navigate this in the real teenage need to be liked?" And I always say that doesn't go away as—that doesn't go away for me, and I'm in my fifties, so that's interesting. OK, so went through college. What were you like? Were you as serious a student academically, obviously, in college? I'm guessing yes.
MG: I was quite serious 'cause I was in computer science, and that is a very rigorous area of study. I was out of my mind at times. I thought, "Oh my gosh, how am I ever gonna be able to code this problem that the professor has given us?"
BB: A lot of women in the program?
MG: Very few. In fact, after freshman year, you could count them on one hand in the classes. And it was at a time, actually, when computer science was on the rise for women. In fact, when I was—right at the end of my college years is when we peaked. The number of women in computer science peaked at about 37% of computer science graduates. Now it's declined precipitously. But in my classes at Duke after freshman year, there were very few women. But what I learned from that computer science program was—I ended up meeting a young man who was in my class late freshman year, and we ended up—I don't know how, but we ended up realizing we were better at coding together. And so whenever I was out of my mind, and he was out of his mind—the professor hands out a problem set and you just—you don't even know where you're gonna begin—we would meet up in the cafeteria and we'd brainstorm, and then we'd have a piece of it, and then the next day, maybe one of us had a new idea, and so he and I coded together a lot through college.
MG: And at the same time, don't get me wrong, I had fun. I was in a sorority. Sororities weren't a huge thing at Duke, but I was in a sorority. I went out to parties on the weekends.
BB: Did you fall in love?
MG: In college, did I fall in love?
BB: Or like? Did you fall in like or love?
MG: I definitely had some likes. Absolutely, in college. You bet.
BB: OK, so then Microsoft first time comes to Duke, and any hesitancy about applying? They were based outside of Seattle, right?
MG: They were. They were based in a little suburb outside of Seattle. I had only been to Seattle once ever in my life. It was with my family to visit our great-aunt who lived there, but I thought it was a really neat area of the country. Never thought I was going to move there, though. But my business school apartment mate, who I had known from undergraduate, she was taking a job on the West Coast in San Francisco, and I thought that was pretty neat that she was moving out west. But I had worked for IBM for two summers in Dallas, and I had a standing offer from them. My parents still lived in Dallas and my younger siblings, and I thought, "Oh, I'm going to go back to Dallas and take this job." But I interviewed at a lot of places. I just wanted to make sure.
MG: And so on my spring break of my last year of business school, I had gotten a call back from Microsoft, so I went home to Dallas and then was going to head up to Microsoft to do my interviews in Seattle, 'cause I did want to look at it, but I went to see my hiring manager, a female, actually, at IBM in Dallas, and she said, "OK, you've had this job offer. Are you ready to accept?" And I said, "No, I've interviewed a lot of places, as you knew. I turned a lot of them down, but I have this one last little company I want to interview with, and then I'll let you know." And she said, "Would you mind me asking what company that is?" And I said, "Well, it's a small company called Microsoft up in Seattle." And she—the look on her face just changed and she said, "Do you want a piece of advice?" And I said, "Sure." She said, "If you get a job offer there, you should take it."
MG: And it floored me. This is my hiring manager. And I said to her, "Really, why?" And she said, "Because if you come to IBM, I think you'll do quite well, from everything I can tell," but she said, "You'll have to move up these management rungs," and she said, "That will take time." But she said, "A young company like Microsoft, the chance to move up and to move up as a woman, if you're as good as I think you are, would be very swift." And so I went and interviewed at Microsoft, and sure enough, I got a job offer and I ended up taking it.
BB: Wow, what an example of female mentorship.
MG: Absolutely. I could not believe it. I could not believe it.
BB: That's a linchpin moment for you, right?
MG: Total linchpin moment. Total linchpin. And I'd been lucky at IBM. I'd had a female manager previously when I was there for the summer, so I knew what good female management looked like. But yeah, it was shocking to have this woman say that to me.
BB: OK, so you get the job at Microsoft. Is that, like, you start immediately? You pack your stuff and head west?
MG: Well, that was spring break.
BB: Oh, that's right.
MG: And so I packed my bags and headed west in June. My dad came out with me to help me find an apartment and to buy my first car. He taught me to negotiate. It was a blue Honda Prelude I was dying to have. We negotiated for my car, and I was so nervous about it, and I wanted this car so badly, and he said to me—we were downtown Seattle, he says—he kind of whispers in my ear, he says, "Be ready to walk out the door." And I said, "Dad—"
BB: Oh God, I hate that.
MG: "Dad, I want this car." And he says, "No, no, no, Melinda, we're going to get this car, and if I don't get this car for you, we will find another one somewhere else, but we have to be willing to walk away from the deal, and I'm sure the salesman will call you later in the day." And sure enough, he did. And my dad helped me buy a blue Honda Prelude.
BB: So you've got your apartment, you've got your blue Honda Prelude, and you've got your job, and tell me how it starts going. Tell me—were you scared? Nervous?
MG: Was I scared? I wasn't scared when I started. No, that I wasn't, 'cause I had confidence by then from computer science. What surprised me was that they just threw you in and nobody was there to tell you what to do. You just started to figure it out. And three weeks into the job, they sent me to New York, and I had never been to New York. I'm a young girl from Texas. I'd never hailed a cab in my life. But they sent me to New York to help negotiate a deal, and I went across town in New York. It was a company we were buying and the owners were Orthodox Jewish people. I'd never met Orthodox Jewish people before, but I was helping negotiate this deal. And so Microsoft was fast and furious, but I loved it. I loved the people there, the energy, the brainpower. I did not like—I came to realize after about two years, 18 months even, I didn't like, though, the brashness inside the company. It was very much a boys' culture, which again, I went to all-girls Catholic school, right? And I—after two years, I really thought long and hard about leaving because you had to stand up for yourself, you had to argue your points in meetings, and I can do that.
MG: I learned how to play the game. I knew how to do that, it turns out. But I didn't like myself very much. I would start to find that when I'd be driving home in my little Honda Prelude and going to the grocery store, I wasn't very nice to people, and I didn't like who I was becoming. And so I thought, "OK, I'm going to just probably leave, take another job." I didn't mind if I moved back to Dallas or somewhere else. And then I thought, "Well, no, I'll try for a little while just being myself. I'm sure I'll fall flat on my face. I know I will, but I'll just try being myself." And I had some other friends in the company who were a bit that way, and I tried it, and it turned out I started succeeding, and—
BB: I was going to say, "Uh-oh." 'Cause now, now you're gonna be unleashed. Now you're going to come into your power, right?
MG: Right. Because what I started to find, and especially as I was managing more people and I moved—I did move up very quickly and was managing teams. I knew I was good at management because I had done that on the drill team, but I started to be able to hire people from all over the company onto my teams. And people would say to me, "How did you get that software developer?" And they were men, 'cause most of the developers were men. "How did you get him to leave the Operating Systems Division and come to the Applications Division?" And I just said, "Well, I don't know, but maybe he wants to work in the culture that I have created on my teams. I'm not sure." But I was highly successful in recruiting and retaining people on my projects, and my team started to know that I had their back in these tough meetings, that I was going to let them lead, but that I also had their back and I was going to back them up. Anyway, so I ended up being successful there, and I stayed nine—over nine years, until I got pregnant with our first daughter, Jenn.
BB: OK. So I just think there's such a lesson here because when there's nothing left to lose and you're ready to go, and the last thing to try is vulnerability, authenticity, showing up as yourself, that's when we unlock success.
MG: Totally.
BB: And it's so crazy how it works that way. It's just—it is so predictable. It's actually—I think about Ed Catmull at Pixar and how—and Joseph Campbell and the hero's journey. It's act one: You understand the lay of the land. Act two, the hero tries every way possible to succeed without being vulnerable and themselves. End of act two: No matter whether you're watching Katniss or you're watching Harry Potter or whatever it is, Luke Skywalker, the end of act two the person finally says, "I've got nothing left to lose. I'm almost dead. Let me just be myself." And that's why I wanted to talk about the drill team thing, because you had some leadership instinct in you. Like, you cut out the patterns, and I bet you found a way to get uniforms for the girls who couldn't afford them.
MG: Oh, absolutely we did.
BB: Right, right.
MG: And I had to discipline girls. I had to discipline my friends. Even to this day, in my small circle of friends that I've kept from high school, one of them who was a rascal still laughs about—she's like, "Oh, remember all the trouble I used to create on purpose on the drill team? You'd always come down to our end of the line and we were the ones doing the silly stuff." But I think you learn from that. And, Brené, it's only been later in my life, in the last eight years, that I've read your books and started to look back and realize it was those moments of vulnerability but courage, I think that's so often what we don't tell people is it takes courage to be vulnerable. And even in my position today, it takes huge courage, and we have to push through those really difficult places. And that's one of the things I've told my kids in those moments—those very tense moments where they're trying to make a change or move forward on something—is that just when you feel like you want to lean back—like, the world is kind of pushing you back or you're afraid and you want to go back—what you actually have to do is lean forward into that courage and—
BB: That's right.
MG: Something will show up and help you. Somebody, someone, your own courage, and those are moments of being vulnerable and being known, and they're some of the most powerful and deeply connected moments in the end of your life. About decisions you take or people you meet, they are—to me, they are the—I don't know—they're like the deepest moments of life, the juiciest in a certain way.
BB: They are, and you can almost graph your life by those moments.
MG: Yeah.
BB: Those are the big moments that set their trajectory a little bit. All right, you skipped the part—let's talk about meeting Bill. Falling in love. You are with Microsoft, you said for nine years, right?
MG: Right.
BB: OK, and so how do you meet Bill and fall in love and decide to marry him?
MG: Well, complicated. Because he's the CEO of the company and I'm this 23-year-old at the company. But I actually met him at this trip in New York that Microsoft sent me on. There was a trade show. I wasn't part of the group going to the trade show from Microsoft, but when I contacted the Travel Department, they said, "You will have a female roommate because we double up for cost and expenses." And I was like, "Great." And so I got to know her a bit on the trip, and she said to me one night, "Well, tomorrow night before this trade show starts, there's a group of us, there's about 30 of us who are here working the trade show, we're all going to have a dinner to get ready for it. Why don't you come?" And I said, "OK." So I had gone across town to negotiate this deal. I came late to the dinner. There were two chairs open. I sat in the second-to-last chair, and about 20 minutes later, Bill was coming across town, apparently from something else, I don't know what, and he sat in the chair next to me, and so that's how I met him.
BB: You didn't know him before then. You all weren't like, "Hey, Bill." "Hey, Melinda. What's up?"
MG: No, no, no. You knew who he was, you knew what building—there were only four buildings. You knew where he was on the campus, 'cause it was small. The company was less than 1,700 people then. But no, I certainly didn't know him. So I thought he was funny. I thought he was interesting. Certainly smart. He mentioned that there was a group going out that night dancing, but I actually had other plans with somebody I knew from business school, so I passed.
BB: Of course, you did. Go ahead.
MG: A few months later—we all used to work on Saturdays at Microsoft. It was just a thing you did. You always worked to 2 or 3 p.m. on a Saturday. So one Saturday I was coming out of my building, which happened to be located literally next to his, and going to get in my little blue Honda Prelude, and his car was parked about four down from mine, and he was coming out of his building. So he approached me. We talked for a long time in the parking lot, and then he asked me out for two weeks from Friday night, and I was like, "Two weeks from Friday night?"
BB: I'm sorry.
MG: Tell me about it.
[Laughter]
MG: It was so funny to me because I was so spontaneous with my friends. Like, we'd figure out on Friday what we were doing on Saturday. On Saturday, if we're going to ski on Sunday. So I said to him, "Two weeks from Friday night, I have no idea what I'm doing then. Call me closer to the date." And so he asked my phone number. I gave it to him. And sure enough, about an hour later he called me at my apartment and said, "Well, let's see, I have—" Get this. "—A user group thing tonight. A dinner with customers, but would you like to have a drink with me after that?" And I thought, "Wow, those are some pretty nerdy things, but this guy is being spontaneous, so I guess, yeah, I'll meet you later for a drink." And we did. And that ended up being our first, I guess you'd call it, date.
BB: That is the best—that is the best story. Then you all just started dating from there?
MG: We did. We started dating from there. And you know, that was a little tricky inside the company, but I made it very, very clear to my teams that I did not—I had this hard-and-fast rule: I did not talk to him about work after-hours because I couldn't be there coaching them, particularly preparing for a meeting with him and Steve Ballmer, who was the other number two at the company, and go home and talk about it. That just wouldn't make any sense. So yeah, we started dating from there.
BB: And how long did y'all date before you got engaged?
MG: I have to look back, maybe four and a half, five years. It was a while. Bill really had a lot of trouble thinking about—even though we both knew we were serious after a couple of years, he really wasn't sure if he could balance work and family life, and he wanted to be able to do both. He's seen what a good family life—his parents had one, for sure—but he wasn't sure, given the commitment the company took, whether he could make that work.
BB: That's a fair concern, right? I don't think a lot of people think it through, actually.
MG: Right, that's true. He put a lot of thought into it, put it that way.
BB: Three years.
[Laughter]
MG: Yeah, quite a while.
BB: And then you get married, you have your first child, and you set off on what is your—I guess, is it fair to say your next chapter, which is you become this incredible global philanthropist.
MG: Yes, and not something I would have ever predicted when I stepped back from Microsoft. I stepped back because I wanted to have a deep family life where our children were rooted in values, and I knew—that I knew what Bill's travel schedule was like, I knew what his commitments to Microsoft were like. Talk about hard-charging fast industry. And so I said to him—he was actually surprised when I stepped back from Microsoft. Shocked, actually. And I said, "No, no, no. Look, if we want to have the family life we're talking about, somebody has to be home." And I knew, though, it wasn't forever.
MG: I knew I wanted to be home until my kids got a little older, and then I would step back into the workforce. I just didn't know how. Because we'd already committed during our engagement that the vast majority of resources for Microsoft would go back to society, we had already started a very small foundation. Bill's dad was helping us answer letters, etcetera, then. But I started, over time to spend more time on that and to just really start on a learning journey to figure out what might we do with this foundation. And that worked incredibly well, particularly when my kids were young, 'cause I could do it behind the scenes. I could give it as much time as I wanted, which was an incredibly fortunate situation to be in. And then when the youngest went into preschool, then I knew I would work much more full time at the foundation, which I have done. But all those drops—what I call drops in the bucket—all the conversations, the learning, the being out in the field, the trips over time, I hadn't realized how much they were adding up, even when the kids were young, for me to know where I wanted to go and how I wanted to guide the foundation then when I was closer to full time.
[Music]
BB: So let's stop here and shift and tell me the story of The Moment of Lift. Tell me—you and I've talked about this before at length. It takes a lot of courage and a lot of discipline and a lot of passion. I think that's probably the main ingredients anyway—courage, discipline, and passion—to write a book, and I think you and I ask ourselves similar questions, like, "Is this contributing something or is this just more noise? And if it's not a contribution, it's not worth the time." Mine to write it or yours to read it.
MG: Absolutely.
BB: Tell me about what your goal is with The Moment of Lift. Tell me the story.
MG: My goal with The Moment of Lift was to tell the stories of so many of the amazing women I have met when I'm out in low-income countries. Their stories over time—these what I call drops in the bucket—their stories added up for me and they animated my life and they called me to action on their behalf. And as I take these trips and their stories would ring in my head in my quiet time during the trips, or coming home on the plane, I started to realize, "Oh my gosh, if I'm in this position because of the foundation, to have a platform where I can have their voices be heard and come to the global stage so we do something about the issues that they're facing, then I need to do that." And so I started to do that work much more deeply inside the foundation. It was not popular to say, "I want to focus on gender," neither inside the foundation nor outside. Gender issues were considered this sort of soft and the sort of side issues.
BB: Oh, totally.
MG: What I've come to learn is, "No, no, no, they are the central issues." And it's interesting, Brené, you and I talked one time—you may not even remember this—but after we'd gotten to know one another, you and I had a conversation on the phone one time, and you were the one that helped me see that in the sciences from what you know, from the social scientists, it was scientists who labeled certain things hard science and other things soft science. What I came to realize is that these gender issues had been labeled by men the soft issues or the side issues. No, no, no, it turns out they're the central issue—that if you focus on them, you will unlock so much more for a family, a community, a country. So these women's stories called me to action inside the foundation, and I eventually thought, "You know, I want to write these stories down, because perhaps in telling them and telling my own story and interweaving that in, maybe I'll help call others to action as well." So it's why I eventually embarked on doing this book.
BB: It really shifted a lot of my thinking about—and I do, oh, I do remember that conversation. I remember that 'cause we were actually talking about qualitative versus quantitative research. We were talking about the gendering of research and science and is it more powerful to be able to run a multivariate analysis or is it equally as powerful to be able to listen to and collect with empathy stories from hundreds of people and find themes and patterns that help us change the world? I think that's shifting now.
MG: Definitely.
BB: It is definitely shifting because as I always say, stories are just data with a soul. I guess the one thing that really was—shook me in a really important way about the book—tell me what happens when—what does school mean, not just to girls and women, but what does school mean to communities and countries?
MG: School means opening people's minds, particularly in that very, what I would call more plastic period of our brains, both—we know we have it when you're extraordinarily young and you're learning to walk and talk, but again, in those teenage years and in your early twenties. Opening people's minds, young people's minds, to new ideas, new concepts, new ways of thinking that are sometimes, but not always, can be different than what they've been taught at home, or different than their community norms that the village elder has taught them, or the man in their house has taught them, or the way their mom acts in the family from social norms. It helps young people start to say, "Hmm. Is that who I am? Is that what I believe? How should I look at this?"
MG: I think an education helps you to question what you think you know, so that you look back and say, "OK, yes, those things I truly believe. I'm going to bring those forward. But, hey, here's a new way of thinking about perhaps the religion I grew up in, or the social norm that says, 'My mom stays home and my dad goes into the workforce,' or that says, 'Hey, women should do more chores at home than men, or women are the only ones to take care of the children.' Is that true? Why is that true? Why not?" It just opens you to a whole new way of thinking and being, if you spend the time to let yourself be absorbed in that. But I've seen that for so many students. And it also puts many, many people on the path to opportunity. To living the full and productive life they would like to live. And that changes not only communities, it changes whole city, states, and frankly, countries.
BB: What are some of the indicators that you've learned or seen about when girls have an opportunity to go to get education? How does that change the economy of a country or a community?
MG: Oh my gosh, it changes the economy because she's then taking decisions for herself. When a woman has money in her own hands—we so often don't like to talk about this. We talk about money being power, but when a woman has money in her hands, it is one—it's not the only, but it's one of the key things that leads to true empowerment, because when she's educated and when she can have economic opportunity and the funds in her own bank account or own wallet, she is seen differently. She will tell you, I am seen differently in my home by my oldest son if I can buy him a bicycle, or my mother-in-law if I live in India and I'm controlled by her. My husband sees me differently when I can contribute. Those educational gains for women mean that they go into the labor force, and we know an economy is larger when women go into the labor force and they can take any job they want to take, or they can create new businesses that open up economic opportunity for others.
MG: And one of the reasons I've become so passionate about this, and I think it's helped me with a lot of clarity, is that you see that women see society differently, from a different lens, than men do. Neither lens is right or wrong, but a lot of times a woman has a full perspective because she is the one who takes care of the kids, takes care of the elderly. She often has to think about everybody else. And often, if she has children, she's thinking about, "How do you balance family and work?" as opposed to, I think so many men, particularly in the United States, I'll say, just get to be singularly focused: college education, job, come home from work, and, yes, maybe I help with some things around the house, but they're very, very focused on work quite often, whereas you see women and people of color come with a different lens to situations, and I think that is vitally important. But only if a woman has her full voice and decision-making power can she really, truly open things up for herself and her family and her country.
BB: There was something—you can see my very tattered, very worn, very highlighted book. This is the one that I also brought to New York to work from. One of the things as a social worker, an organizer from way back, there is—there's a couple of ways of helping. And I think you and I—this is a conversation I think we've also had somewhere in the past, where my dissertation was on acompañar, the Spanish verb "to walk with," which is a deep Catholic tradition of not getting behind and pushing those we're helping, not getting in front of them and pulling, but walking with. To walk with, right? And it comes out of a lot of trauma and poverty and violence in Central America. And that was my entire dissertation, and I felt the same flames around that idea when I read in your book, "Their cup is not empty." Tell me about this approach. It's very much to me an acompañar approach. Tell me about the approach of "their cup is not empty" when we're helping.
MG: I think so often you can go into a community and you can think, "OK, we have these Western ideas," for instance. Let's say you're going to a country in Africa. You're going to a rural place, maybe, in Tanzania. You can say, "OK, I have all these great ideas coming from the West that I can take into this community, and if they would only take this up or they would only change in this way, wow, they would have so much more." And I think we sometimes see others as having less. And the truth is, when you go into these communities and you really get to know these moms and dads and their rich family life and their rich tradition, they do many things for incredibly good reasons because they've seen things that we haven't seen. They've experienced different things. And what we have to look at is, How do they view their community, their world, their family, and what assets do they have, because they have so many rich assets, and how do we help them build on those or take up perhaps new ideas if they want to?
MG: And so one of the best examples I think I've learned was going in to see—I've seen this in many communities—but I went in with Molly Melching. She founded an organization called Tostan, originally in Senegal. What she learned was you had to meet people where they were. You had to spend many years really getting to know them and building trust, and then starting to bring educational ideas in, but see what they were interested in. She might think she was going to come in and talk to them about something like contraceptives, but they were interested in clean water, 'cause they said, "Look, we don't have clean water, and we know that will keep our family healthier or our kids." So you have to start where they are, and then, it's like education—you bring in new ideas and they have to decide as a community, Do I want to take up those ideas or not? And it's interesting, when you say that that was your thesis, I've so often thought when doing this work, we're walking alongside one another. We're not walking in front. We're not walking behind. We're walking next to each other. I almost put in the title of my book something about walking. The title I wanted, it turns out there's a spiritual teacher who's going to use it himself for a future book. But it is really about walking with one another. It's accompanying them. It's accompanying one another on this journey in life.
BB: Yeah, and it was really funny, 'cause when I was doing my dissertation, I was doing it on, What are the differences between macro helping, community organizing, activism, and micro? Some social workers are activists and organizers. Some social workers are therapists. And what does helping have in common? And what it has in common is the best versions of it are accompaniment, are to walk with. Not to lead, not to push from behind, but to bear witness and walk with. Yeah, it made me think, when I was reading that in The Moment of Lift, their cup is not empty. Stop showing up like they've got an empty cup and you're going to fill it with your ideas and your education. Their cup is already full. And acknowledge—that was a huge thing.
BB: Tell me—it was funny, 'cause I did this—I interviewed President Obama, and he said that one of his favorite community organizing questions that he used all the time as an organizer, pre-political career, was, "Tell me about the world we live in right now and describe the world you'd love to see." So tell me the world we live in right now, Melinda, for women and girls globally, and tell me about the world you'd like to see.
MG: I think for women and girls today certainly this is a better time to be alive than 30 years ago. Absolutely. Almost in no matter what country, unless it's a war-torn currently conflict country. So we have made progress for women and girls as a world, but we haven't made nearly enough. So the world today that I think so many women and girls live in is they have maybe some empowerment—depends on which country you live in—some empowerment in their life, but there are still barriers that hold women back. And my dream for the future is that women have their full voices, their full decision-making authority, and that they have a seat at every single table where decisions are taken. And so whether that's in political office, at the state level or the highest levels—in our country, that would be on Capitol Hill, or in the U.K., that would be in Parliament—whether that's at a corporate board—we know corporate boards; we know companies do better when there's diversity at the table and not just one woman but several women, people of color—that women are there making policy, making changes. What I know about women is they help not just lift themselves up but everybody else. They lift up their families, their sons, their daughters, and so I dream of a world where women have true equality in every country around the world.
MG: And I think so often we think in the United States, when you interview people, they say, "Oh well, we're about maybe 50, maybe 60 years away from equality." No, we're 208 years away from equality in our country. When you look at all the metrics—the World Economic Forum has a set of metrics that we use and look at for every country in the world—we're 208 years away in our own country.
BB: That feels like such bullshit. Like, I cannot believe—it's like my granddaughters won't see it.
MG: Correct. If we don't do something about it and accelerate this progress massively. I mean, we celebrate—it is fantastic the number of women that are now in this new Congress, in the House and in the Senate of the United States, but guess how long we are until we have true equality in the House and the Senate in the United States? We're 60 years away from that. Sixty years.
BB: What needs to happen to accelerate?
MG: Around the world, we need to take down two barriers for women. Number one, sexual harassment and abuse. If a woman is harassed in her job in the United States, she leaves at a 80% rate within the next two years. So we wonder why don't women get promoted. They move around in jobs because there's so much sexual harassment. So we have to take down harassment and abuse.
BB: So accountability.
MG: Accountability. And we have to look at this burden of unpaid labor, really child care. Some of it's loving care. We absolutely want to do, but there's other things like laundry and dishes and filling the lunch boxes. We have to look at that unpaid labor and make sure we have good policies to help women, paid family medical leave. We have to have the real conversations in our home about who's doing what. So we've got to take down those two barriers: the accountability around abuse and sexual harassment, we need to look at this burden of child care and rearing and elder care. And then in the U.S., we have to accelerate women in some key, key industries—finance; tech, because it's pervasive in society; public policy; politics. We have to accelerate women in politics 'cause that's where our policies come from, and then lastly, also media because that's who tells our stories. If we accelerate pathways, and there are many ways to do this, of women into those key industries, you will absolutely change society.
BB: You know what? That sounds like common sense to me. I've got to tell you, honestly, that just sounds like the truth to me. That just sounds—the media are the storytellers, the political people make the policy, tech is running the world—and some would say into the ground in some areas—and finance, which is—
MG: Money is power.
BB: Power, money—and influence.
MG: You decide what businesses get funded. Who gets to go in this direction. So those four industries are vital.
BB: And it sounds like we need to hold some men accountable. Again, as a social worker, I think often about pulling people out of the river versus going to the head of the river and understanding what's happening. So what's interesting is, I think when there are more women accelerated in power—in finance, in politics, in tech, in media—I do think the stories and the narratives change, and I do think there will be less incidences of sexual harassment and sexual assault. But until then, in that process, they have to be held accountable. And accountability is important for all of us. It's not just for men. I just remembered having long conversations with Ellen when she set off to college. One of the first things she did was she did a big project on Title IX and sexual assault and sexual harassment, and she did it with a very racially and gender-diverse group of students, and this group was asked to present it to Admiral McRaven, who was still the head of the University of Texas.
BB: And she called me one day almost in tears and said, "Mom—" And I said, "Yeah?" A she goes, "None of it matters." And I said, "It all matters. Tell me why it doesn't matter." And she said, "I can't find the mechanisms of accountability. You always say, 'If the shaming and the name-calling and the public outing of people is not enough, that we actually need accountability,' I can't find it anywhere. Not in the paperwork, not in evidence."
BB: And so this culture that we're in right now, Melinda, is we're quick to shame, we're quick to belittle, we're quick to name-call, we're quick to cancel, but let's talk about the hard work of accountability. Accountability is not easy.
MG: Not at all.
BB: You're going to have me on a rampage now, but when you say media, finance, politics, and tech, it's almost like in order for this to work, they almost have to advance together because power with the wrong story, the distribution of information through tech, and then policies that protect and hold accountable, those have to move forward, and man, there are a lot of people who will not benefit by women in power and others being held accountable. Including women. We have to hold everybody accountable. And I'm not saying that accountability is just for men, by any means. We all need to be held accountable. We all need to hold ourselves accountable. What you're saying to me feels very—maybe it's just landing on my broken heart right now about what we're seeing in our country. Tell me what you think. I'm going to give you some headlines and you tell me your thoughts.
MG: OK.
BB: The response to COVID in countries led by women, in just looking at the data, different.
MG: Absolutely. And you know why? Because these are people I talk to, these are the leaders that were—we talk to and coordinate with. I talked to Prime Minister Jacinda Ardern. Three weeks earlier I talked to Chancellor Merkel. In both of these cases at the time, Prime Minister Jacinda Ardern—New Zealand had just stopped their outbreak—this was months ago—but what was she thinking about when I got her on the phone? She was thinking about all the island nations around them and how to protect them because they were all so vulnerable. She said, "Yes, we've done a good job here, but we have to think about everybody around us." So that was my conversation with her.
MG: Three weeks earlier, I had talked to Chancellor Merkel and I was praising her because they'd done such a good job at that point on the response, particularly with testing and contact tracing, and she said, "But, Melinda, the thing I'm most worried about are our vulnerable populations. Our big numbers, our macro numbers look good," but she says, "I've got these pockets that I am so incredibly worried about that we are not yet reaching." And so I see these women thinking about everybody else and the full view of society, not just the macro numbers and looking good on the global stage. At the time I talked to Chancellor Merkel, they were taking patients in from other countries around them because they knew it was the right thing to do and their ICUs weren't full at the time. That's incredible.
BB: But you know what that also is? Family systems thinking.
MG: There you go. There's your background. Yeah, totally.
BB: It is. Because our family is only actually as safe as the most vulnerable member of our family. And it's not about what the Joneses across the street think when they look over. Or, does everything look good? Do the numbers look good? Is it the ego? It's actually, "We are still vulnerable if the most vulnerable, unseen, least powerful, least influential people are threatened." It's about what you said in the beginning. I wish people could see the Zoom. We're on Zoom right now. Melinda and I are on Zoom. And when you were talking about, there's not a right or wrong way of seeing things, but you made these hand gestures that almost reminded me of the yin-yang symbol. You're like, "You know, women kinda come at the world this way, while men see the world this way." And I think that holistic systemic thinking—I'm telling you, as someone who takes care of kids and parents right now in my life, systems thinking is not an option for me.
MG: No, not at all. Because you know inside your family. I always think of us as a family, as a beautiful mobile hanging from this thin thread above, and if one person is out of kilter on that mobile, the rest of us are out of kilter. And that's the same that's true for the world. When Bill and I call on these global leaders right now, and so many of them are very nationalistic thinking—I've gotta have vaccine for my own country—but it's so interesting, when I talk to Ursula von der Leyen, who's the head of the European Commission right now, she immediately was thinking—she has seven children, OK? She and her husband have raised seven children, and she was immediately thinking not just about the European nations, but she was already thinking about countries in Africa, because she knew—and this is the whole conversation we have with global leaders, is if we don't take care of everybody with COVID, this disease is going to bounce around the world for years, and we are gonna see so much more death, and guess what? We also won't have a swift recovery, even in our own country, because we are all connected. Our travel industry won't go back to normal, our manufacturing industry, our supply chains are messed up. We have to think of the global family. We are a global community living on one planet, and we so often like to cover our eyes and not think about that. And yet women do.
BB: Yeah, it is the mobile. I wish I could think of the artist—his stuff is at The Menil in Houston. I wish I could think of the artist that does these incredible mobile.
MG: Calder.
BB: Yes.
MG: I love his pieces.
BB: Yes, and they're so—you're like, "Man, how do you pull off that balance?" But that's what my life feels like every morning when I wake up. It's, I have to think systemically. I'm very lucky in many ways. But my husband is also—I think because he's a pediatrician, he's also very much a systemic thinker. He'll tell me often—when he's dealing with a sick child, I'll say, "Well, isn't this the best way to—" Of course, in my secret medical degree that I acquired when no one was looking, I'll be like, "Wouldn't this be the best way?" And he said, "It may be the fastest, but it is not viable for their family system. It's not viable, so it doesn't matter. This is what the parents with these stressors, doing this work right now, with this amount of stuff going on in their lives, this is the best course of action." Because he sees the family as a system. And so it's also interesting, because Ellen stayed with us for a long time during COVID, and she said, "Give me your three nonnegotiables for success. What do you attribute your success to?" And I said, "My sobriety. Twenty-five years. And not just because I'm sober, but because I work a program of rigorous curiosity and reflection in my life." And I said, "I also married someone who wanted everything for me that I wanted for me."
MG: Beautiful.
BB: "Before I got pregnant with you, we made a decision intentionally for shared work and shared care."
MG: Wow.
BB: We just said, "This is the way we're going to do it, and it's going to be really hard and we're going to hate each other sometimes, but this is the way we're going to try to do it. And I do what I love, I think is the third thing." But I do believe this whole systemic mobile that you described—I'll never get that picture out of my head, Melinda. It is a mobile. And it's just like, God—and it's hard because you're—I think women are accountable for a lot of balance.
MG: I think so too. And, Brené, the more years I've lived, the more I appreciate what you're describing in your husband, Steve. And I see it, and I see it at the global level, I see it inside the foundation, what I call enlightened men who are willing to relook with rigor, as you said, and be curious about, "How do I want my home life to look? How am I supporting women in my organization? Am I really walking the talk? Am I willing to be transparent and set a goal?" There are enlightened male leaders who say, "I do care about everybody in my society." And it's the working together, I think, of women who are trying to push the world forward, women and girls, and enlightened men and boys.
BB: That's right.
MG: You talk so eloquently in your book about how do we make the world more safe for men so they don't feel like they have to be this tough person acting a certain way in the world but that they can really start to think in this way and feel their feelings and name them. I think we've so often sent men out in the world saying there's kind of one way of being, and that's just not working anymore.
BB: And the worst thing is, and as someone who's interviewed thousands of men, it's not working for them either.
MG: No, no.
BB: They're lonely. They're cut off. I remember—oh my God, I remember 'cause we were in this little rent house in Bellaire, Texas, and I was getting my Ph.D. and he was in residency, and Ellen was going to come any week, I was so pregnant. And I remember Steve saying, "I don't want to miss things either. This is not just about your empowerment. This is—I don't want to miss the moments." He was doing a chief residency that year, and he said, "You already see it." And he said, "But there's a cost." He said, "It's not popular. We offer paternity leave. No one takes it." And he said, "I'm gonna do it." But it has been hard and it has been pushing against the norms. And I'll tell you, Melinda, one of the things—I'd love your comment on this—there's been a big backslide around understanding the price of patriarchal values on both men and women over the last four years with this administration. I just saw, I guess, maybe two weeks ago, from a senator who was laughing about masks and his comment was—he was showing another senator in a mask that said, "Would you like a purse with that mask?" A shaming attack on masculinity. There's been a real backslide. What are you thinking or feeling about that?
MG: Well, it's been heartbreaking and devastating to see that. And to see that we have had a leader in our country where bullying is acceptable. The thing that I told my children—one of the first things you say to your kids about playgrounds when they go off to school is, "Do not ever bully anybody else and stay away from the bullies, and if you see one stand up for the other kids or go report it." So I think to see those—I wouldn't even call it values—nonvalues lived out at the highest level, just awful. And to see it push forward things to be acceptable again, that just haven't been, has been devastating. On the other hand, I will say this, Brené, as we look at a administration coming in, thank God, next week, and we still have to get through these days. And of course, I watched with my son, who's studying political science, international relations, for five hours the day the Capitol was attacked, but it's heartbreaking to see that happen, or people lose their lives. But our democracy held.
MG: In so many countries I go in in the world, the democracy doesn't hold through that. And so our democracy held, and what I am so encouraged to see by this new administration coming in is they are picking not only smart people for their areas, they're picking people with values, and they're also thinking about long term. "OK, this person is young in their career. How do I give them experience that they can move to a leadership level long term?" That gives me great encouragement.
MG: And I have had a couple of conversations with President-elect Biden, and he knows the importance of child care. He was a dad who lost his wife and daughter and raised two sons and was a senator. OK, so he talks about it being the infrastructure of society, child care and elder care. And to your point about what Steve said about wanting to not miss the moments with our family, we have to make that OK for men. When I go to the Nordic countries, which I do often, or used to before the pandemic, for my work too, they've had great paid family—not maternity—paid family medical leave policies for 30 years. When you talk to dads there and you say, "OK, did you take your paid family medical leave?" They're like, "Of course, I did. I didn't want to miss my young daughter growing up. I didn't want to miss my son's first tooth coming out." And we know from good research that if a dad participates early, he participates more in the child rearing their entire life. And so we have to make it the norm, and we have to encourage men and make it OK for them to take it, just like we have to make it OK for women, and I think we will get there.
MG: I'll be surprised under this administration if we don't. We need a robust paid family medical leave policy in this country, because it will take down that second barrier you and I talked about. After the sexual abuse and harassment, the other barrier that has to come down is this unpaid work. This child rearing and elder care rearing that typically falls to women in our country.
BB: It's really funny, when—I guess, I don't know, maybe it was 20 years ago, I was in Stockholm, and I was walking down one of the shopping streets—of course, is where you would find me—and there was a store that was like their version of Brooks Brothers, just really like pinstripe suits, and a couple of the suits you could buy in the window with a matching BabyBjörn that was made out of the same gray pinstripe. So there you've got the business suit for the guy and the matching baby carrier.
MG: Amazing.
BB: I still have that picture somewhere. I'm going to make a copy of it and send it to you with a little note that says, "Here's hoping, Melinda."
MG: Perfect.
BB: Yeah. OK, a couple more headlines I want to run by you. One of the things I took away from The Moment of Lift is how the best intentions of lifting and amplifying other people mean very little if you don't think about distribution. True or false?
MG: True.
BB: What the hell is going on with the vaccine distribution?
MG: Well, our CDC, the Centers for Disease Control, that was set up—when it was originally founded, it was to advise health commissioners in every single state about health issues, and precisely vaccine distribution is one of those things. So when you have an administration that sidelines the CDC, what happens is you don't do the coordinated planning. And we know from many years of doing vaccine work, it takes careful and coordinated planning to then distribute a vaccine. So here we've got this fabulous science that has happened and is ready to go, and we have over 20 million doses out in the United States, and only about 6 million people have it in their arms. That's because of the lack of planning. And we need a federally coordinated plan.
BB: Yes.
MG: But what I will say, Brené, is I think this is going to get better in the next 45 to 60 days. It's a shame more people don't already have their vaccine. But first of all, vaccine hesitancy has gone down significantly. People are clamoring for the vaccine, which is fabulous. So they want the tool. And I do think these terrible bumps in the road that we're seeing today, they will start to get ironed out in the next 45 to 60 days.
BB: OK, last one before our rapid-fire, which I cannot wait to do with you. Just read yesterday women accounted for all of the job losses in the U.S. in December—100% of the 140,000 jobs shed by the U.S. economy in December. Disproportionately Black women, Indigenous women, women of color. In fact, with some white women sliding into those jobs. Overall, 100% of the 140,000 jobs lost during December, women.
MG: Can you believe it?
BB: It makes me sick.
MG: I had to look at that statistic three times. I was like, "100% of the jobs were lost in this economy? One hundred percent were jobs from women?" And, yes, an enormous percentage of them, disproportionate, people of color, women of color. Are you kidding me? And so what we're seeing is women are leaving the labor force for two reasons. Number one is, women hold many of those low-wage jobs, and so those low-wage jobs are disappearing. We're not going out for the services we used to go out for before COVID.
BB: So service industry jobs.
MG: Service industry jobs are held by women. And the number two reason women are stepping back from the workforce is the burden of child care that's in their homes.
BB: Caregiving.
MG: It is right here in our faces. We are trying to make sure our kids still stay educated and make sure that Grandma still has her prescriptions, make sure that kids are—if you have young kids, can you imagine, if you're lucky enough to have a job where you get to work on Zoom, even though it's hard, you have a toddler running around? It just doesn't work. And so women are leaving the workforce in droves, and it is going to set us back for quite some time in this country, if we don't make it easier for women to go back into those roles when COVID is over.
BB: Quickly, I have to do one more before the rapid-fire. Tell me about the czar idea you have.
MG: Well, I wrote an op-ed about having a caregiving czar, because I want to make sure that whatever we do to rebuild this caregiving infrastructure in the United States, it has to be coordinated across the agencies. Because it's not just paid family medical leave or paid sick days during the epidemic. It's also making sure that we look at the elder care. We have 800,000 elderly people on Medicare who can't find a housing situation right now. Eight hundred thousand. We have a child care industry that is collapsing, and it needs $50 billion to be propped up and to become more robust. Because if I'm a woman who gets on a bus to take that essential job, or I'm a health care worker, and I don't have someone at home or in my community that can help me care for my child, I need to be able to put them into child care. Those jobs, those industries—that's collapsed during COVID—and so we've got to coordinate and rebuild across the agencies to get this infrastructure laid down if we're going to have a more swift recovery.
BB: I keep thinking about this quote. Maybe you'll know who said it. It was a quote that I remember Dr. David Austin at UT sharing with me my first year in social work school; I think it was my undergraduate degree. He said, "The character of a nation is judged by its ability to take care of its most vulnerable people." And we need a caregiving czar. 'Cause I can do it barely by the skin of my teeth by myself because I have a lot of resources, and I have sisters, and I have a husband who is a physician and can help. But just the physical, emotional, and mental toll that takes on the women I know right now during this pandemic—I'm working with a lot of leaders right now in organizations, and I don't think I'm on a call where people are just not sobbing as toddlers crawl up their backs and really difficult—it's been a very difficult season for our marriage, and we have a lot of tools. I love this idea of a caregiving czar. I love this idea of a coordinated effort. This is all of us, and it's got to have a federal response that's coordinated and meaningful.
MG: Absolutely. We care. Why have we forgotten as a nation that we care about our families? Yes, we care about work and capitalism and people having great job and income, but we care deeply about our families, and so we have to balance those, and the only way to do it is to have this infrastructure so that we can do it. And, yes, women will tell you, they are exhausted. Exhausted. Even when I'm on an interview with a press person—one of them literally—I was doing a call with her—it was a Zoom call, and we were doing an interview. She literally had Cheerios on her skirt and she had the highchair next to her. She said, "I've just cleaned up from having my daughter in the highchair. Now we're ready to do the interview." I mean, we are all exhausted by this, and yet we want to be there for our children with those loving moments where you tell the story at night, you tuck them into bed, but there's a lot of other things that go into caring for someone as well that is tiring, and we need to admit that, and we need to figure this out as a society. Other nations have.
BB: It's true. Amen. It's so funny, I told Steve, I think it was three days ago. It was Monday night of this week, I said, "I just need to be like a 1950s dad for like two nights." He said, "What does that mean?" And I said, "I just need to come home and eat meat like a Hungry-Man TV dinner while watching Hee Haw or something. I can't quit work right now, and then attend to emotional bandwidth of our family or my mom or my parents and my kids. I just need a Hungry-Man dinner and some shit TV." He's like, "I get it."
MG: Check out Bridgerton. It's good eye candy.
BB: I've watched it twice.
MG: OK, good.
BB: Oh, it's so good.
MG: And I grew up eating those Swanson TV dinners and watching Hee Haw. So I know exactly what you're talking about.
BB: You were up there in Dallas, right down the street. All right, let's get the rapid-fire. Ready? Fill in the blank. Vulnerability is—
MG: Courage.
BB: You are called to be very brave, but your fear is real. You can feel it in your throat. What's the very first thing you do?
MG: Call a friend.
BB: What is something that people often get wrong about you?
MG: That I am who I am, which is just another human being.
BB: Yeah, and I would add too, you're funny.
MG: Thank you.
BB: You're really funny. And you can be kind of a smart-ass sometimes. People miss that, I think. What's the last TV show you binge and loved?
MG: Bridgerton.
BB: Favorite movie?
MG: Sound of Music.
BB: A concert that you'll never forget?
MG: Eagles, Hotel California, 'cause it was my first one and my dad drove my sister and me there in our red station wagon.
[Laughter]
BB: We are so the same. Favorite meal, you can eat anything?
MG: Mexican food of any type.
BB: In Texas, right?
MG: Of course. And it's Tex-Mex, not like authentic. Tex-Mex, like a good taco.
BB: Yum. What's on your nightstand?
MG: President Obama's book, A Promised Land.
BB: What else?
MG: Oh my gosh. Well, the stack is so large.
BB: You've got a big stack.
MG: Mark Nepo's Awakening, The Book of Awakening. I still, even though I read it years ago, James Baraz's Awakening Joy. They're just my go-to books.
BB: Beautiful. A snapshot of an ordinary moment in your life, just a single snapshot that brings you joy?
MG: Sitting on the swingset as a young girl. And today, when my daughter Phoebe, who's 18, who's a senior in high school, when she has something serious she wants to discuss with me, even when it's cold in winter and rainy here in Seattle, we go out to the swingset and have those conversations and we swing and it's lovely.
BB: Beautiful. Tell me one thing that you're deeply grateful for right now in your life.
MG: Having such a loving mother. Oh my gosh, my mom has just been there for me through thick and thin. When I was young and in high school, and even now. Just talked to her for an hour and 15 minutes on the phone a day or so ago. She's just there and I just—her light and her presence is something I am just eternally grateful for.
BB: All right, we asked you for songs you could not live without. You gave us six. "Brown Eye Girl," by Van Morrison. "The Book of Love," Peter Gabriel's rendition. "Under African Skies," by Paul Simon. "So Long, Farewell," from The Sound of Music. "Straight Ahead," by Amy Grant. And "Peace on Earth/Little Drummer Boy," done by Bing Crosby and David Bowie, a duet. In one sentence, what do these six songs say about Melinda Gates?
MG: That I love music or anything that touches your heart. All of these songs, during different periods of my life, have just touched my heart. And whether it's top down on the car driving around when you're a young girl, or whether it's sitting in my bedroom in high school listening to "Straight Ahead," or whether it's when I'm with my extended family and we sing—when we're saying goodbye to each other, the group will show up and sing "So Long, Farewell"—they're just all moments of things that touch your heart. And whenever it's time to do Christmas music again in the house, the first song I put on is that "Peace on Earth/Little Drummer Boy." I love even the dialogue between David Bowie and Bing Crosby, and then the richness with which they sing those beautiful songs.
BB: Thank you so much. I really—it was such a joy to talk to you. Thank you.
MG: Thanks for this conversation, Brené. I always look forward to any of our conversations, so this was a huge treat.
BB: Thank you.
[Music]
BB: I hope you all enjoyed that as much as I did. The Moment of Lift: How Empowering Women Changes the World is, again, available in paperback. It's a great book read for book clubs. It's also—I sent it to my daughter who's 21, and she said not only did she read it, but she's used it in school papers, so there's that. You can follow Melinda on Facebook, LinkedIn, and Twitter at @melindagates. Instagram, she's @melindafrenchgates.
BB: A couple of things that I'm leaving with is the mobile, the idea of that mobile. That preciously, precariously balanced mobile. And how important it is, I think, to acknowledge the constant mindfulness it takes to keep family, and work, and community, and love, and innovation, all of those things in balance is—we wonder why we're tired. That's why we're tired. I also love that we talked about the idea of acompañar, "to walk with." That deep Catholic tradition of not getting behind and pushing, not getting in front of and pulling, but just walking with people. The other thing that I really took away is the whole idea around helping, especially when you're an outsider and there are cultural differences. Their cup is not empty. Their cup is full. And we have a lot to learn and unlearn.
BB: So again, thank you for joining us. Unlocking Us, exclusively on Spotify. Only on Spotify. So join us over there. Check out the new hub. You can listen for free. Also, to keep in mind, every one of our Unlocking Us podcast episodes has a page on brenebrown.com. Easy to find, easy to check out. You've got a transcript, you've got links and references, everything you need. You can also join our newsletter when you're over there. We only send those out once a month. We will not bug you to death, I promise. And on the Dare to Lead podcast this week, I'm talking with my friend Simon Sinek. What a fun week. I get to talk to friends. He's a visionary thinker, he's a speaker, he's an author of many wonderful books that have really shaped my organization, so take a listen. I think you will enjoy that as well. Thank you, friends, again, for your time, for your community. Stay awkward, brave, and kind. And I'll see you next week on Spotify.
BB: Unlocking Us is a Spotify original from Parcast. It's hosted by me, Brené Brown. Produced by Max Cutler, Kristen Acevedo, and Carleigh Madden. Also produced by Weird Lucy Productions and by Cadence13. Sound design is by Kristen Acevedo. The music is by Carrie Rodriguez and Gina Chavez.
© 2021 Brené Brown Education and Research Group, LLC. All rights reserved.
Podcasts
Brené Brown Education and Research Group, LLC, owns the copyright in and to all content in and transcripts of the Unlocking Us and Dare to Lead podcasts, with all rights reserved, including right of publicity.
What's Okay
You are welcome to share an excerpt from the episode transcript (up to 500 words but not more) in media articles (e.g., The New York Times, LA Times, The Guardian), in a non-commercial article or blog post (e.g., Medium), and/or on a personal social media account for non-commercial purposes, provided that you include proper attribution and link back to the podcast URL. For the sake of clarity, media outlets with advertising models are permitted to use excerpts from the transcript per the above.
What's Not Okay
No one is authorized to copy any portion of the podcast content or use Brené Brown's name, image or likeness for any commercial purpose or use, including without limitation inclusion in any books, e-books, book summaries or synopses, or on a commercial website or social media site (e.g., Facebook, Twitter, Instagram, etc.) that offers or promotes your or another's products or services. For the sake of clarity, media outlets are permitted to use photos of Brené Brown from her Media Kit page or license photos from Getty Images, etc.