On this episode of Unlocking Us
We're at the halfway mark of our six-episode Summer Sister Series on The Gifts of Imperfection, and this week we dig into Guideposts #3 — Cultivating a Resilient Spirit: Letting Go of Numbing and Powerlessness — and #4 — Cultivating Gratitude and Joy: Letting Go of Scarcity and Fear of the Dark. Ashley, Barrett, and I look at our lives post-COVID and talk candidly about the ways we've numbed over the past year—and how we've lost some of our gratitude practices. These two things may be related. Moving forward, we (re)commit to making wholeheartedness a family affair.
Listen to the episode
Show notes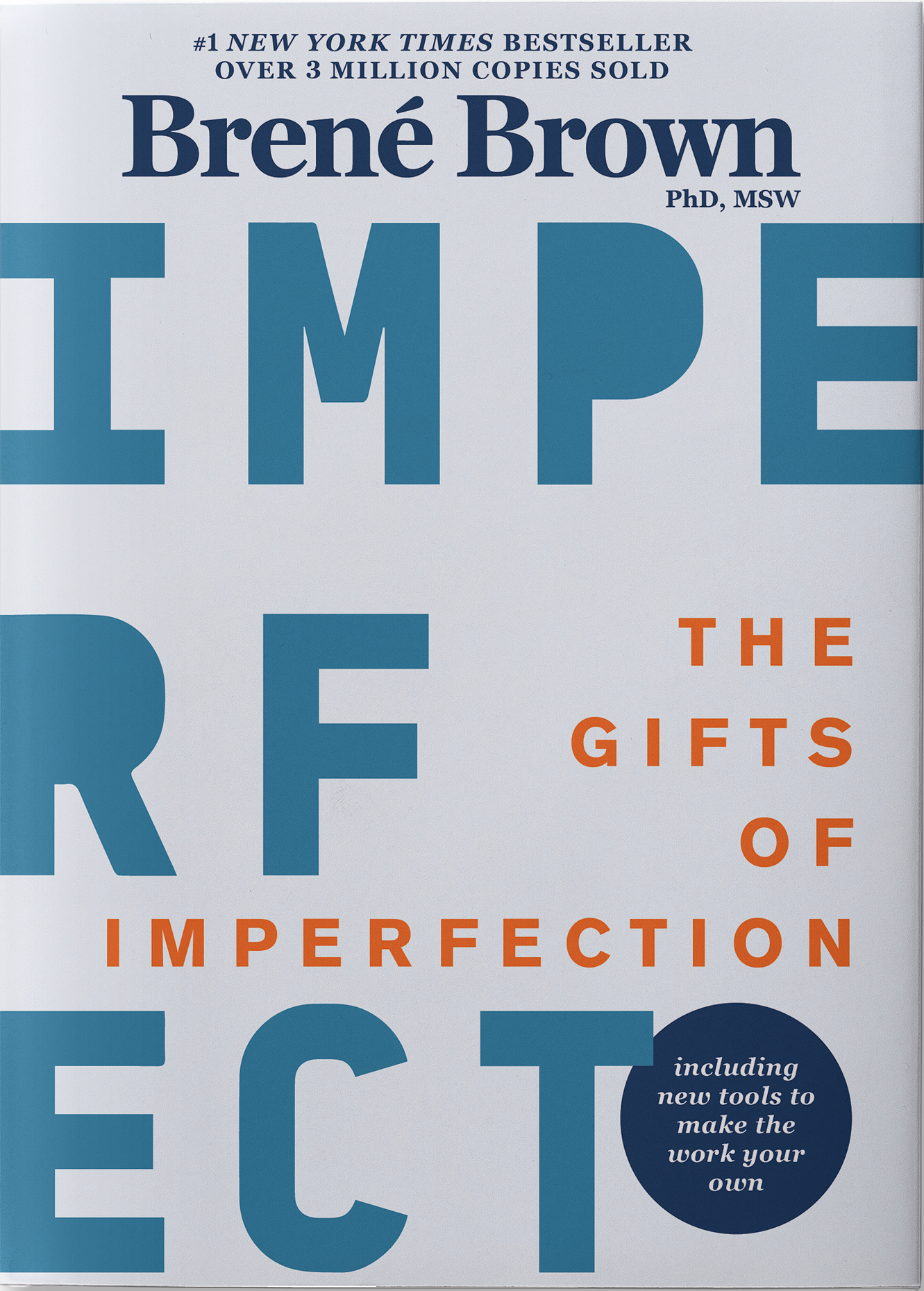 The Gifts of Imperfection by Brené Brown
For over a decade, Brené Brown has found a special place in our hearts as a gifted mapmaker and a fellow traveler. She is both a social scientist and a kitchen-table friend whom you can always count on to tell the truth, make you laugh, and, on occasion, cry with you. And what's now become a movement all started with The Gifts of Imperfection, which has sold more than two million copies in thirty-five different languages across the globe.
What transforms this book from words on a page to effective daily practices are the ten guideposts to wholehearted living. The guideposts not only help us understand the practices that will allow us to change our lives and families, they also walk us through the unattainable and sabotaging expectations that get in the way.
Transcript
Brené Brown: Hi everyone. I'm Brené Brown, and this is Unlocking Us. Welcome to the third episode of our sister strong, six-week series on The Gifts of Imperfection. Today we are covering guideposts number three and four, Letting Go of Numbing and Powerlessness, and Cultivating Your Resilient Spirit; and Letting Go of Scarcity and The Fear of The Dark, and Cultivating Gratitude and Joy. Y'all ready?
Ashley Brown Ruiz: Let's do it.
Barrett Guillen: Ready.
BB: Okay. Oooh, I don't like this first one.
[laughter]
BB: Okay, yeah I don't.
BG: Say more.
[laughter]
BG: Therapist. Therapist alert.
BB: Therapist alert. Don't pull that therapist shit on us.
ABR: Okay. We'll see how it goes.
[laughter]
BB: Okay, I love the quote by Terri St. Cloud that opens guidepost number three. It's one of my favorite quotes in the whole world, especially as I think of my life in my late teens and early 20s. "She could never go back and make some of the details pretty. All she could do was move forward and make the whole beautiful."
ABR: Yeah.
BB: Really good, right?
BG: So good.
ABR: Love it.
BB: So good. Here's what I would do if you're interested in following along, you can use the new 10th anniversary edition of The Gifts of Imperfection, or you can use your original book, both of them are perfect. I would start, before you listen to the first podcast, I would take the wholehearted assessment, you could just go to brenebrown.com, it's in The Gifts of Imperfection  hub, and I'm glad y'all are here.
All right, so Letting Go of Numbing and Powerlessness, so in this chapter I talk about… I think we all numb, and I think those of us who have a tendency to numb compulsively and chronically, that would be the definition of addiction. And so, as we know in our family, we come from a lot of addiction. Right?
BG: Yes.
ABR: Yeah.
BB: Yeah. And so, I definitely feel like the biggest learning… Maybe… I don't know, I hate to say it in this book, but I think one of the top five learnings of this whole research in this book was probably the selective numbing part. That when we numb the dark, we numb the light. That was a huge finding that we think… Let me just read it to y'all, hold on, let me find it. "I often think about emotions as very sharp thorns, and we know the painful ones, we know that grief, sadness, disappointment, shame, fear, that when they prick us, when we feel those emotions, we often; the first thing we do is race to figure out, "how can we get rid of that pain, how can we dull, take the edge off, literally, how do we take the edge off that pain of those sharp emotions." But I think what I discovered in this research that was so, just almost devastating for me, is that the emotions that we think of as positive emotions are equally as sharp and thorny and hard, and that the most vulnerable emotion that we experience, the one that really pricks us the most is joy.
BG: Yeah.
BB: Joy is a hard emotion to let ourselves experience.
ABR: Yeah.
BB: What do you do? I kind of know, but I'm going to ask.
ABR: No. You can't paraphrase it… What do you think I do?
[laughter]
BB: No, I mean because we've talked about it a lot. We all have a lot of foreboding joy, right?
ABR: Yeah.
BB: So foreboding joy for those of y'all listening is when you find yourself in the midst of joy, really feeling it. It can be so scary sometimes that you pull yourself out of the joy and start dress rehearsing tragedy because you're afraid to lean fully into it, because if you lean into it, something bad might happen. Right?
BG: Mm-hmm.
ABR: Yep.
BB: Raise your hand if you have that.
BG: Hand up.
ABR: Hand up.
BB: Hands up. I can see Laura in the studio with both hands up. Oh, and Bob, who's producing for us. Yeah. So there's an interesting study, there's been several of them now, that show that when you've got someone new into recovery. And I want to talk about this with your experience, doing work with folks newly in recovery.  That when you're in recovery, an intensely joyful experience is more likely to trigger relapse than an intensely painful experience. So if we've got a friend that's newly sober or newly clean, and they get fired, we run toward that person like, "Oh my God, how can we help them maintain their sobriety through this really tough period." But we don't think at all about surrounding this person with support and love if they get a promotion or get engaged.  But when you spend your life numbing emotions, joy feels terrifying. What are y'all's thoughts?
ABR: I am really good at foreboding joy, the whole dress-rehearsing, "What could happen?" can sometimes just overtake the whole experience for me, and so it quickly gets me out of where I want to be with the joy. But I think for me, I'll just say that, it's like this double-edged sword, because it's like what I'm really wanting to find in my life is joy, and then when I get there, I have no idea what to do with it, and I squander it, and it's so frustrating, because I think in the moment, I don't even know I'm doing that. And it's after that, I look back and say, "What was stopping you from living in that moment and celebrating and being so excited?" I mean even after I just passed my test, which I worked so hard for, y'all were screaming and stuff, and I was like, "No, I don't want to go over there, they're really loud, they're going to do something big."
BG: Oh, and we were talking about that too. We were like, Oh, she's totally foreboding joy on her drive back to…
ABR: Oh, for sure. Because it was raining, and I was like, that's it, I'm going to crash and die.
[laughter]
BB: Yeah, so Ashley passed her licensing exam. It's really tough. The LCSW exam is really tough to pass. She passed it, she called us, Barrett and I started screaming. We already had a gift for her, it was a perfect gift for either way.
[laughter]
ABR: I was like, "What were y'all going to do if I didn't pass?" [chuckle]
BB: Scream and yell and hug on you and give you a gift anyway. And then, she was driving from Sugar Land to my house, and I was like, "Why isn't she here yet?" And I didn't go into foreboding joy, but I was like, "Oh my God, it's raining? I bet she's driving 20 miles an hour down the freeway." [laughter] And you were.
ABR: I just remember, too, going, "God, I'm so thirsty, I want a Diet Coke." And then I was like, "Oh, I know exactly like five different exits I can take to get one" and I would be driving and I was like, "Oh there goes one. Oh there goes another one." And that's not me, I got the whole route usually planned out, but I was… Didn't have a lot of brain cells left, but, I remember you telling the story about… When you're going to Oprah, you're like "That's it. The plane's going down."
BB: Oh yeah! I mean, that was serious. I left Steve a list of names of people. The driver came to take me to the airport for the first time I was going to meet Oprah to do Super Soul Sunday for The Gifts of Imperfection . And I go out, and I get in a car and then I come back in and Steve's like, "What are you doing here?" And I was like, "Well, I don't think there's a great chance I'm going to make it to Chicago alive, and so if I don't, I left you a list on a Post-it Note in the upper right-hand corner of my desk, in my study. I want you to remarry. I want you to be happy." And he's like, "Jesus Christ, what is wrong with you, man? Like, you know, I hate it when you do this shit." And I was like, "No, I'm serious." He goes, "You left me a list of people that I should marry?" And I was like, "Oh no, hell no. I left you a list of people that you better not marry. If you marry any of these people, there will be hell to pay. I will make sure my sisters make your life a living hell." He's like…
ABR: We got a copy of the list.
[laughter]
BB: He's like, "You got to go. You got to get in the car. I don't want to talk to you anymore. I love you, but I don't want to talk to you." No, I want to tell you like, how crazy it is. Our capacity for joy is so related to our capacity for vulnerability, because it is so scary to feel joy. I want to tell you how crazy I can be. You know how like you said, "You fight for joy, and you fight to build joyful moments, but then you squander them when you get them"?
ABR: Yeah.
BB: I've tried to not do that, by just saying out loud my crazy foreboding joy thoughts to Steve or something. So, we just got back from a week of hiking, and this house had a street level, and then it had a basement. And Charlie and I got back from a hike and I told him… "If they lock me up after I tell this story, I'll ask y'all… I want you, as a group of awkward, brave and kind people to come bust me out."  [laughter]  But Charlie came inside from downstairs and I went upstairs and I said "Hey, take your shoes and leave them outside." So, I heard him open the sliding glass door and put his shoes outside. And then, like 20 minutes later, I called him and I was like, "Hey, Charlie." And right about that time, these huge hawks were circling, and I was like… [laughter] Barrett knows. Tell me, what are you guessing?
BG: I'm guessing that maybe you thought Charlie got hurt and he's outside and the hawks are going to get him?
BB: Yes! That's exactly… [laughter]
ABR: I didn't even get that far because I was like, oh, she's planning for earthquakes, and she is thinking he is outside. [laughter]
BB: This is the pathology of my family. [laughter]
BG: Oh my gosh, yes.
BB: No I thought, "Are those hawks or buzzards? And did he fall when he put his tennis shoes outside? And he's laying unconscious out there, and now they're getting ready to pick his bones."
BG: I'm laughing with you, not at you.
BB: And then I was like,"Charlie! Charlie!" and Steve's like, "Jesus, what's wrong?" And I'm like, "I see buzzards and he could have fallen and hit his head and they could be eating him." He's like, "You read about that a lot." And I was like, "F off." So now I just say those crazy things out loud, because I do think, we numb.
BG: But you know what? So really this sucks. My therapist was telling me one time, she was like, "You know, you 'what if' all these scenarios and you're like, 'Oh, what if this happens? Or what if this happens? Or what if this happens?'" And she's like, "You know, your body doesn't know that you're what if-ing and your body feels and responds to every single one of those scenarios that you play out, and no wonder you're so exhausted." And I was like, "You don't know me!"
[laughter]
BB: No, you know what, I'm actually using that as a strategy.
ABR: Oh, how?
BG: Say more.
BB: I'm saying… [chuckle] I can't even make eye contact with anybody right now. [chuckle] I literally say to myself, "Don't release the cortisol. It leads to belly fat. Don't release the cortisol. It leads to belly fat." [laughter] Every time I'm going to do my foreboding joy I'm like, "This is a straight shot to belly fat". [laughter] I don't know if that's true. Don't check me on that scientifically. But, I did see a very questionable cortisol/belly fat commercial on shit TV that I was watching the other day. [laughter] So now I'm like… And I do believe… All joking aside, I do believe that, we're kind of between numbing and scarcity. We're doing a hybrid of guideposts three and four, because it was one of the big shocks for me with the research was… There were people that I researched, and studied, and talked to and interviewed, that clearly could fully lean into joy. I mean, they were just like arms wide open, head up to the sky like, "Joy wash over me. I am here for it. This is a great moment." You know, and when I tried to hypothesize what they shared in common, I always thought it was faith or spirituality, but it wasn't. The only variable that separated those of us who lean into joy from those of us who use joy as a warning system, is gratitude.
BB: Actively, in that moment, with their arms wide open and their face pointed to the sky, in that moment of passing the exam or coming back from a great hike or doing whatever, they were literally practicing gratitude, "I'm so grateful for this experience. I'm so grateful for this moment." Not like, "Oh shit, when's the other shoe going to drop?" And so, I've tried that for the last 10 years, and it works. It just works.
ABR: When I was taking the exam, it pops up on the screen right there if you pass or not. And so it said pass and I was super excited. And I make friends with people everywhere I go really, and so the women that checked me in and everything, they couldn't scan my palm, because I was shaking so bad after I passed. But I was like jumping up and down and hugging them and they were laughing with me. But as soon as I walked out, I was like, "Big truck coming. Go right ahead, sir." I'm going to totally take my time getting there.
BB: Yeah. I think some of the hardest interviews I've ever done in my career are with parents who've lost children. And I think, I can speak candidly, about y'all and about myself, is that's probably our greatest fear.
ABR: Oh yeah.
BG: Yeah.
BB: Yeah. And that's the worst foreboding joy we have.
ABR: Totally.
BB: Yeah. It's standing at the door watching Ellen and Trey walk down the front sidewalk for prom and getting in his truck and thinking, "Oh my God, it's prom night." And this is the nightmare. So that was probably the hardest interviewing I've ever done. And I've worked with a lot of parents, from kids who have died from cancer to kids who were murdered, and one of the things that was so powerful for me around gratitude was hearing from them, when they would share their story, and then maybe I would tell a story about one of my kids.   And I was scared to do that because I was scared like, "Oh God, they're talking about a child who's died and I'm talking about my living child who's at home, you know." And one of the things that I heard over and over from these parents was when you are grateful for your children, when you are grateful for these moments, I see that you understand what I have lost.
ABR: Wow.
BB: And it reminds me of, the first time I went and talked to some of the parents whose kids were murdered at Sandy Hook. I met with a group, probably 8 or 10 parents, and they all had pictures of their kids from the last pictures they had, which were when they were in 1st grade. And Charlie was also in 1st grade, when Sandy Hook happened. And they pulled out all of their pictures and they were describing their kids for me, and they were telling me great stories and I was asking questions. And then I reached kind of habitually into my purse and pulled out my phone and pulled up a picture of Charlie. And there was just kind of, this hush came over the room and a couple of the parents got really teary-eyed and said, "No one shows us their pictures of their children anymore." And they said because they're so afraid that they're going to hurt us more like, "Oh, we didn't know our child had been murdered until you showed us a picture of your child who… " This was a picture of Charlie, at the time he was 12 or 13, which was the same age their children would have been. And so, they asked me tons of questions, and they wanted to see pictures of Ellen. And so when I think about resilience and letting go of scarcity and fear of the dark and letting go of powerlessness, when I think about the combination of these two chapters, I think about our universal fear of grief. I have such a fear of grief. Do y'all?
BG: Yes, and just learning… I think for me, it's been the last 10 years that I have just thought about grief differently than just grieving someone who's died. Like grieving a community you've left, or when we moved back to Houston from Amarillo, or when I quit teaching, like grieving that community and so it's hard to wrap your head around exactly what grief is.
BB: Yeah, then how people respond to it. Imagine you go through the grief, like with this example with Sandy Hook. And then, on top of losing your child, no one's showing you pictures of their kids anymore. No one using your kid's name anymore. And then this more ambiguous grief that you talk about, where people are like, "Oh, come on. It's not like somebody died. Like you moved and now you're close to your family. What could you possibly miss?" Or you quit teaching but you got a better job, or you got a different job. But I do think, people underestimate joy.  How hard it is to let ourselves experience it, and how necessary it is, because what we know from the research is that joy is additive. So when hard shit happens, which it does, nobody rides for free, like life is hard. The joy you've accumulated in your life, the times you've allowed yourself to experience joy, create resilience within you. It doesn't mean that things don't hurt, it just means that you have a capacity for vulnerability and joyfulness that allows you some perspective sometimes.
ABR: It's like you don't have an empty cup when this comes, like you're not…
BB: Yeah. I mean, how are y'all feeling around… If you take the cup of… Like if we just use a cup of joy, a measuring cup of joy, coming out of COVID?
ABR: I would say mine's pretty low. And I also say, one of the things that I'm working on right now is when there's transitions in your life, joy could look different. So when I think about Amaya going… She's going to be one more year of high school, my joy has been so wrapped up in her life, in her sporting events, in her… And so how does joy change and how do we change with joy, too? I definitely know that there's a grief piece coming, I'm already prepared… I doubt I'm prepared, but I'm going to tell myself… I'm getting the proper people in place to help me support while I go through this. But also, I think, sometimes with the work that I do with the women at The Women's Home, there's so many people that don't remember what their joy is. And so it's almost like they have to start with trying all these different things on, because what used to bring them joy is something completely different now, and so I think…
BB: Oh, it is fluid, yeah.
ABR: Yeah. And so, coming out of the pandemic, when I wasn't able to see my friends, or go to concerts, or do all the things that I enjoy doing, I know those still bring me joy, but I also want to get really curious about other things that bring me joy. So, that's where I'm at right now. What do I love? What am I willing to try to see if I like it? What am I not super interested in, but hate that other people are interested in and I'm not? So just navigating that.
[laughter]
ABR: Why y'all laughing? Something funny?
[laughter]
ABR: Did I say something?
BB: No. I think one of the things, it's what you're talking about, Ashley, is really a helpful place to talk about the difference between joy and happiness. Happiness is very circumstantial, and we're not happy all the time. And a lot of times what brings us happiness in the short term is not what brings us joy. One of the things that's so important to understand, through the research, is joy is inextricably connected with gratitude. I thought, before this research, joyful people were grateful because why the hell wouldn't they be, because they're so joyful. But it's not that. It's not joy that makes us grateful, it's gratitude that makes us joyful. Gratitude is the prerequisite for joyfulness, and so as you're trying to think about coming out of COVID, what makes you more joyful, what does your gratitude practice look like right now?
ABR: Oh yeah. It's pretty much non-existent.
BB: Because you're a big gratitude practice person.
ABR: I am, but… So that's also one of the places that I find creativity, which is really important to me too, but I also got a puppy, and so I feel really tired most of the time. [chuckle] Although there's a lot of creativity for her, too. [chuckle] But I can tell when I'm not doing my gratitude stuff, because when I'm doing my gratitude stuff, it's like I have four buckets that I have to put around me with my washi tape and my markers. I make it a big thing, and so it's a lot of fun for me. And it also helps me get really clear about the small things that have happened every day that usually I would just slide under the table that I feel like, "God, that was so cool. That meant so much to me." I mean, just like super small moments.
BB: Yeah.
[music]
BB: So I'm wondering, because my joy is down too, but my gratitude practice is down. And I'm wondering if we're not doing what's in the research. Where are you with your joy and gratitude?
BG: Yeah, what you were saying, Ashley, really resonated with me. I think the pandemic, there was new ways to find joy, even if it was just binge-watching family shows instead of adult shows, but yeah, we're not doing great on the gratitude practice, and I think our joy is also way down. I think one thing I will say that I feel really lucky and brings me a lot of joy is that I get to work with y'all, vacation with y'all, we spend a lot of time together, and I think that we quarantined together, we were in the bubble for the majority of our time together, and so I was really grateful for that. But I think in terms of just having a practice where we're identifying what we're grateful for each day, we have been really lacking.
BB: God, and we were so good at it before COVID.
ABR: Yes. It's like one of the things that I want to really do at BBEARG when we get back into the office is really just talk about gratitude and have some kind of way to practice daily gratitude with each other.
BB: I love that.
ABR: Yeah, I think it's so important. And if you could even… Like when I'm doing my journal, I usually have five things. Whether it's a flower, or whatever I'm doing. But even if you took one time a week and called someone and said, "I just want you to know that today when you did this, I felt so grateful for you." Imagine the joy that that puts on that person, too?
BB: I think, if you're listening right now, you just saw kind of an "aha" unfold for all three of us. It's actually a very layered nuanced "aha" in a way, because I think all three of us are coming out of COVID feeling low on joy. But also during COVID, I think as a family, as a big extended family, we say grace and then we go around the table and everyone says what they're grateful for, and our kids started doing that when they were what, two? Yeah, little. We do have a lot of family gratitude practices in our family, but I think they just went away during COVID. Because I think… Here's one of the big learnings for this kind of combo episode for these two guideposts, is that gratitude is not an attitude. Sorry for all my fellow 12-steppers. Gratitude is a practice and that was really clear. And I think,  I'll speak for myself, I think in COVID, I forgot something that was a key learning from this research, which is, I didn't feel grateful most days. Again, hardest season of my marriage of 30 years. Just difficult, painful losses happening with my parents. Just work was really scary and hard.
BB: And I don't know that I felt grateful most days, but that's not the point. The point is practicing gratitude. There's no question that in every one of those days, there was definitely probably 10 things, but definitely two things that I could have said, "I'm really grateful for this."
ABR: You know what? It's making me think, too, about when we were quarantined. Because when we all quarantined together, we had our mom with us and all the kids were there and we were navigating school, work… What the hell is all this online learning look like? Our mom being there. Wanting to go to the lake and play, but we couldn't go until after work and school. So we were navigating all this stuff and while you were talking I was wondering, I wonder what it would have been like for our kids if we would have said, "I just want you to know that today I was so grateful for you because you made me laugh really hard when this happened." I imagine that they really needed that, too. I just keep going back to this piece of sharing that with other people and how important it is. Because there were days I was like, "Don't even make eye contact with me. I'm going to sit across this table from you and work all day, but don't look at me. And no, I won't give you a bite of my eggs."
BG: Confirmed.
[laughter]
BB: Yeah, no, it was really hard.
BG: And we hadn't all lived together in a really long time.
ABR: With our mom.
BB: Yeah, and I was kind of in and out from Houston to Austin because I was scared I wasn't going to be able to keep the company afloat.
BG: Doing the podcast in your closet…
ABR: Yeah, in the closet trying to do the podcast. Nobody had any internet when you took all the internet. So it was like everybody was trying to get… I get one bar. You can have my bar.
BB: So maybe this is for all of us listening right now. As we read through these two guideposts for this week, two learnings to take with us. We can't numb the dark without also numbing the light, and so when we take the edge off things that are painful or hurt or uncomfortable, we also take the spark out of what is good and exciting and joyful. I think that's one. And I think there was a shit ton of numbing during COVID.
ABR: Yeah and loneliness and isolation.
BB: Yeah, that's one. And I think the second learning is we got to put gratitude practices back in center. We need to recenter gratitude practices, and however you do it, like we say it at grace. We used to have a jar that we would leave on the kitchen table and you could literally assess the amount of joy in our house by how full the jar was of folded up notes saying what we were grateful for. And I do think sharing your gratitude with other people is really important, but I don't think it's a prerequisite for your own joy. I think your own joy is about, "What are you stopping and appreciating?" And I can't think of, in the hardest moments of COVID, it's not, "I ran out of things to be grateful for," I lapsed on my practice.
ABR: Yeah, which in turn can make you not be intentional about the things that you're grateful for.
BB: That's right.
ABR: So let's just do one commitment that we're going to take away with our gratitude today, and then we can hold each other accountable because I believe y'all will check in… I'll check in. So, I definitely want to go back to my gratitude journal, I'm already excited because I bought some new washi tape, so. [chuckle]
BB: I'm going to not let it slide when we don't do gratitude during grace, when we eat family meals. I just let it slide during COVID because I was like, "These kids are barely holding on right now." Besides anxiety, isolation, overwhelm, and I think instead of thinking, "Wow, that's just one more thing." I forgot that that could be an antidote.
BG: Yeah, I think doing it at dinner, I think we should get back to that, and then I also love the idea of journaling because even just the markers and the washi tape alone, just getting it all out makes you feel happy.
ABR: You're like, Just get it out, organize it, and put it back away.
BG: Check.
BB: Check. How about if we end with one gratitude for today. I'll start. I am grateful that Laura texted me last night and said, "How about if I drive in from Austin and help today with this podcast?" So, thank you, Laura. She's blowing me a kiss.
ABR: Laura has an easy button in the studio where she can talk to us and so I love that. I think I'm grateful to be doing the podcast with you guys, and it's so easy and it's so fun to just talk with y'all with a big microphone in front of our faces.
BG: Yeah, I think I'm grateful to have a microphone in front of my face because I really want to sing and I had missed having fun with y'all, so I'm grateful to have fun and laugh with y'all. That's what I'm grateful for.
BB: Laura, buzz yourself in and what are you grateful for today?
Laura Mayes: I'm so grateful I'm here with you guys, and I'm so grateful for this easy button. This is the greatest thing. A giant red button that I get to push and talk to you.
BB: Perfect.
LM: This is awesome.
BB: Thank you. Okay, Bob, what are you grateful for today?
B: You put me on the spot. Well, COVID really kind of hurt my business and I'm glad to be working.
BB: Amen.
ABR: There you go.
BB: All right, y'all. Thank you for joining us today.
ABR: I'm grateful for all the brave people that are going to be doing the read-along with us.
BB: Oh yeah. We're all grateful for y'all. I try to say that a lot in the podcast, because that is one place I am so grateful because first of all, there wouldn't be a podcast without you. But I think even more importantly than that, just having a group of people committed to, I don't know, a kinder, braver, more awkward world, and being a part of that is just huge, so I am grateful for that. You can find all of the links that we shared or any of the quotes we shared on the episode page on brenebrown.com. Next week is the next two guideposts, which are what? Five and Six?
BG: Yes.
BB: Guideposts five and six. Don't forget that Dare To Lead is on a short summer break right now, but we'll be back on July 12. After that, both Unlocking Us and Dare To Lead will go into some really great conversations with guests that we have lined up. I can't wait for that. Unlocking Us and Dare To Lead are available exclusively on Spotify. And again, thank y'all for being here. Stay awkward, brave, and kind. "Unlocking Us" is a Spotify original from Parcast. It's hosted by me, Brené Brown. It's produced by Max Cutler, Kristen Acevedo, Carleigh Madden, and Tristan McNeil, and by Weird Lucy Productions. Sound design by Tristan McNeil and Andy Waits. And music is by the amazing Carrie Rodriguez and the amazing Gina Chavez.
[music]
© 2021 Brené Brown Education and Research Group, LLC. All rights reserved.
Podcasts
Brené Brown Education and Research Group, LLC, owns the copyright in and to all content in and transcripts of the Unlocking Us and Dare to Lead podcasts, with all rights reserved, including right of publicity.
What's Okay
You are welcome to share an excerpt from the episode transcript (up to 500 words but not more) in media articles (e.g., The New York Times, LA Times, The Guardian), in a non-commercial article or blog post (e.g., Medium), and/or on a personal social media account for non-commercial purposes, provided that you include proper attribution and link back to the podcast URL. For the sake of clarity, media outlets with advertising models are permitted to use excerpts from the transcript per the above.
What's Not Okay
No one is authorized to copy any portion of the podcast content or use Brené Brown's name, image or likeness for any commercial purpose or use, including without limitation inclusion in any books, e-books, book summaries or synopses, or on a commercial website or social media site (e.g., Facebook, Twitter, Instagram, etc.) that offers or promotes your or another's products or services. For the sake of clarity, media outlets are permitted to use photos of Brené Brown from her Media Kit page or license photos from Getty Images, etc.